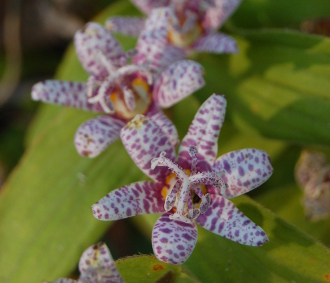 It's nice to know that not all late summer- and fall-blooming perennials are DYC's (Damn Yellow Composites).
Their brassy gold faces are cheering at first, but become monotonous.  In shady gardens at that time of year, the lily family is offering up some splendidly eccentric blooms in the form of toad lilies.
'Miyazaki' toad lily (Tricyrtis hirta 'Miyazaki') opens its fantastically speckled blooms beginning the week of September 13 until the end of October.  Originating as rocket-shaped buds, they burst open to reveal six white petals (correctly called "tepals"), surrounding an elaborate reproductive structure somewhat reminiscent of the complex anatomy of a passionflower.  The whole bloom is plastered in purple freckles—even the sex parts are spotted!  'Miyazaki' lies flatter than other toad lilies, its blossoms upward-facing and on display, backed by neat rows of pointed, light green leaves which clasp the stems.  It arches to 24 inches tall.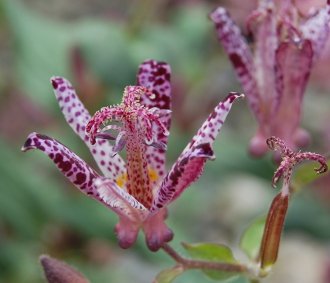 Tricyrtis 'Sinonome' is similar, but a little more refined.  Its one and a half-inch blooms are splattered with darker flecks of violet, and its tepals are slimmer than 'Miyazaki's.  It also holds itself more upright–to 30 inches–and its long, straight stems carry blooms in such abundance that a few sprays may be quietly pilfered for the vase and no one will be the wiser.  Its awkwardly elegant flowers may then be appreciated face-to-face, indoors.  'Sinonome' begins blooming a week after 'Miyazaki' and finishes up around mid-October.  Its dark, lustrous foliage is handsome all season.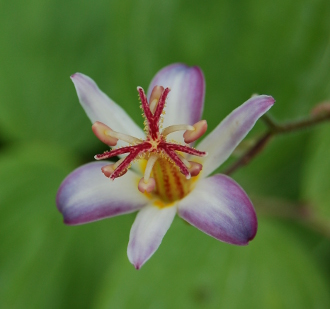 Tricyrtis 'Tojen' simply cannot wait for September to bloom and opens instead during the last week of July.  Once started, it continues for a ridiculously long time–just when the plant seems to be exhausted, it digs deeper and spits out a few more of its orchid-like blooms.  Unlike these other two, it has a flawless complexion, composed of skim-milk white tepals tipped in lavender, a yellow throat, and pink styles.  It maxes out at 24 inches tall.
All toad lilies are shade-dwellers and put in their best performances when given morning sun or light shade all day and watered regularly.  Rabbits and slugs are their enemies, but they are otherwise easy-going and rewarding to grow.  For such exquisite, orchid-like blooms, they ask very little.