Dreaming up stunning color combinations is one of the most fun, creative, and satisfying activities any gardener can do.  But how to come up with them?  Well, you can study plant combination books, look at pictures, and imagine compositions in your head, but nothing beats seeing plants live and in person and trying out different combinations right in the garden.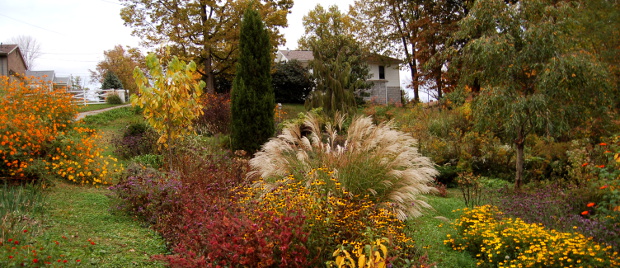 That's why I came up with this game.  I gather up samples of all the flowers and colored leaves that I can find from the garden, throw them together on the lawn, and start playing.
The game is not necessarily all about the exact plants to use, but rather it is a way to discover which color combinations are pleasing to you.
---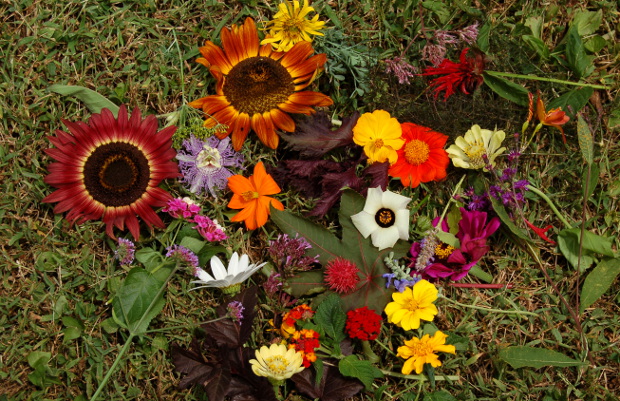 This is what the game looked like one year on August 31st.  I won't go to the trouble of labeling them all, but if you're curious about the identity of any of these plants, let me know.
---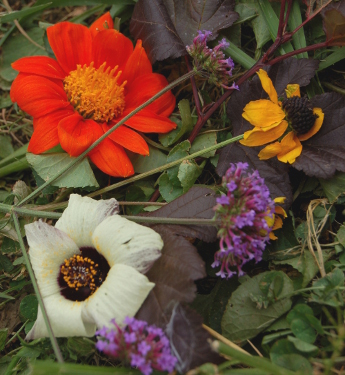 My favorite recipe:  hot colors, especially orange and gold (tithonia and Rudbeckia triloba here), with deep maroon or purple (ninebark), lots of cooling lavender (Verbena bonariensis), and an accent of white or cream (Hibiscus trionum).  See how the yellow and black in the hibiscus play off the rudbeckia colors and the deep purple ninebark?  And how the center of the tithonia reflects the gold in the rudbeckia?  Bonus.
---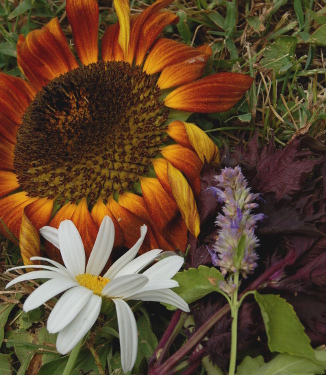 Here's my usual combo with different players.  An orangey-red sunflower, purple Shiso (Perilla), Agastache 'Golden Jubilee', and Shasta daisy.  Daisies are especially good for these sorts of combinations because the yellow centers echo the yellow in hot colors, and yellow looks fabulous with purple.  The agastache is a little more blue than the lavender color I would usually go with, but it works here.
---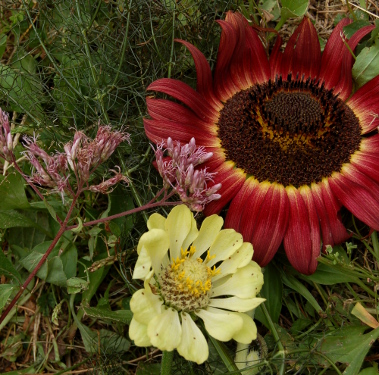 I'm proud of myself when I come up with something other than the usual color combo that I prefer to use.  These antiquey shades look great together.  Here we have red sunflower, Joe pye weed, bronze fennel (hard to see in the grass), and a zinnia that was supposed to be green ('Envy'), but came out this moonlight-yellow color.
---
Here's a red, white, and blue combo that's different than my usual, too.  Red sunflower, Hibiscus trionum, and Salvia azurea.
---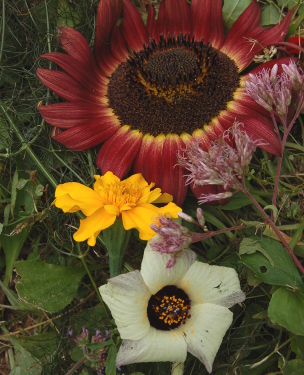 It might seem to make sense to use blue as a filler, and that it would get along with all other colors.  Blue jeans go with everything, right?  Actually, lavender is a much better blender.
This Joe Pye weed is on the pink side of lavender, but it does the job (other plants are red sunflower, yellow marigold, Hibiscus trionum, and bronze fennel).  Blue can be quite jarring.  Look what happens when we throw Salvia azurea into the mix:
Ew.  Gertrude Jekyll, by the way, never liked to see blue and purple together.  I would have to agree.  In most (not all!) situations, it doesn't work.
---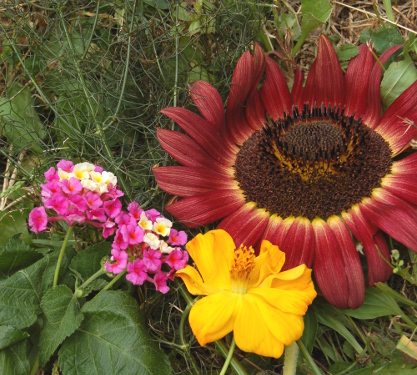 This exercise I do often ends up being a study of those troublemaker colors that are frequently at war with each other:  blue, orange, pink, and yellow.  Strong pinks can look too strong with yellow or gold.  In this picture, a pink lantana is fighting for attention with a yellow cosmos, but here's what happens when we tone the pink down to more of a lavender color: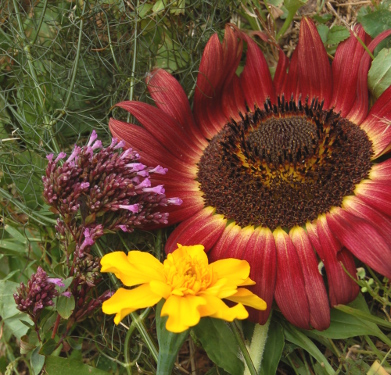 Ah, that's better.  Oregano 'Herrenhausen' saves the day.
---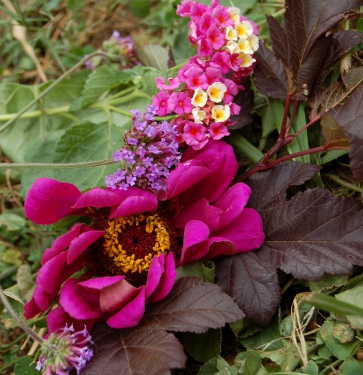 Sometimes, though, pink can use a shot of yellow to liven things up.  This composition is nice, but somber.  The purpley-pink zinnia, Verbena bonariensis, lantana, and purpleleaf ninebark need some pizazz.  Now where was that single yellow marigold?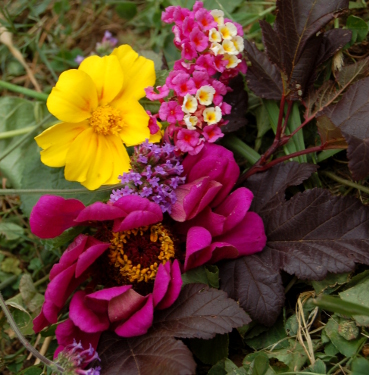 Yes!  There it is.  It helps that there is some yellow in the zinnia and the lantana to tie to the marigold.
---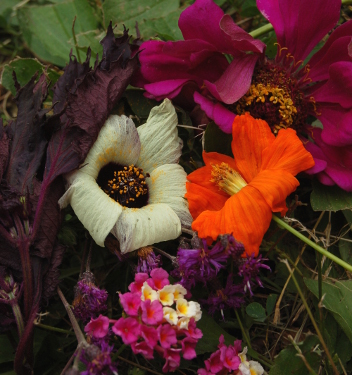 How about orange?  Can orange play nice with pink?  Well, not so much.  I don't think this orange cosmos looks too hot with the purpley-pink zinnia, pink lantana, ironweed, purple Shiso, and Hibiscus trionum.  "Put me in, Coach!" says that yellow marigold.  Okay: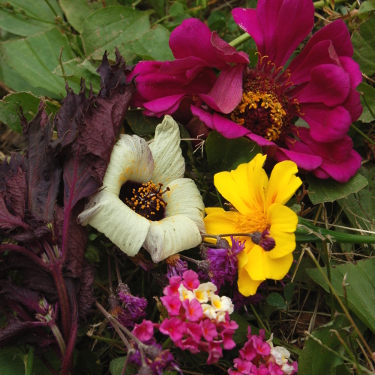 Yep, I like that better.
---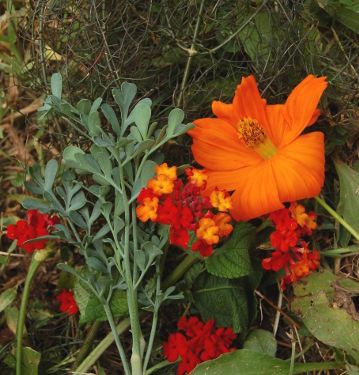 I finish with three photos to compare.  This is rue, bronze fennel, lantana, and an orange cosmos.  Not bad!  It's intense, but I like it.  (And it's butterfly heaven.)  But what would a lemon-yellow cosmos look like in place of the orange?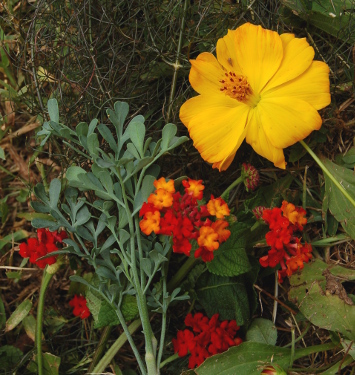 Wow.  Very nice.  A lot of primary colors going on here, so it's strong, but in the right proportions it could be quite beautiful.  I would go easy on the rue here and emphasize the deeper colors.  What if we switch out the cosmos for that pale zinnia?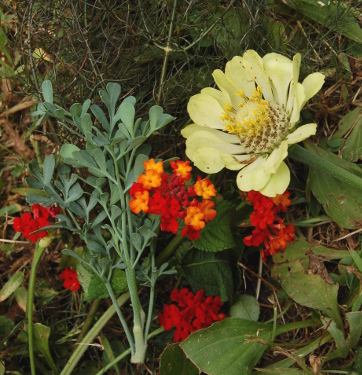 I think this one's the best of the three.  What do you think?
---
I hope you enjoyed my game.  It can be enlightening to try out the "rules" of color, as laid out by Gertrude Jekyll, or Penelope Hobhouse, or Louise Beebe Wilder, in an actual garden and get a real sense of what they were trying to convey.
But remember, also, that feelings about color combinations are subjective.  You might prefer the compositions they dislike, and dislike the ones they prefer!  What are your go-to garden color combos?