The rainy season has begun in Portland.  It hasn't been terribly cold, but we've had several fires in the fireplace.  After a day of sloshing around in the garden, it's nice to sit by the fire and dream of sunnier times.  Like last week…
We had one bright, sunny day last week, and I went looking for fall color.  Here are eight great shrubs that caught my eye: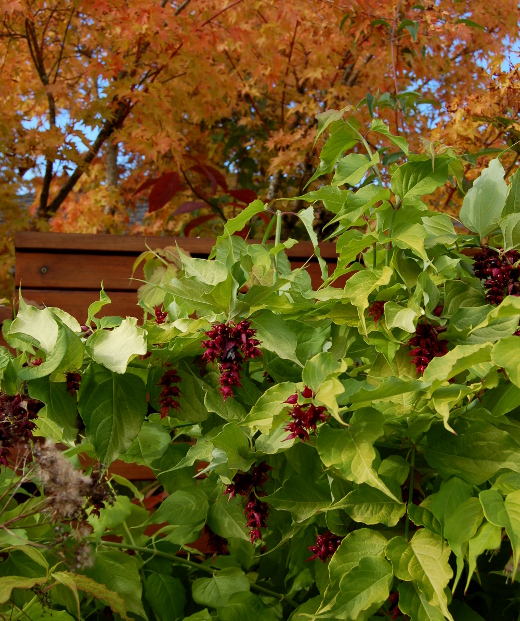 This yellow-leaved form of Himalayan honeysuckle (Leycesteria formosa) was outstanding.  The fruiting structures on this plant are beet-red and the fruits themselves are inky purple-black.  Zone 7.  It can be cut to the ground in spring like a butterfly bush or smokebush, and in a harsh winter, it might die back to the ground anyway.
---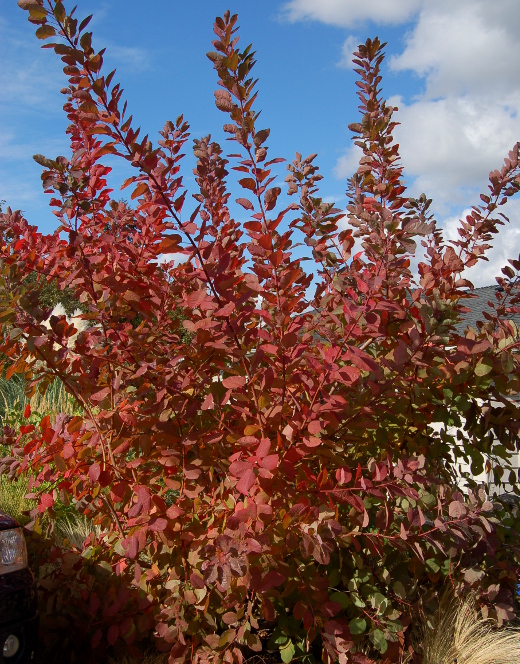 Speaking of smokebush, how about that?  And it's just getting started.  I'm going to wager this is 'Grace.'  This plant goes through some wild color shifts through the year, from glowing purple-red in spring to cool blue-green in summer to orange and pink in fall.  This one gets big—to 20 feet, so cutting it to the ground might be a little drastic.  I think I remember reading in the Gosslers' shrub book that they cut theirs back to 6 feet every year.
---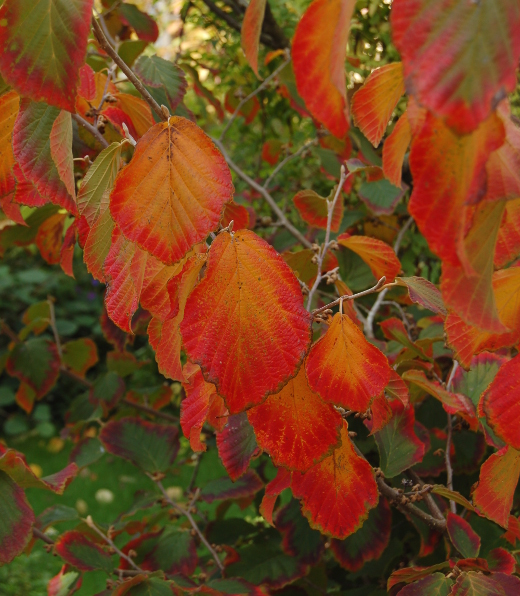 Witchhazels aren't just for sprinter—they are drama queens in the fall, too.  I'll have to revisit this guy in January or February and see if it's got yellow, orange, or red flowers.  The red-flowered ones seem to have more red in their fall foliage, but the yellow ones can be fiery, too.
---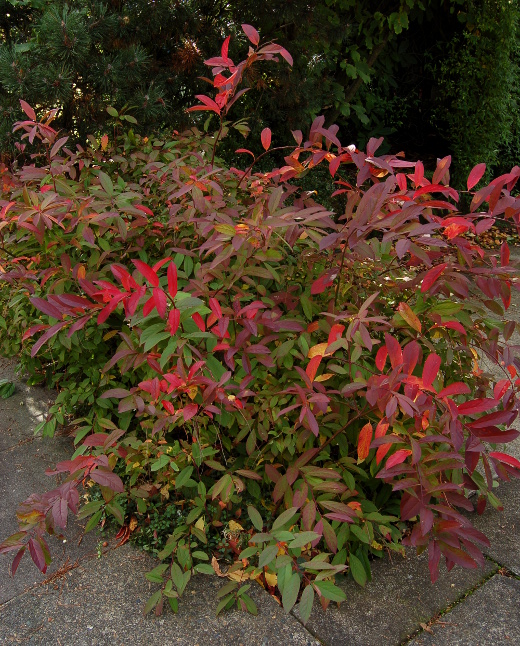 I'm not sure why I don't see Itea virginica planted in Portland more often.  It's a staple plant in the Eastern U.S., where it is native.  In Zone 6 it colors up at the end of September and the purpley-red goodness lasts clear through mid-November.  This looks like Little Henry.  'Henry's Garnet' is its big sister (for you plant name buffs, Henry was a lady—Mary Henry).
---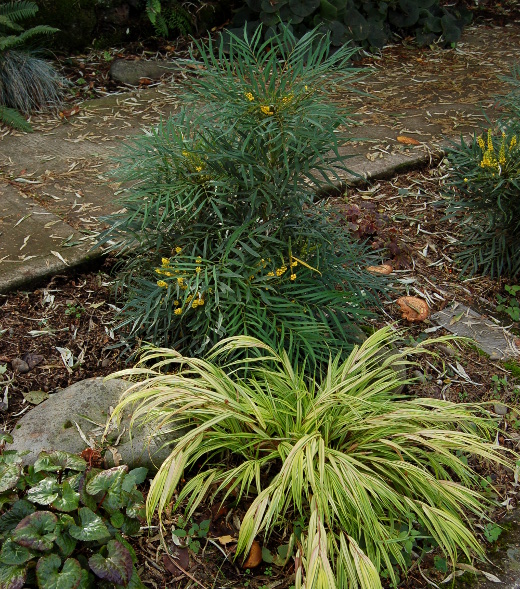 I've been turned off by mahonias for a long time.  They would limp along in the Midwest and throw up some flowers in the spring, but the foliage was so tattered by then (after a real winter) that I would usually just feel sorry for them.  Here they can really shine, and this one, 'Soft Caress,' is a superstar.  No prickles, it's evergreen, and what's that—flowers in October?  My mahonia boycott has been lifted.  Hardy to Zone 7.
---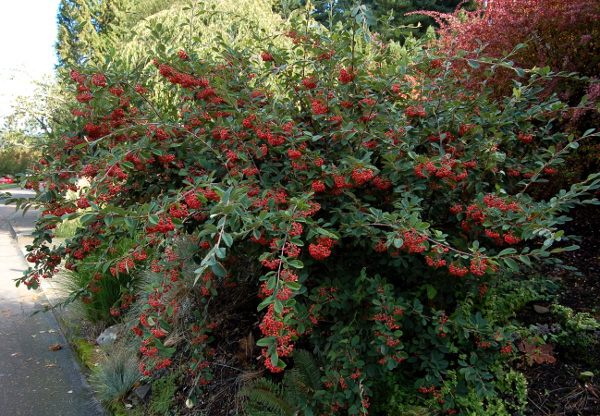 It's hard to get excited about cotoneasters.  It's hard NOT to get excited about THIS cotoneaster, C. lacteus, or Parney cotoneaster.  Such a relaxed and friendly form, those berries!, and it's evergreen to boot.  At 6 to 10 feet, it would make a beautiful screen.  The pundits don't agree on its hardiness.  Dirr says Zone 6, but I never saw the plant until moving to Oregon.
---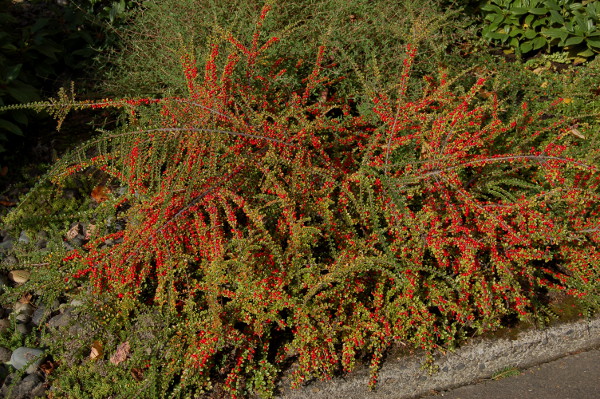 Here's another cotoneaster to make your heart go pitter-patter:  C. horizontalis.  It has the poetic name rockspray cotoneaster.  Yes!  Can't you just see a wave hitting the shore and splashing like that?  It's technically hardy to Zone 5, but prefers a milder climate to really strut.
---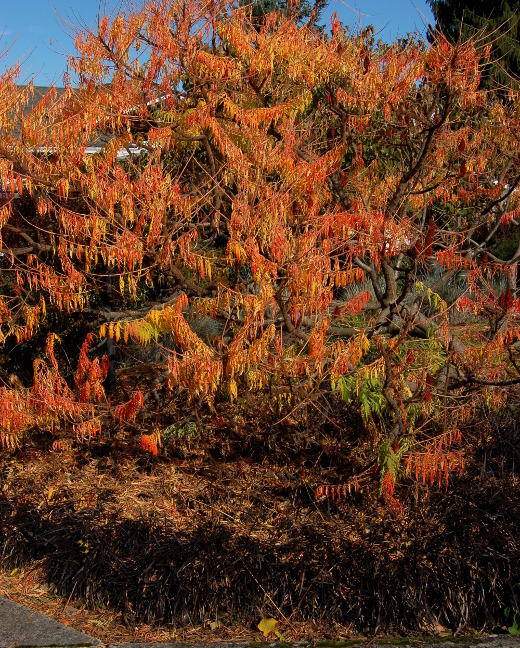 And I've just gotta revisit this killer combo I saw with Tiger Eyes sumac and black mondo grass.  Tiger Eyes is bright yellow during spring and summer, and it looks like this in October.  Some have complained that it doesn't stay put, and suckers pop up several feet from the mother plant.  Have you found that to be the case?