I visited a special garden last month.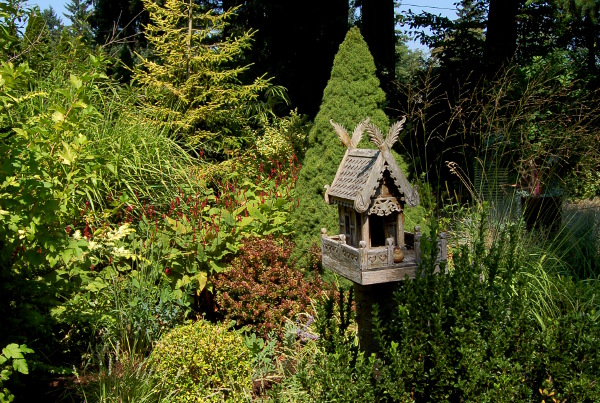 Dragonfly Hollow, the garden of Vanessa Gardner Nagel in Vancouver, Washington, is the garden of a professional garden designer, art lover, and author.  She literally wrote the book on garden design, and her newest book is on garden furnishings.
I knew her garden (23 years in the making) would be a treat, but I wasn't prepared for how complex and detailed it was.
Yet it wasn't fussy or busy!
There was art everywhere, but many of the pieces were half-hidden, and I didn't see them on the first go-around (I wandered all over that half-acre for a couple of hours, and I'm sure there was still a lot I missed).
It was chock full of plants, too, but every one was thoughtfully placed to make a pleasing companion to its neighbors with a complimentary texture, color, or form.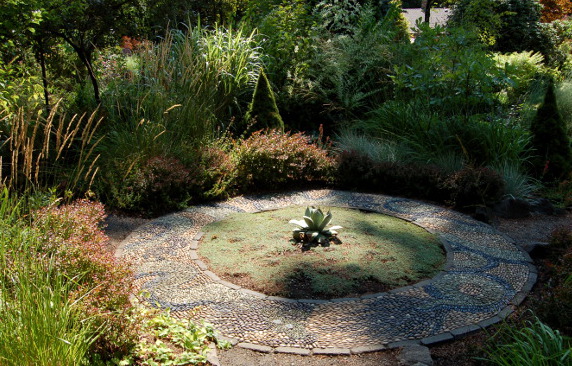 The pebble mosaic surrounding a solitary agave was a showstopper in the middle of the garden.  The mosaic was installed by Jeffrey Bale.
---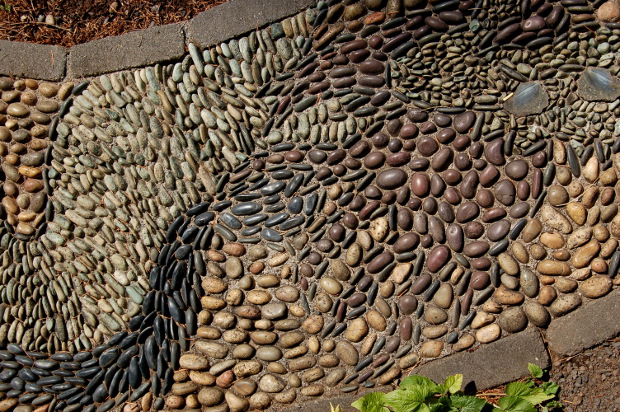 Here's a close-up of the dragon mosaic.  Now that I've sifted a ton of rocks out of my own garden, I'm ready to put them towards something constructive.  I love the idea of a pebble mosaic, but I've never made one.  Maybe I'll start with some stepping stones.
---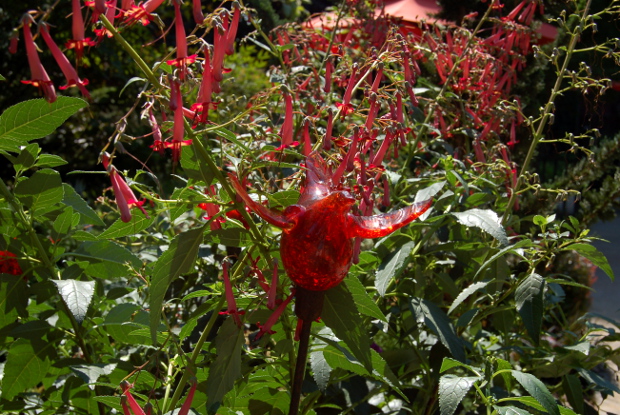 Vanessa had some cool glassworks in her garden.  But they weren't plunked down just anywhere.  These red glass birds meshed perfectly with the color and spirit of the pink dangling trumpets of Phygelius behind them.
---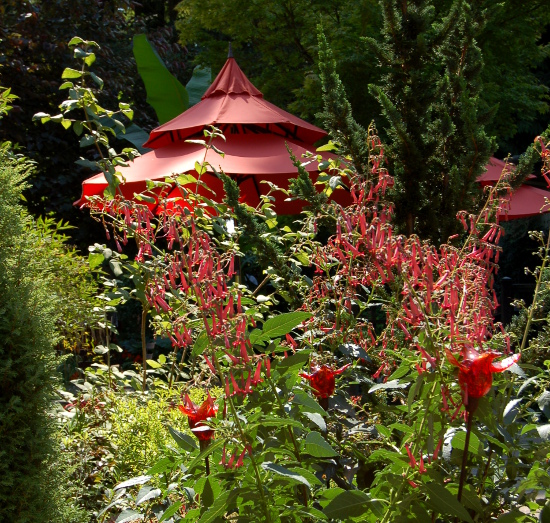 And here's the long view.  Note the color echo in the canopy over the main sitting area in the background.  All working together cohesively, but not matchy-matchy.
---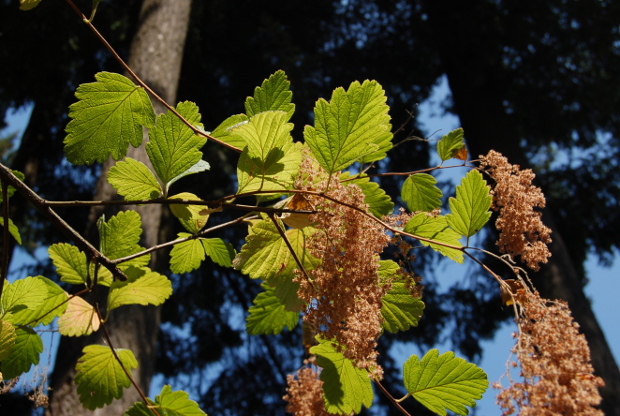 The mix of sun and shade made for some lovely lighting effects.  On this path, you couldn't help but look up and notice our native ocean spray (Holodiscus discolor) catching the light, its leaves illuminated against the dark forms of a few Doug firs standing tall in the background.
---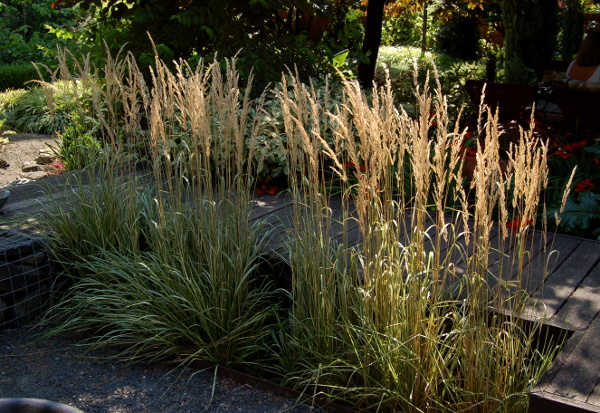 Closer to the house was an area filled with natural spotlights.  Grasses shine in these situations.  This looks like Calamagrostis 'Avalanche.'  I love the deck and how it's cut out to make planting space for the grasses.  The deck looks like a dock leading into a lake, and the grasses remind me of reedy plants that grow by the shore.
---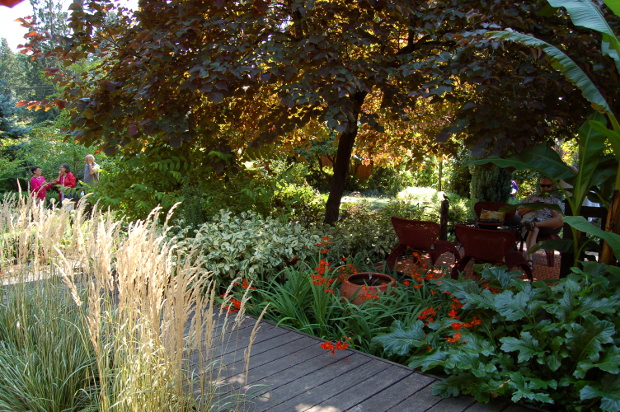 Stepping back, you can see more spot-on choices in texture, form, ornament, and furnishings.  A 'Forest Pansy' redbud forms an umbrella over the sitting area, as the sunlight streams through its russet-red leaves.  The bold, jagged leaves of Acanthus provide substance, Crocosmia adds a smattering of color around a smartly sited orange clay pot, and a variegated Persicaria virginiana makes a splash of white.  Sienna-colored chairs marry well with the setting.
---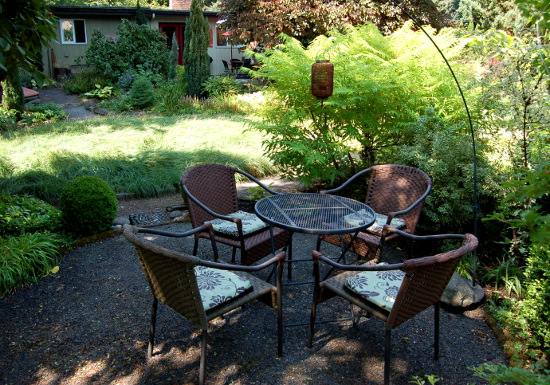 A secondary seating area was a nice surprise.  Simple, clean, uncluttered.  The lantern on a tall, thin pole is an unobtrusive way to bring in night lighting.
---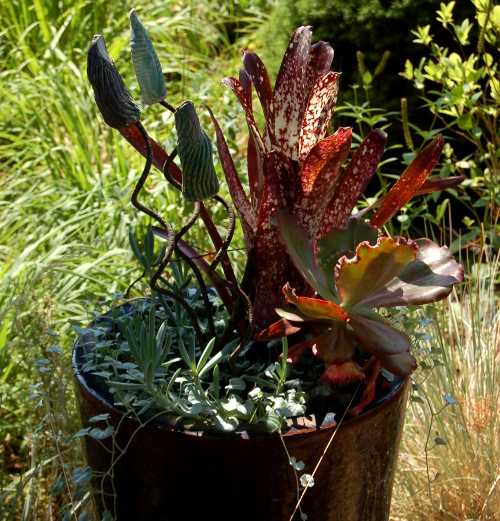 The line between what was plant and what was artifact was blurred at times.  The oxblood-red, white-freckled bromeliad(?) in the back of this pot didn't seem real.  I'd like to know the name of it.
---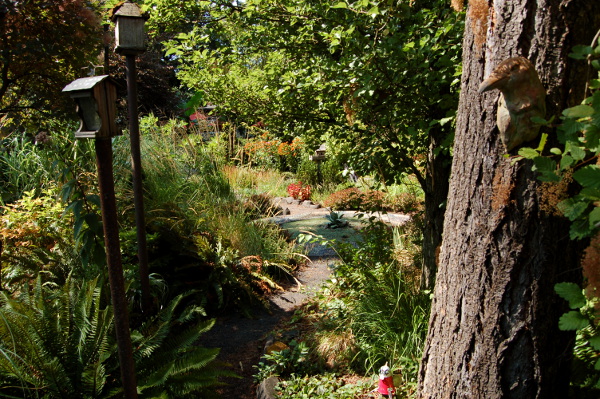 Paths entice you to find out what's around the bend, pulling you from one garden room to another.  You have to force yourself to stop and explore the room you're in to pick up all the details there.  The first time through, I totally missed the raven on the right.
---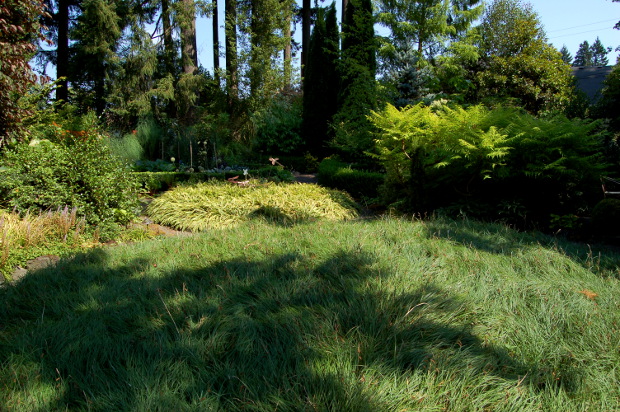 It may be heresy for me to say so, but I have to confess I'm not on the Carex bandwagon.  I think most of them look like weeds.  This swath of Carex, however, was genius.  A garden with a lot going on needs a restful space for the eyes to take a breather.  As a designer, Vanessa understands the value of negative space as much as she understands how to use form, texture, and color to bring excitement to a garden.
I can't wait to go back and make more discoveries in this endlessly fascinating garden!