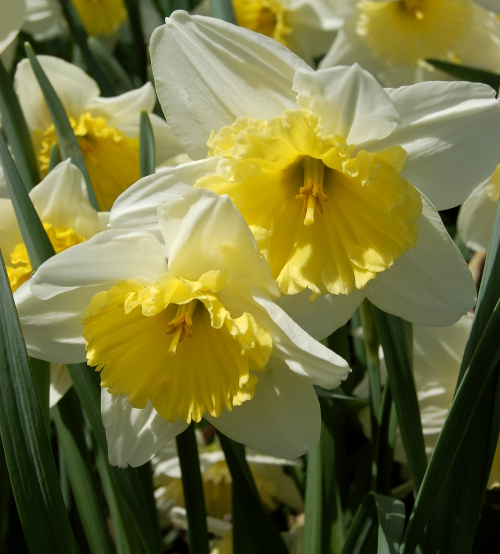 If I had to pick a favorite flower, I think it would be the daffodil. Does that make me a narcissist?
Narcissus is a fascinating genus of plants.
You wouldn't think that daffodils would be so diverse. After all, they only come in a limited palette of yellow, orange, and white, and the form that makes a daffodil a daffodil (a "perianth" of petals surrounding a cup-shaped "corona") seems pretty standard. Yet the species that have naturally arisen and the distinctions that breeders have teased out of the daffodil gene pool reveal the endlessly creative riffs this flower can play on that simple formula.
I've never been one for collecting certain genera of plants, but flipping through daffodil catalogs makes me want to start.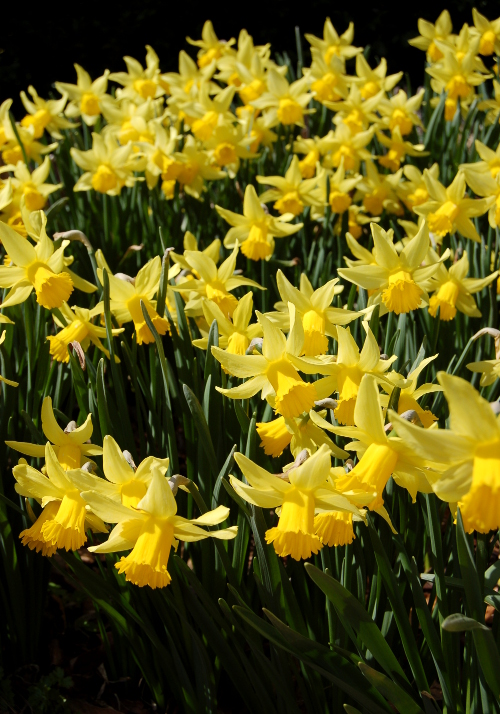 'February Gold' is usually the first daffodil to bloom that I know of. There are probably others that are earlier, but this is the most popular extra-early daff, and to me it signals the beginning of spring, no matter what the calendar says. During this unseasonably warm year in Portland, I first saw it blooming on January 30 in a warm, south-facing, gravelly bed. It usually starts the week of March 8 in Cincinnati (Zone 6).
As the flower ages, February Gold's perianth fades to a soft primrose, while the corona stays a brassy yellow. Its daddy is N. cyclamineus, which has a long snout and petals swept back like the long ears of a hound dog sticking his head out the car window, and you can see a bit of a resemblance. This is an heirloom variety from 1923.
---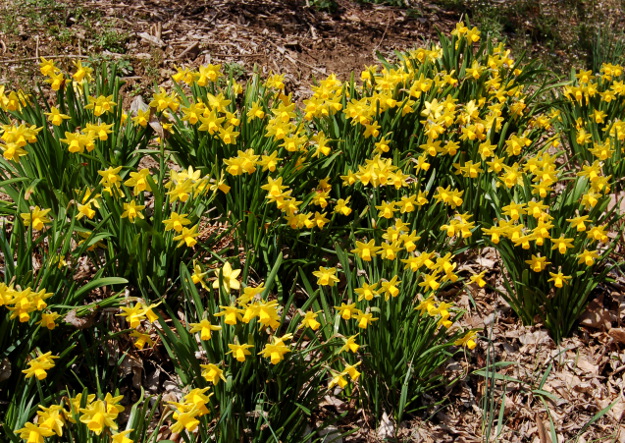 'Tete-a-Tete' is a little cutie that's only 6 inches tall. I like the phrase that nurserypeople use sometimes: "It's a good doer," which certainly applies to Tete-a-Tete, as well as to daffodils in general. It means it gets along well without much special care and was originally a phrase used to describe horses or livestock, but it applies to plants, too.
Daffodils are so easy to grow! Throw some bulbs in the ground in fall, and you're done. They rarely need more water than nature supplies and are dormant when summer comes, so if a drought strikes then, no worries.
---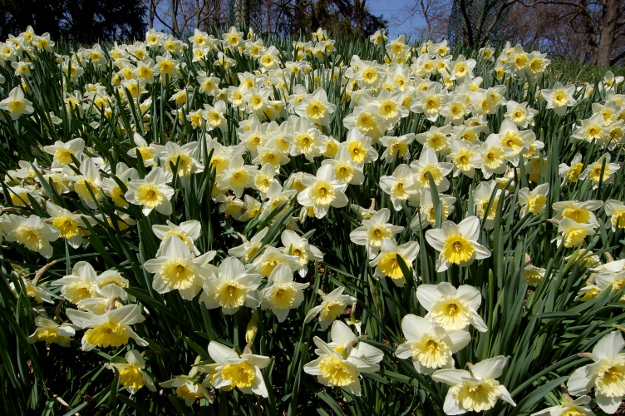 After the classic, big yellow trumpet daffodils, 'Ice Follies' is the most popular variety worldwide. The flowers are big and pearly white with a large, flat yellow cup. Most daffs (like this one) make wonderful cut flowers, and most (like this one) have a light, sweet fragrance that embodies the essence of spring.
Unlike other bulbs, like crocuses and tulips, deer don't munch on daffodils and squirrels and chipmunks don't dig them up.
---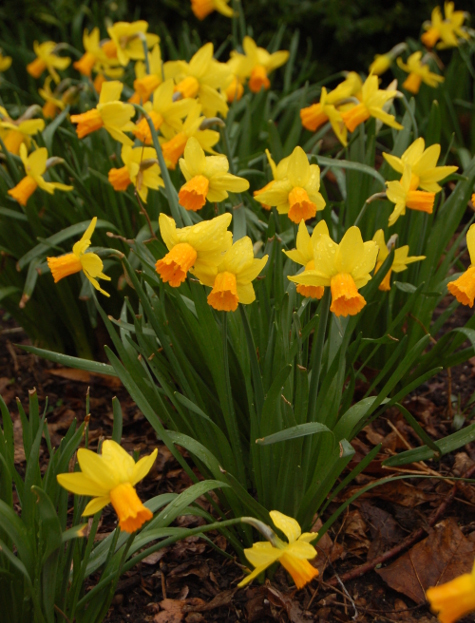 'Jetfire' is similar to Tete-a-Tete, but it's a bit taller (10 inches), a bit later, and its corona is more orange. Jetfire will celebrate its 50th birthday next year.
The American Daffodil Society's "daffseek" site is the place to go to find the stats on any daffodil you can think of. I also have Brent and Becky Heath's superb Daffodils for American Gardens (Bright Sky Press, 2001) on my shelf and refer to it often. I have not yet read Noel Kingsbury's Daffodil: The Remarkable Story of the World's Most Popular Spring Flower (Timber Press, 2013), but it's on my list.
---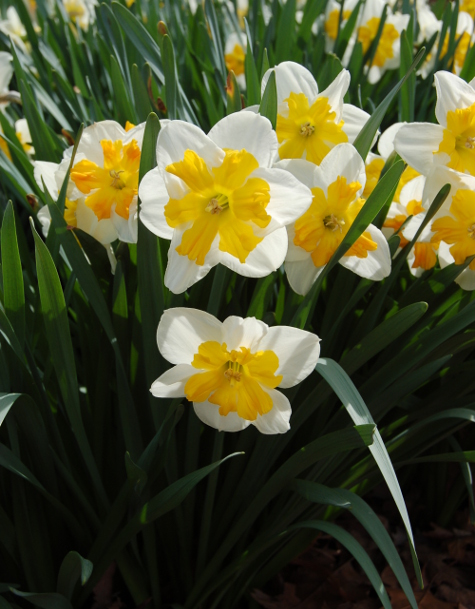 See what I mean by crazy riffs on a simple theme? 'Orangery' is a "split-cupped" daffodil whose corona is split and flattened like a butterflied chicken breast. This group has some of the most undaffodil-like flowers of the bunch, and some of them are truly breathtaking.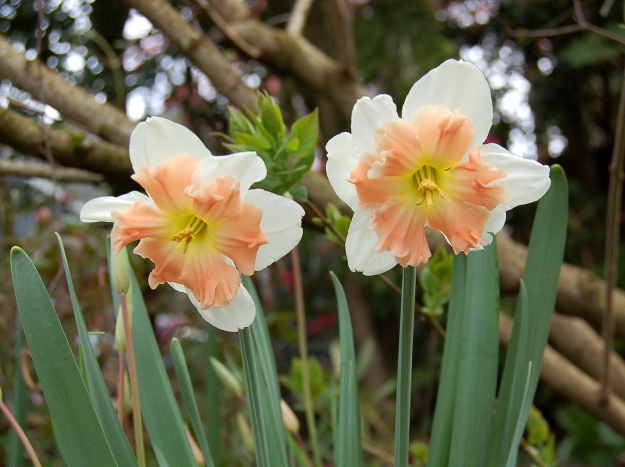 I saw this pink split-cupped daff last year in Portland. I covet it and would love to know what it is. A wonderful reader has informed me this is 'Taurus'. Awesome! Now I can ask for it by name.
---

I lied. Daffodils aren't only yellow, orange, or white, but sometimes have a smidgen of red or a dab of green (or pink, like the NOID above). This one also has petals as white as freshly laundered sheets hung out to dry in the sunshine. It's 'Actaea,' an heirloom from 1919. It's a showier version of N. poeticus, the "poet's" or "pheasant eye" daffodil from the 1700s. It has a spicy-sweet fragrance.
---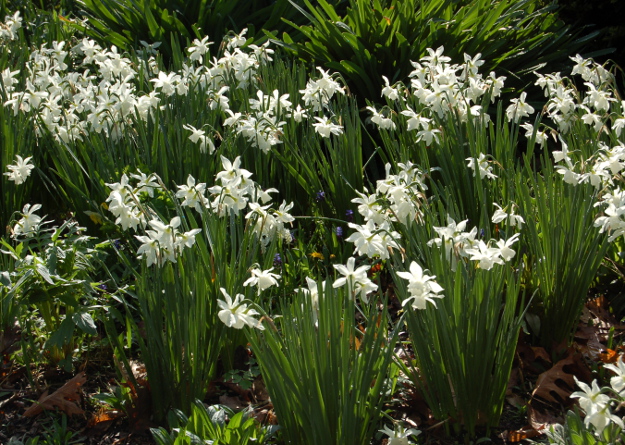 'Thalia' is another crisp white. A "triandus"-type daffodil, its fragrant, nodding flowers are as white as doves, and its slightly reflexed petals are held like wings outstretched. I've seen it paired masterfully with powder-blue Muscari armeniacum 'Valerie Finnis' at Ault Park in Cincinnati—like cumulus clouds against a blue sky.
Study your garden in spring to decide what daffodils and other bulbs you'd like where. When fall comes around, the garden looks very different, and it's hard to imagine what it will look like again in spring. Or at least take lots of pictures that you can refer to in the fall when perusing bulb catalogs.
---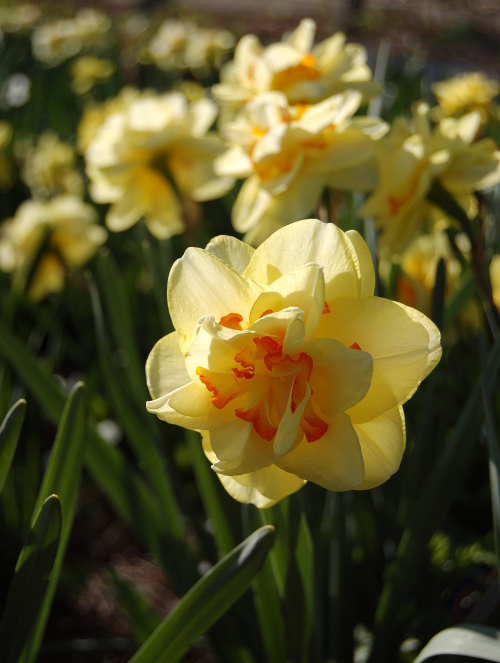 Double Narcissus flowers aren't always as garish as you might think. 'Tahiti' is quite lovely with its buttery yellow color, orange-zest-colored highlights, and just the right amount of extra frills. It originated in Ireland in 1956.
---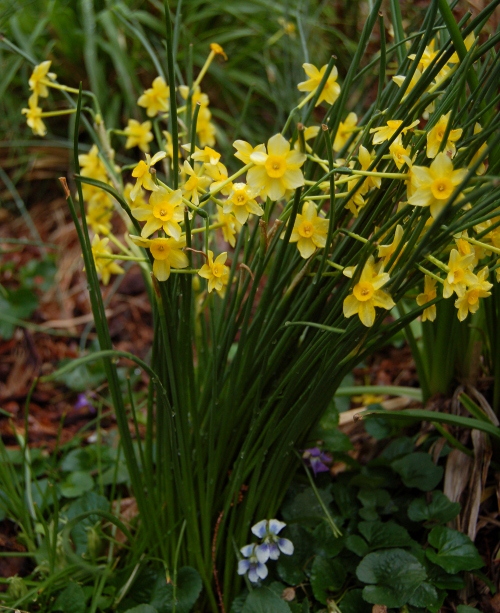 And this is 'New Baby.' New Baby is a sweet little daffodil of the "jonquilla" type, which typically have fine-textured foliage, several blooms per stem, and a heady fragrance. I include it mostly because it's the last daffodil to bloom, starting the week of April 26 in Cincinnati.
At our old house, I had a bed of mixed daffodils and mixed daylilies which gave me two seasons of glorious color. It was hardly an original idea, but I was quite proud of it. If I had it to do over, though, I'd leave out extremely early- or late-blooming varieties. When New Baby blooms, for example, all the others are done, so it just looks sparse and lonely. Go for one big spectacular show, rather than dribs and drabs of color. It's spring, after all!
What are your favorite daffodils?