Have you ever wondered why the number of asthma and allergy sufferers has skyrocketed in recent years? Thomas Ogren thinks he knows the biggest reason for the spike, and he explains what we can do about it in his new book, The Allergy-Fighting Garden: Stop Asthma and Allergies with Smart Landscaping (Ten Speed Press).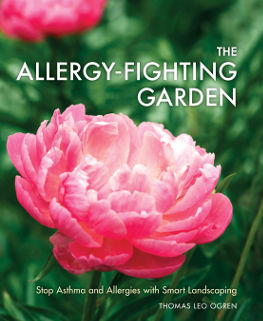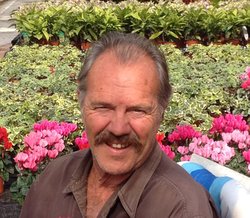 [Disclosure: I did receive a free electronic copy of The Allergy-Fighting Garden from the author.]
The allergy epidemic, Ogren says, basically stems from the fact that our manmade landscapes are composed of too many male-flowering trees, which release clouds of allergy-provoking pollen into the air we breathe every day.
This wasn't always the case.
It wasn't until the 1940s—and more urgently in the '60s and '70s (when elms began dying from Dutch elm disease and needed to be replaced)—that landscape designers, homeowners, and city planners began to specifically seek out male trees for planting. Producing no fruit or seeds, males were hailed as "clean" trees that wouldn't drop litter like those messy females. "But pollen is the invisible litterer,"Ogren suggests.
He cites that today, four out of five of the best-selling street trees are male clones. This trend hasn't helped allergy-prone people (38% of the population in 1999, he states)—nor has it served our bee, butterfly, and hummingbird pollinators, which seek out female flowers for the nectar they contain.
One of the most shocking things I learned from The Allergy-Fighting Garden concerned the site of the highest pollen count ever recorded in the U.S., which Ogren visited. It was in Las Vegas—at an elementary school! It made me wonder, are the schools that ban peanut butter because some students have nut allergies some of the same ones that then send those kids into clouds of irritating pollen at recess?
Tom Ogren doesn't have allergies himself, but his wife does, so this issue is personal for him. In the book he explains what he's done to improve his wife's quality of life and what you can do, too. While you can't always influence what your neighbors will plant, you can greatly reduce the suffering of allergy-prone people in your home by choosing low-pollen plants for your own landscape. Ogren discusses other tactics you can employ and also gives tips on how to determine the sex of existing plants in your landscape.
The second part of The Allergy-Fighting Garden is a comprehensive listing of trees, shrubs, perennials, and annuals and their allergy-provoking potential. This list is the result of over 20 years of research he's done. When Ogren began examining the connection between plants and allergies, there was no ranking system for plants—so he invented one himself. Called "OPALS," for "Ogren Plant Allergy Scale," it ranks plants from 1 (least allergenic) to 10 (most allergenic) based on many criteria.
A couple of surprises I noticed on the plant listing were goldenrod (Solidago), which scored a 6, and sneezewort (Helenium), which got a 9. Both of these perennials are often defended by garden writers as perfectly harmless plants that have simply gotten a bad rap. Goldenrod, they say, blooms at the same time as ragweed, and undeservedly takes the blame for hay fever. Sneezewort just has an unfortunate name. Ogren's ratings would imply that we need to take a closer look at the evidence before passing along such statements.
I do have a couple of issues with the plant listing. For one, I wish the plants were separated by type of plant instead of one big A-Z listing. Specifically, I'd like to see trees separated out. Trees are much bigger than other plants and create much more pollen than, say, perennials, so they have a much greater impact in the landscape.
The other issue for me is that the list is heavy on Southwestern plants (Ogren is based in Southern California). I found myself scanning through dozens of plants that can't be grown in most of the rest of the country. A few plants that are commonly used in much of the U.S. aren't mentioned at all, such as Miscanthus and Pennisetum alopecuroides. The list is quite extensive, however, and I was able to find most of what I was looking for.
I loved this book. It was filled with good information on a neglected topic, and I was surprised, enlightened, and intrigued by many of Ogren's points. Already I have changed my point of view when I hear a colleague extol the virtues of yet another new male tree on the market! And with my own allergy-suffering spouse in mind, I will consult Ogren's book often as I begin planting my new garden.
The Allergy-Fighting Garden should be required reading for any landscape designer, landscape architect, urban forester, city planner, or homeowner with allergy-prone family members.
To learn more, visit Ogren's website here.