Not only do plants flower in a certain order, but they leaf out in a certain order, too, and some start to leaf even while frost is still a threat.  Winter flowers like hellebores, crocuses, and daffodils hog the limelight in March, but our color-starved eyes are also glad to see new foliage.  Look for the following early leafers to brighten up the landscape while other plants are still sleeping: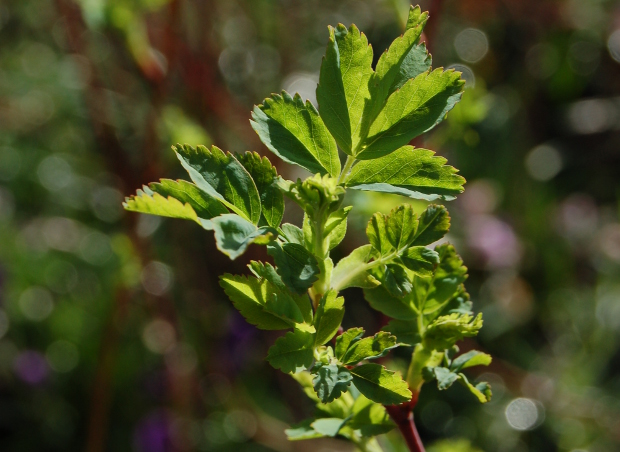 Many Rosaceae (rose family) plants get off to an early start, like this rose stretching out in the March sunshine…
---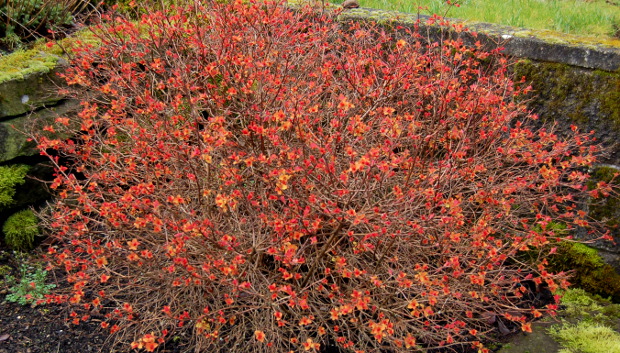 and this spirea on fire ('Goldflame', most likely).  Other early rose family plants include crabapples, raspberries, potentilla, sorbaria,
---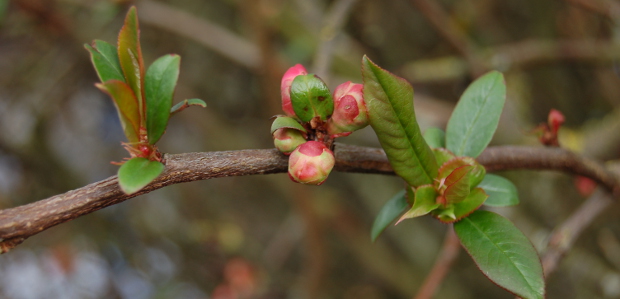 flowering quince, like this one, and many more.
---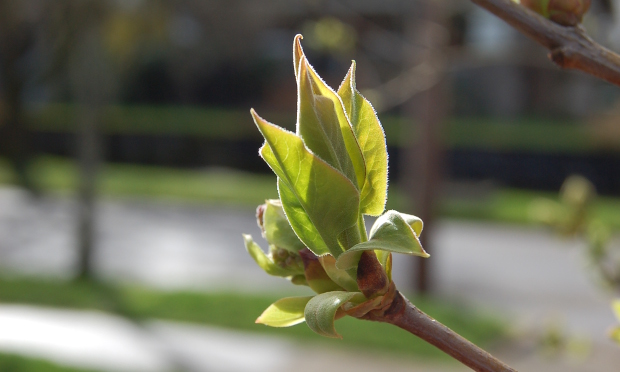 Some olive family (Oleaceae) plants are super-early, like this lilac…
---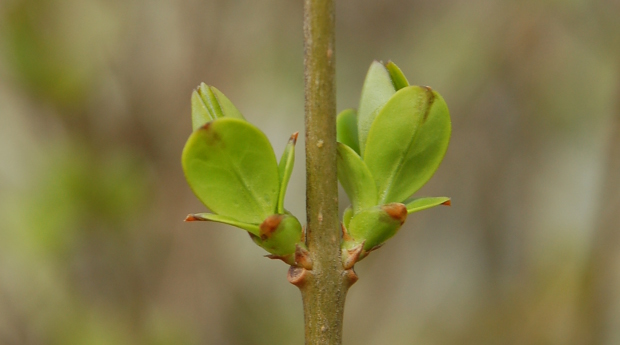 and this privet, though others, like ash–oddly enough–are very late to break bud.
---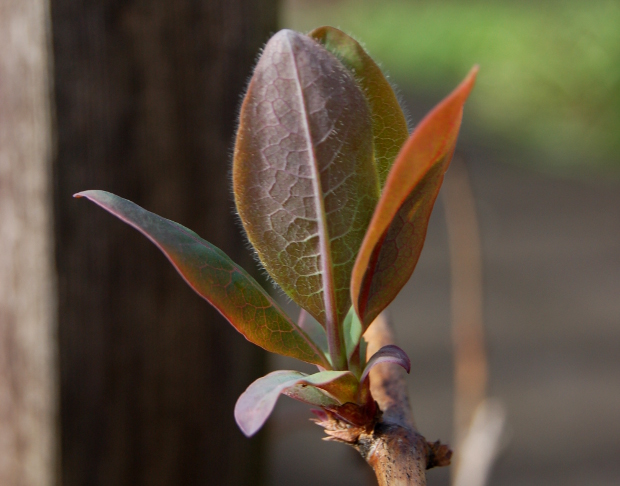 Honeysuckles leaf out early, and some, like this ×heckrottii type, show beautiful glimmers of purple, pink, amber, and teal in their young foliage.
---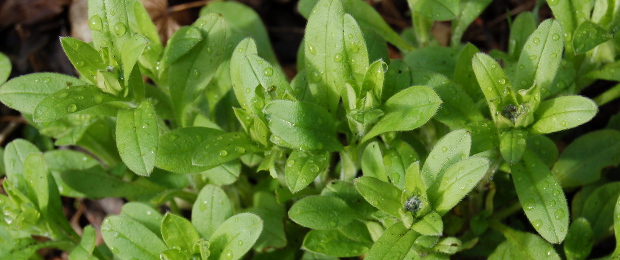 Here is a Boraginaceae member looking lush, Myosotis sylvatica.  I can never remember the common name.
---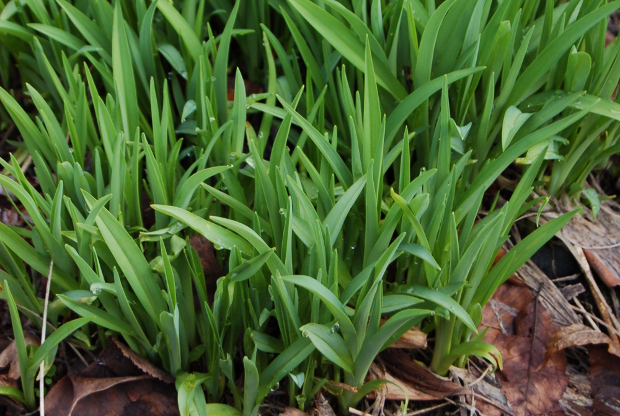 Daylilies are some of the first plants to emerge in the spring.  They can be used like evergreens to accompany early bulbs, helping the flowers look a little less lost in a bed that may otherwise be brown and dormant.
---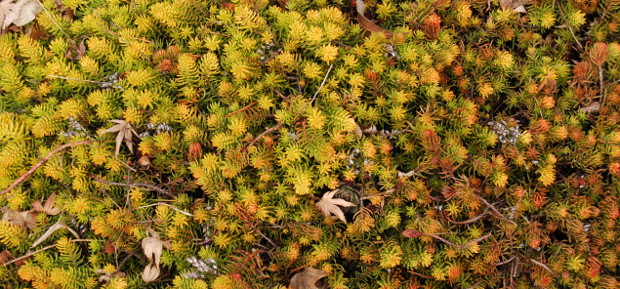 Stonecrops (Sedum, and others) may be used in the same way.  Sedum 'Angelina' is especially dynamic in early spring, with mats of soft golden "needles" dotted with hints of orange-pink.  According to San Marcos Growers, 'Angelina' was originally a patented plant, but the plant had been in commerce prior to the patent, and the patent was declared void.  So, propagate it freely, and the plant police will not haul you away!
---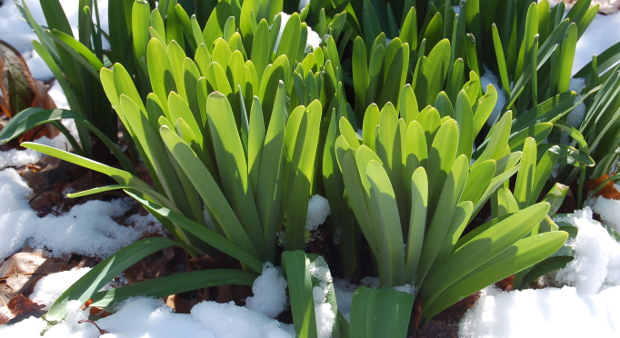 All sorts of bulbs have some substantial foliage early on, even if they will not bloom for a long time, like these barenaked ladies (Lycoris squamigera) pushing up through a late snow.
---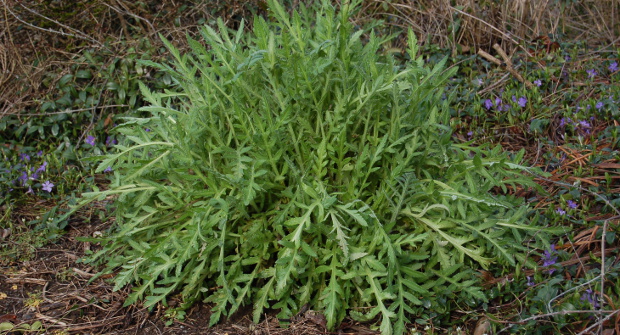 Oriental poppies are a little out of sync with most other plants' rhythms.  They are fat and sassy when the vinca blooms (the blue flowers in the background), flower in May, and then go utterly dormant.
---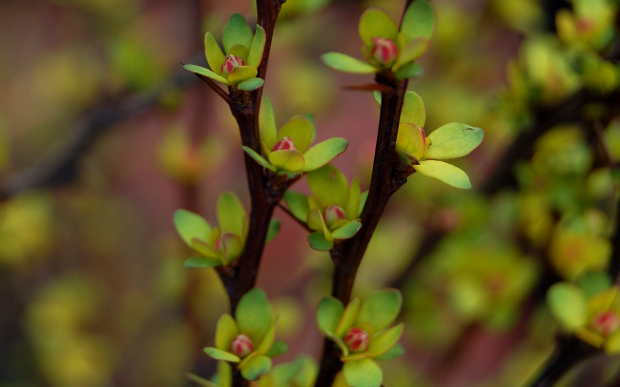 Barberries have tiny, flowerlike clusters of leaves with the first warm breaths of March.  Do the yellow ones leaf out earlier, or are they just so much brighter than the red that they stand out more?
---
Lots of mint family (Lamiaceae) plants have lush foliage when the calendar says it's still winter, like this deadnettle (Lamium).  Others include catmint, lamb's ears, and bee balm.
---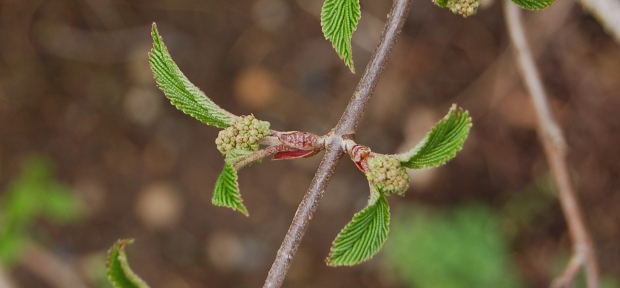 I love the arrival of tightly pleated doublefile viburnum leaves.  Aren't they sweet?  A lot of viburnums are quick on the trigger.
---

Willows are famously early to both flower and leaf.  Here a weeping willow is putting out chartreuse leaves before most other plants are stirring.
---
What other plants have you seen shrug off late winter weather and act as if spring were already here?