Who doesn't like bulbs?  And you can always find a space for them… tucking them under shrubs, or in between perennials, or in a planter by the door.  In late winter and early spring they shine, playing a big part in the early-season show.  Here are a few of my favorites, in order of bloom.  Some of them are off the beaten path and worth a look!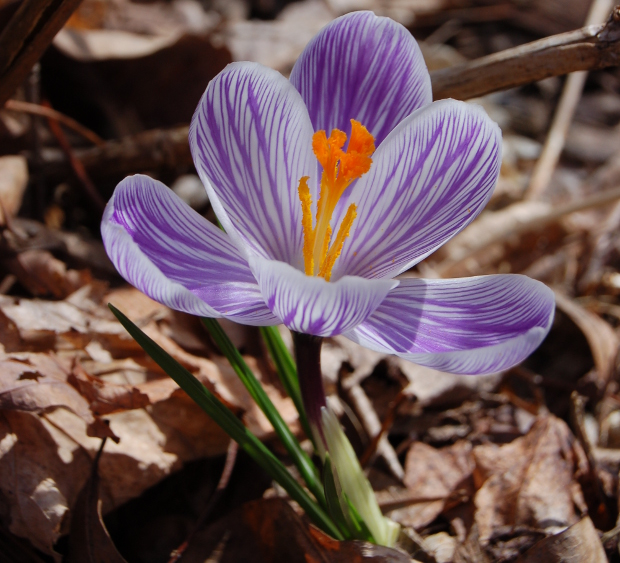 Crocus vernus 'Pickwick'.  Called "giant" crocus, though less than a foot tall, C. vernus blooms after the snow crocuses (C. chrysanthus) and tommies (C. tommasinianus) and is, in fact, a little bigger than those two species.  The flowers come in purple or white, but if you can't decide, why not have both colors in one plant?  The lines seemed to have been painstakingly etched in lavender ink by an artist.
---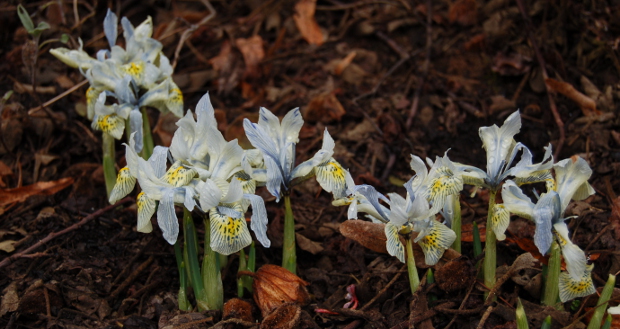 Iris reticulata 'Katherine Hodgkin'.  What a dreamy, pale, cotton-candy blue.  And so early!  Other I. reticulata clones are no slouches, either, usually wearing purple or cobalt-blue shades.  When clumps get crowded, it gets hard to see the graceful individual forms of the flowers, though a solid swath of color in early March is quite a treat.
---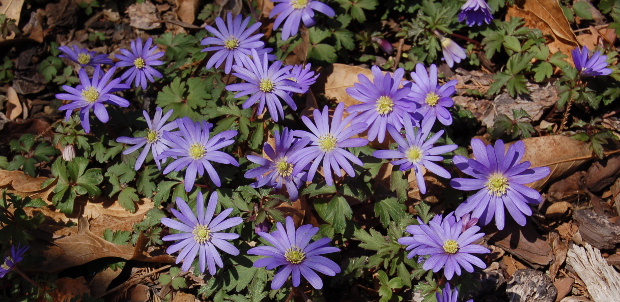 Anemone blanda.  Grecian windflower is a buttercup family (Ranunculaceae) plant, though it appears to be the season's first aster (except for the parsley-like foliage).  It appreciates dappled shade and excellent drainage and can often survive being wedged among tree roots.
---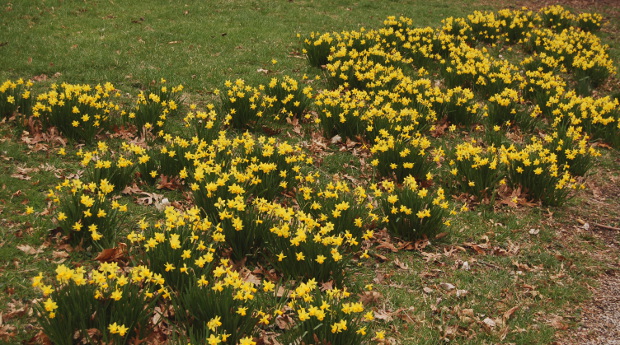 Narcissus 'Tête-à-tête'.  Daffodils are probably the world's most perfect flower.  Easy to grow, beautiful, often fragrant, long-lived.  The flowers sport a simple form and a limited palette of colors, but there are so many riffs on that theme!  'Tête-à-tête' is a miniature, but a lusty grower.  It is what is known in the trade as a "good doer."  It never disappoints.
---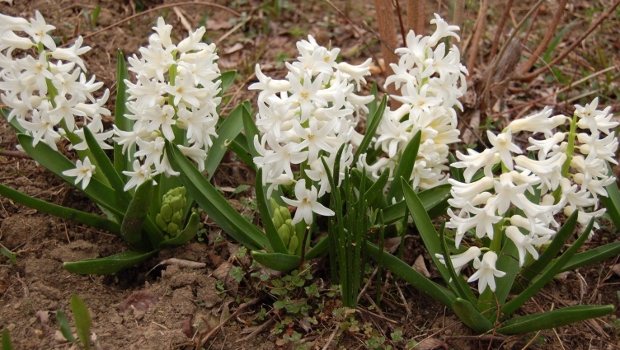 Hyacinthus orientalis 'Carnegie'.  Hyacinths are usually treated as annuals and tossed after the first go-around.  What a shame!  They can actually look prettier in successive years–not the stubby cobs of corn they are the first year, but more refined.  In any case, the flowers are just a vehicle for that heady perfume.  These have been in the ground several years and are still doin' their thing.
---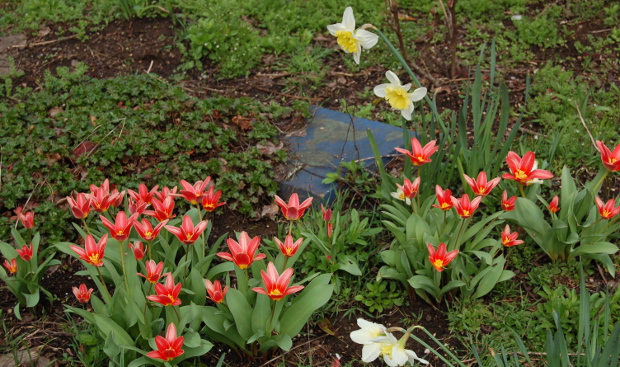 Tulipa kaufmanniana.  Scrumptious.  Yes, magnolias are starting to bloom when these flower, but the landscape is still pretty bleak in general.  And then, to come across these?!  The gardener here had the right idea planting these with 'Ice Follies' daffodils, but why so timid?  Think what this would look like with a few fat clumps of daffodils thrown in!
---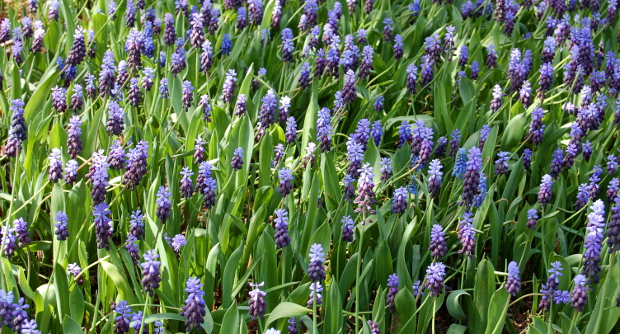 Muscari latifolium.  I usually don't think blue and purple look good together, but when the colors are contained in a flower, any combination works.  It's as if the marriage were sanctioned by nature.  How electrifying would this be with orange, yellow, and white daffodils?  This grape hyacinth doesn't have the grassy, weedy foliage of the usual sort, but rather each bulb has one wide leaf.
---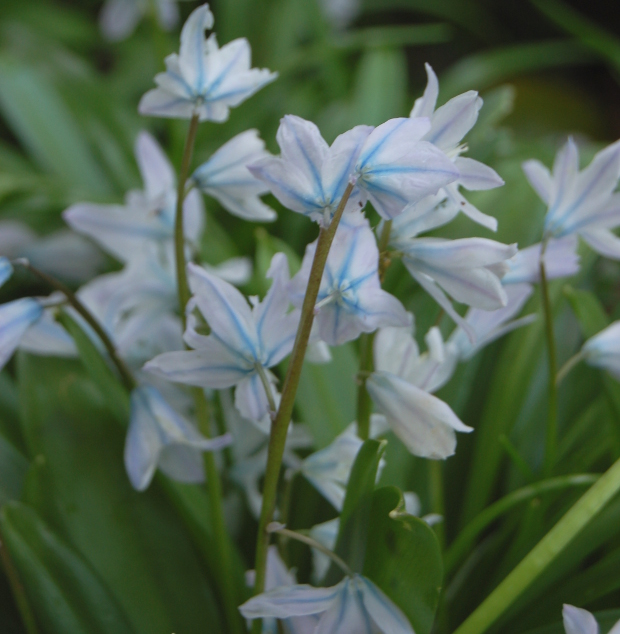 Puschkinia scilloides.  That porcelain-blue on the back sides of the white petals is what won my heart.  Puschkinia is a little bulb like scilla and chionodoxa with flowers so small that a bumblebee can drag them to the ground.
---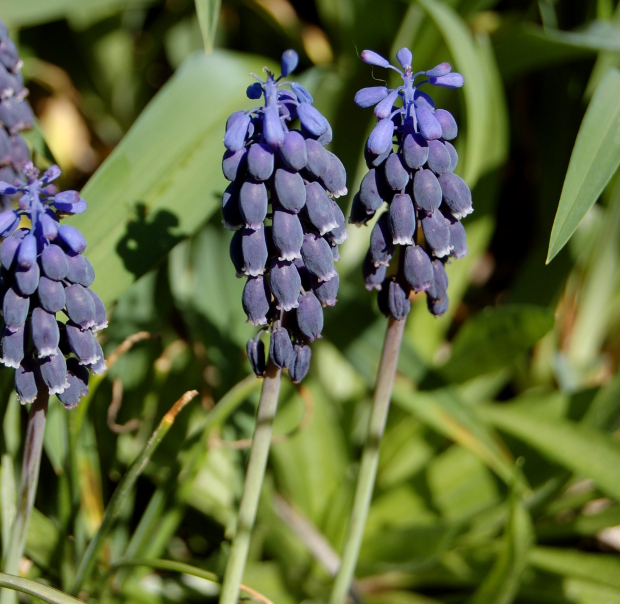 Muscari neglectum.  I would never have known about this plant if a gardener hadn't planted it at our house in Kentucky many years ago.  It is known as "starch grape hyacinth" because of its scent.  I'm not sure what starch smells like, but apparently it's kind of sweaty.  I love this plant for its weirdly stinky flowers and the blue-jean color of the lower bells.  It's a somber, dusky, unspringlike color and totally unexpected.
---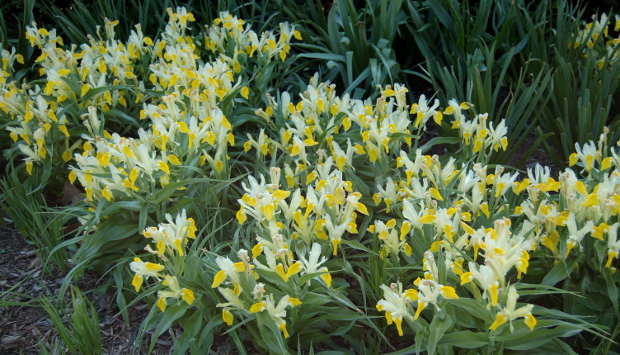 Iris bucharica.  Juno iris is said to be fussy, but this swath has persisted several years at Ault Park in Cincinnati, Ohio.  The early, ladderlike foliage first calls attention to the plant and then the sparkly yellow and white flowers sit atop, catching the early April sunshine like jewels.
---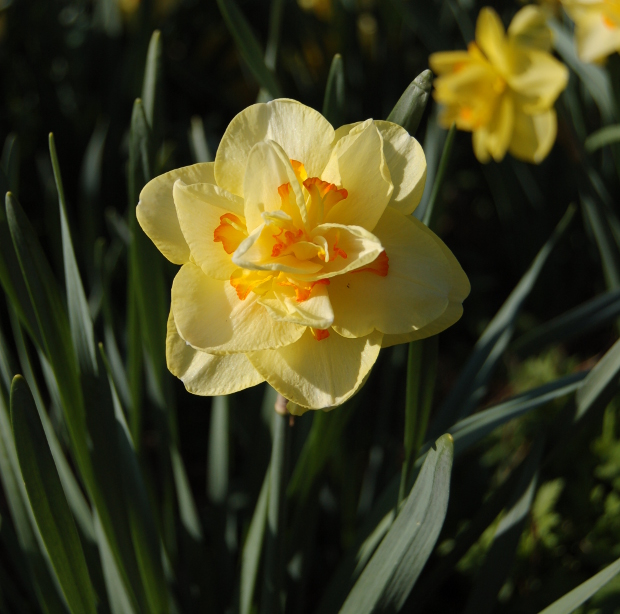 Narcissus 'Tahiti'.  I'm not too crazy about a lot of double flowers, daffodils included, but this one is lovely.  I dig that buttery yellow color, and the petal segments tucked in among the petals look like strips of orange zest.  It's a good performer, blooming heavily and increasing every year, though never obnoxiously.
---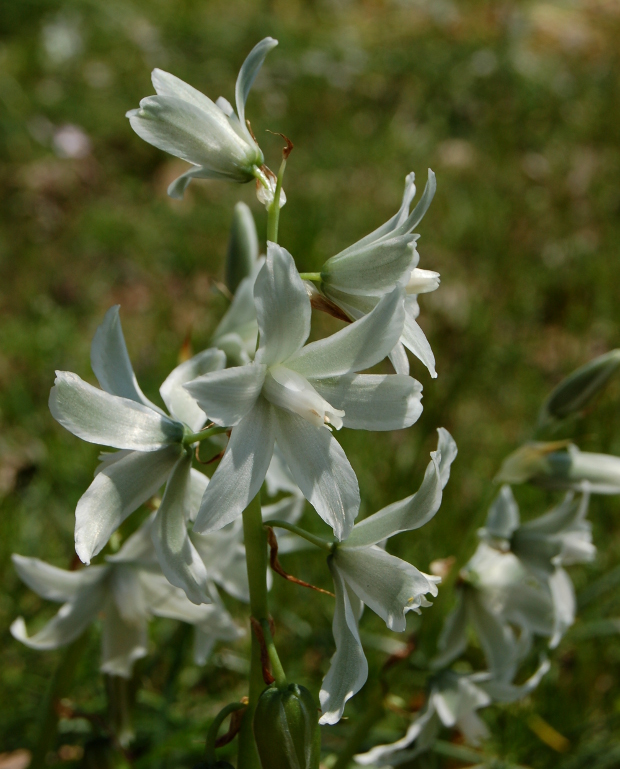 Ornithogalum nutans.  What a ghostly flower!  Silvery-white petals are backed by the faintest gray-green.  This drift, appropriately, resides in Spring Grove Cemetery in Cincinnati.  It is not tiny (growing to 18″ or so), but is a wispy thing nonetheless, appearing and disappearing before you know it.
---
Have any of these bulbs earned a place in your winter/spring celebrations?