Spring may begin in March, around the time the daffodils bloom in the Lower Midwest, but that doesn't mean the color calendar isn't already underway before then.
Did you know that even before the daffodils bloom, quite a few plants have already stepped into the spotlight?  Here are ten of them: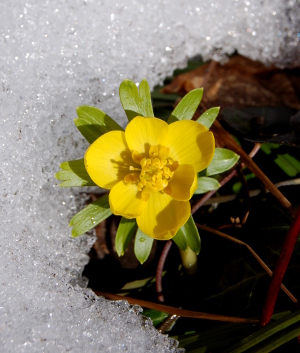 1.  More often than not, Winter Aconite (Eranthis hyemalis) opens its first flowers during the second week of February in Cincinnati.
It is so anxious to get the ball rolling that it melts the snow around it.  The warmth of the sun coaxes its buttercup flowers open.  Get your knees dirty and take in their perfume:  that polleny-sweet scent that many early bloomers have.  Bees must like it, because they get right to work on the flowers.
---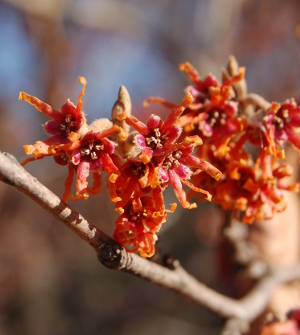 2.  Vernal Witchhazel (Hamamelis vernalis) gets started during the second week of February, with clusters of yellow, orange, or red blooms dotted along its branches.
The petals adjust to the temperature, stretching out like a cat in a sunbeam on balmy days and curling into a ball when weather turns frosty.
Its flowers give off a sweet but hard to place fragrance.  Is it brown sugar?  Honey?  Talcum powder?  It seems to vary day to day.
---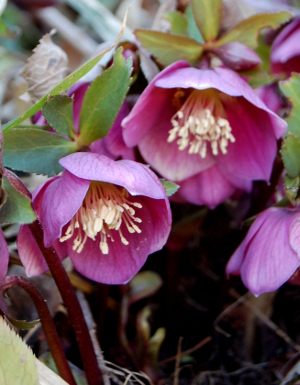 3.  Most gardeners know the "Lenten rose" hybrid hellebores (Helleborus ×hybridus, formerly H. orientalis), which bloom in March, but few know about a similar group of hellebores that often flower with the winter aconite–three weeks before the hybrids.
The 'Early Purple' Group Hellebores (Helleborus orientalis subsp. abchasicus 'Early Purple' Group) have pinkish-purple blooms that are thick, fleshy, and weatherproof.  Plants are easy to grow, given shade and well-drained soil.
---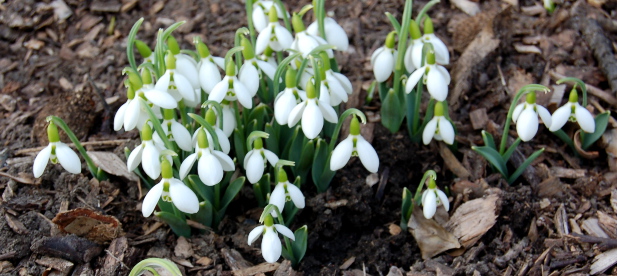 4.  Giant Snowdrop (Galanthus elwesii) opens during the third week of February.
The Latin word Galanthus means "milk flower" in English, and it isn't hard to imagine the buds looking like drops of milk hanging from arching stems.  The petals look like rabbit ears when they expand.
---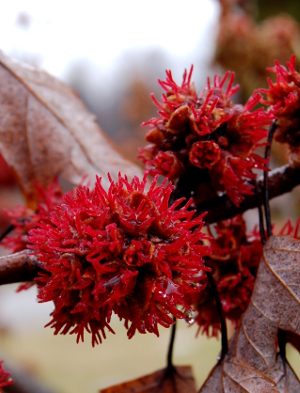 5.  During the third week of February, look for a red haze to appear in the canopy of Silver Maple (Acer saccharinum).
The female flowers (shown here), though smaller than the male flowers, are usually the showier of the two.   They look like the flowers of red maple, which will open a couple of weeks later.  Squirrels sometimes eat the buds when food is scarce.  They show poor table manners, leaving buds strewn about beneath the trees.
---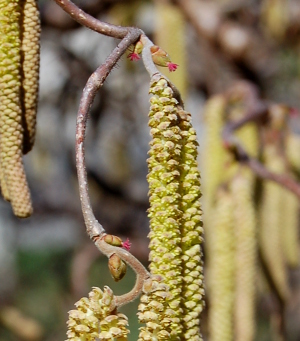 6.  Corylus avellana 'Contorta', a.k.a., Harry Lauder's Walking Stick is the perfect winter-interest plant, its branches drawing spirals in the air.
Even the leaves are twisted, making them look as if they were wilting, and really, the plant looks better without them.  It blooms in February and March.
The yellow tassels are the male flowers, while the pink female flowers are rarely seen by the uninitiated.
Consider this your initiation.
---

7.  And here we have Crocus tommasinianus.  "Tommies" come up during the third week of February, their slender buds piercing the earth like spears.
Like all small bulbs, they look a little lost in the landscape unless planted by the hundreds.  Luckily, tommies are not expensive.  They flourish in sun or part shade and partner well with snowdrops.
---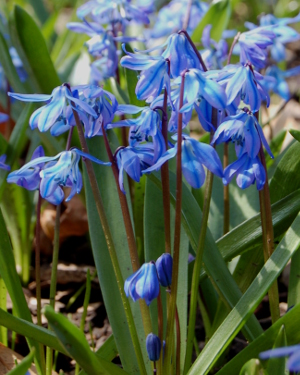 8.  A few electric blue Siberian Squill (Scilla siberica) blossoms in February become an ocean of them in early March.
The nodding flowers hang like crumpled lampshades.  Standing a mere 4 inches tall, the plant is so tiny that when a bumblebee lands on a flower, he drags it to the ground.  The flowers send out a gentle perfume to draw the bees near.
They make a beautiful carpet beneath early-blooming magnolias.
---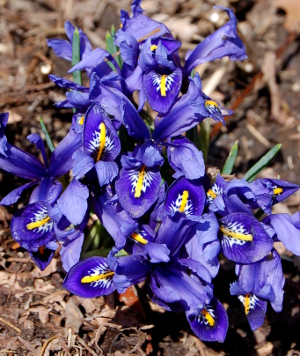 9.  A friend once told me he thought his neighbors were tacky to put fake flowers in their landscape.
When he described the flowers, I knew he had been tricked by Reticulated Iris (Iris reticulata), which makes its appearance in the first week of March.  His mistake was understandable, as it seems quite unlikely that something so gorgeous should magically appear overnight.
Check out this hybridizer's page for some really fascinating colors.
---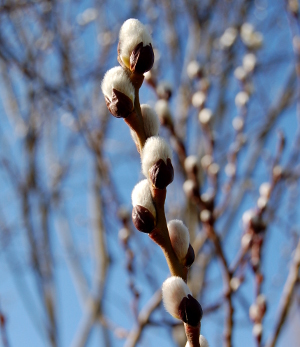 10.  French Pussy Willow (Salix caprea) splits its smooth, coffee-bean-brown bud casings during the first week of March.
Salix caprea is also known as "goat willow" (caprea is Latin for "goat"), which doesn't exactly bring the prettiest images to mind. But then again, doesn't cashmere come from goats?
Perhaps a better marketing campaign would have promoted the nickname "cashmere willow".
---
Do you also love this late-winter time of year?  Did I miss any of your favorite late-winter go-getters?