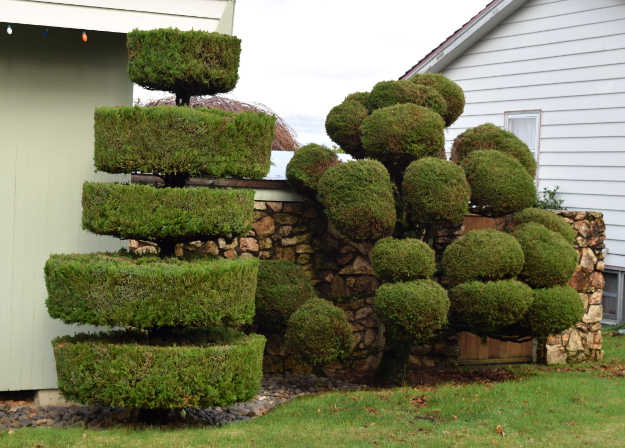 Before I realized that horticulture was my true calling, I was a sociology student with plans to become a professor of sociology. Then I discovered my love for plants. I left grad school after getting my master's degree and took an entry level job at a nursery.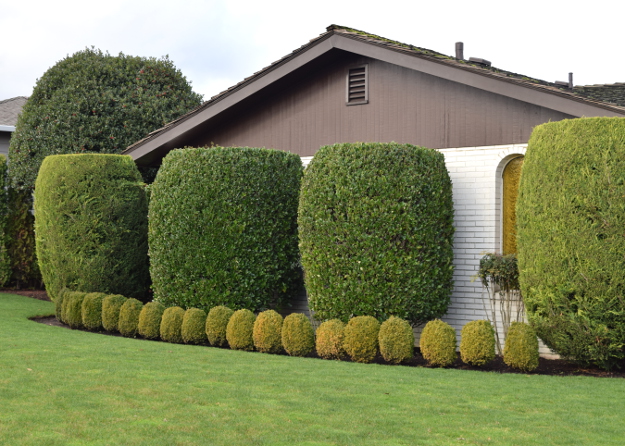 There haven't been many times when my old world and new world have met, but I was thinking about the intersection of culture and horticulture this weekend when I explored a rather bizarre community near my home whose residents are obsessed with topiary.
I saw some weird and wonderful stuff, and the sociologist in me wanted to figure out why the people of Argay had chosen to create these Dr. Seussian landscapes.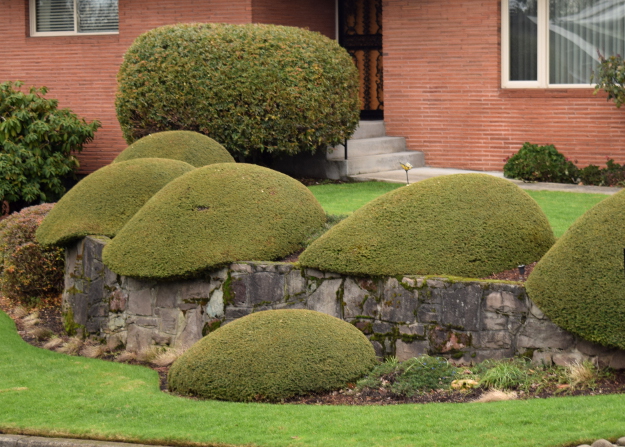 Topiary is the ancient craft of shearing plants into certain shapes, like spheres, cubes, spirals, hedges, or hippopotamuses. Or giant slugs, as seen here. Bra pads? Computer mice? What do you see?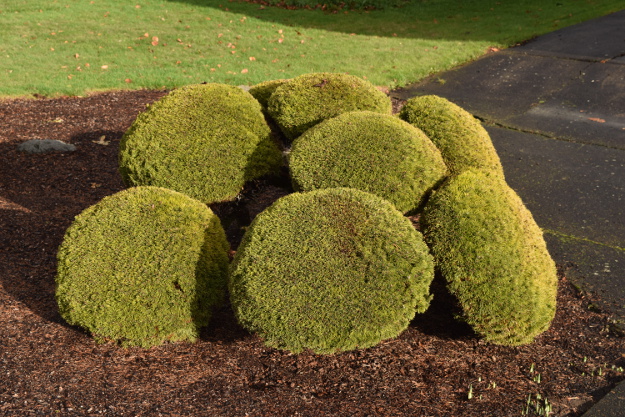 I loved these bar stool covers. I thought they were made out of goldthread chamaecyparis, but upon closer inspection, I realized that it was actually a severely sheared and chlorotic dwarf pine. I still think it's fabulous.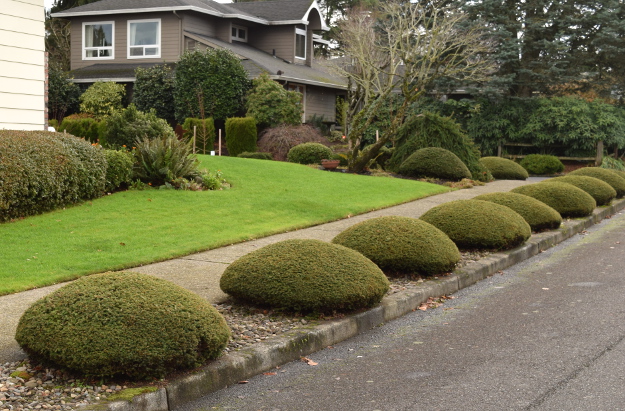 I also enjoyed these flying saucers made of spruce that had landed on this corner lot. Pillows? Muffin tops?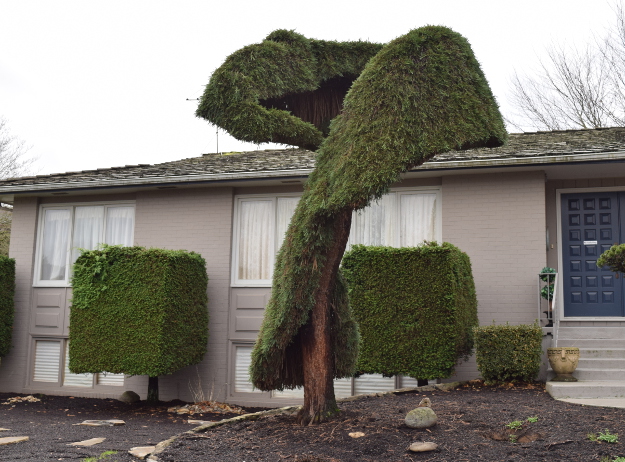 My favorite of all was a giant weeping sequoia green fur stole. Carpet remnant? This is the wackiest plant I've seen all year. Bravo! That is hilarious.

My second-favorite was this oddball. How about an orange 'Rheingold' arborvitae, a blue 'Heather Bun' chamaecyparis, and some sort of yellow chamaecyparis all grafted together? I've never seen anything like this, and I thought it was fascinating.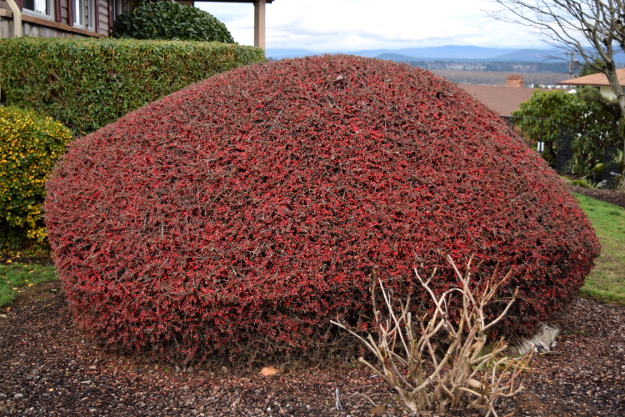 Argay is a quasi-suburb of Portland. Technically, it's in Portland city limits, but it's on the far northeastern fringes of the city, almost in Gresham. Argay is bounded by the Columbia River to the north, but I mostly stuck to the area south of Sandy Boulevard, north of I-84, and between 122nd and 148th Avenue.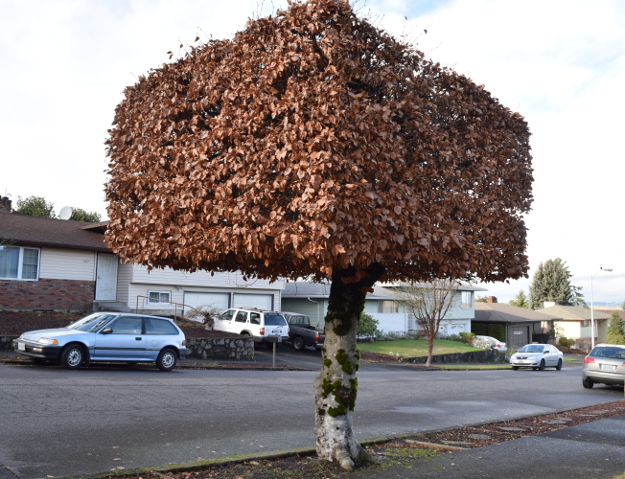 Trees are rarely allowed to take their natural size and form in Argay. This is one of four European beeches, an immense tree in the wild.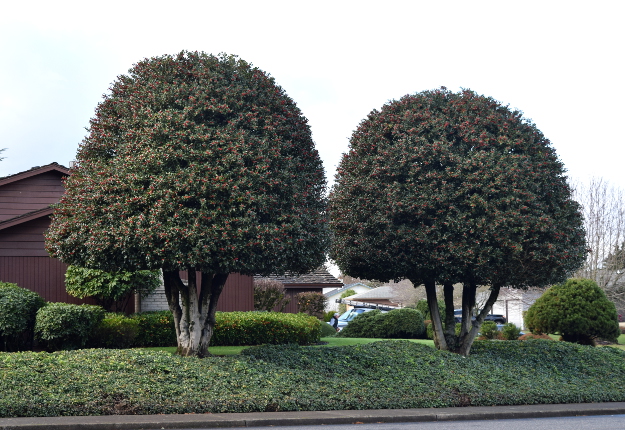 English hollies usually have a nice, dense, pyramidal form without any pruning at all; however, these two trees got the mushroom treatment. Gardeners here feel a need to call the shots.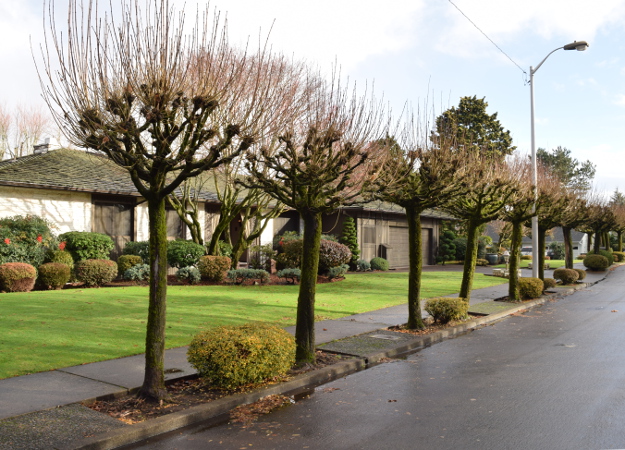 Many street trees in Argay are pollarded. Pollarding is an extreme pruning technique often practiced in European cities. When Americans try to pollard trees, we usually butcher them, but these maples look like they were pruned correctly. Still, it's kind of a weird thing to do when there aren't any power lines overhead.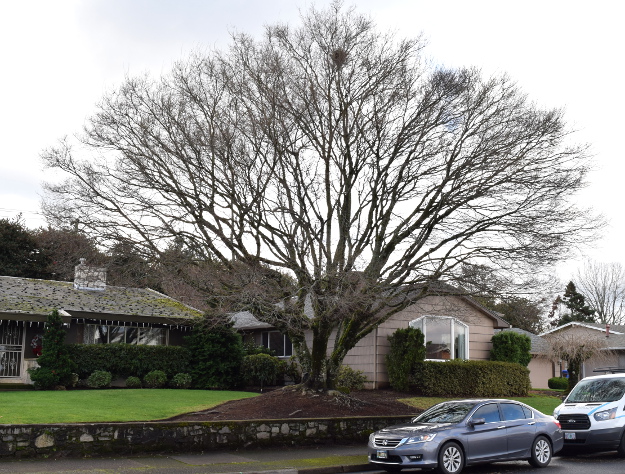 Here's one rare Japanese maple that escaped the pruners. Magnificent! Trees get very big here if you let them, and they grow fast.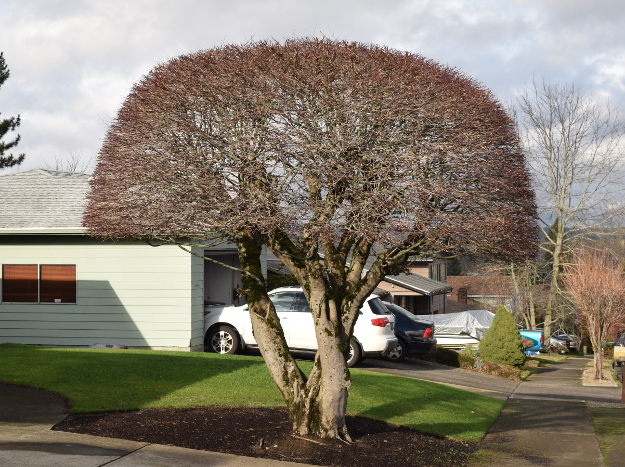 Perhaps size control is one reason why topiary is so popular in Argay. Small trees, small problems; big trees, big problems when a bad storm comes through. And this area is in the direct line of fire from the fierce "East Winds" that sometimes rip through the Columbia River Gorge. No big limbs to fall from this stunted Japanese maple.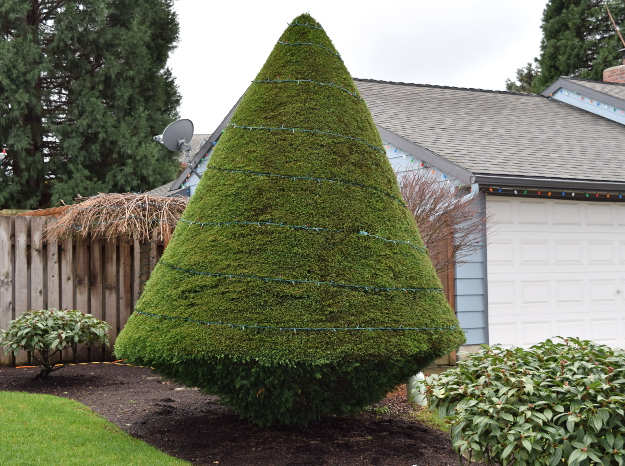 And this Leyland cypress will never fall on the house if it continues to be sheared like this.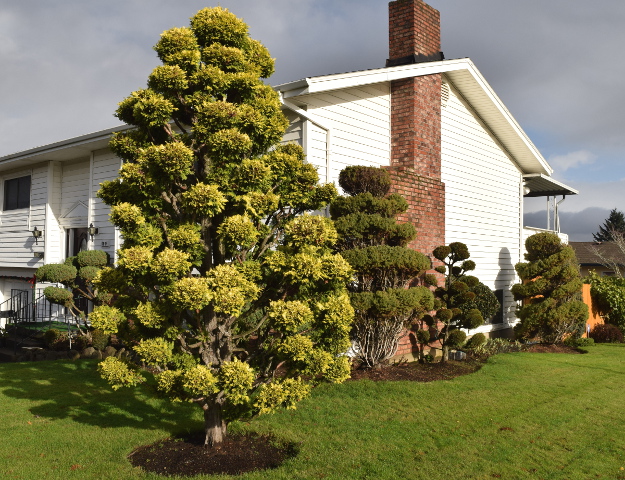 A more sociological theory I have is that maybe topiary is used here as a status symbol. After all, isn't that how lawns originated—as a way for the aristocracy to show off their wealth… to tell the world that they could afford to have land that wasn't being used for anything but to look at?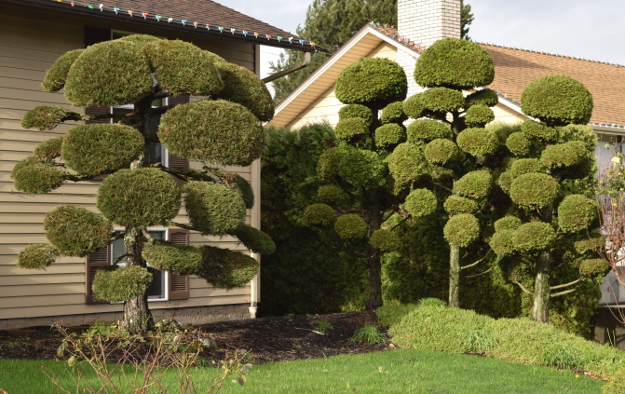 Some of the properties here showcase quite a few intricately sculpted topiaries. No doubt they were expensive to buy and take a lot of time to maintain. Could this be a bit of horticultural boasting?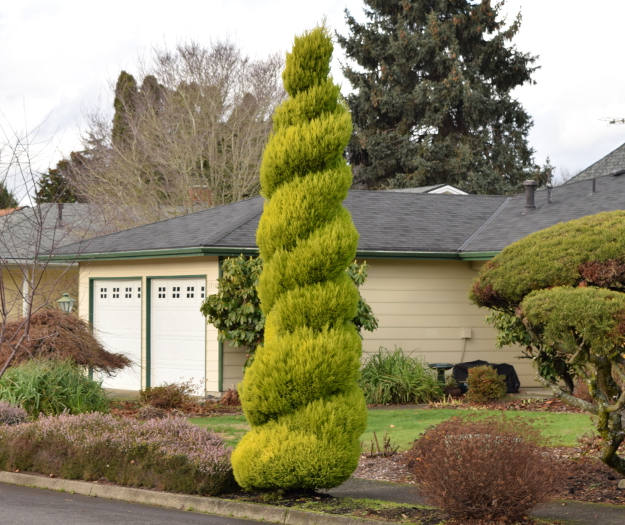 Or maybe topiary is a lot more common in the suburbs than I thought. Just part of the suburban aesthetic everywhere. The result of a perfect storm of relatively spacious yards, full sun, home ownership, disposable income, and a DIY/weekend warrior mindset.


So, do you see houses like this in the suburban areas in your part of the world? (OK, maybe this one goes a bit overboard and isn't exactly representative.)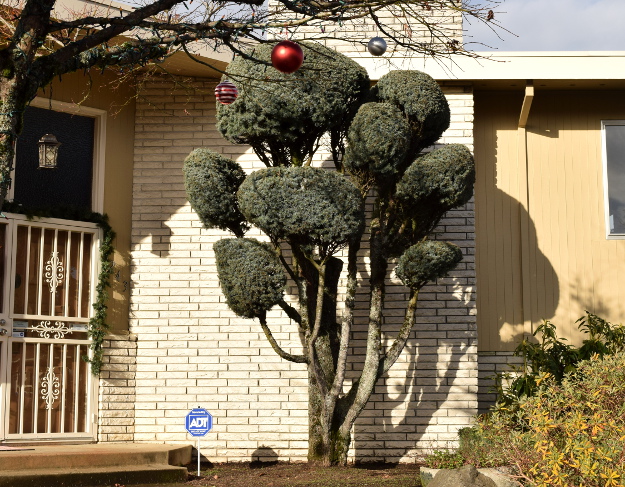 Maybe topiary is highly valued here as a means of artistic expression—a beautiful collaboration between man and tree. Who wouldn't want this lovely blue spruce outside their door, perfectly set off by the white brick?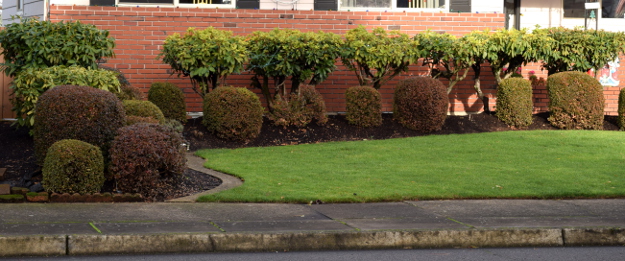 But I also saw a lot of landscapes like this one. Not exactly a work of art. Still, it adheres to the same basic aesthetic principles as nearly all the other landscapes in the neighborhood: Sheared plants. A wide-open front yard, no fence. A tidy lawn, neatly mowed and edged. No perennials—just shrubs and mulch. No weeds. No scraggly or errant growth of any kind. A very narrow plant palette of the most common exotic plants.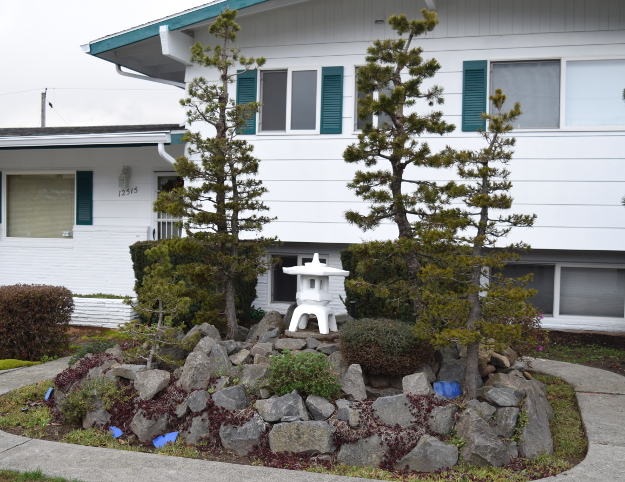 Then I saw this landscape. Minimalist but expertly executed. A strong point of view. Balanced, interesting, in harmony with the home and the climate. And it dawned on me—maybe this was the spirit that the rest of the neighborhood was trying to capture. An Asian aesthetic: clean, simple, a narrow plant palette, very few flowers, dwarfed trees, carefully manicured plants, topiary.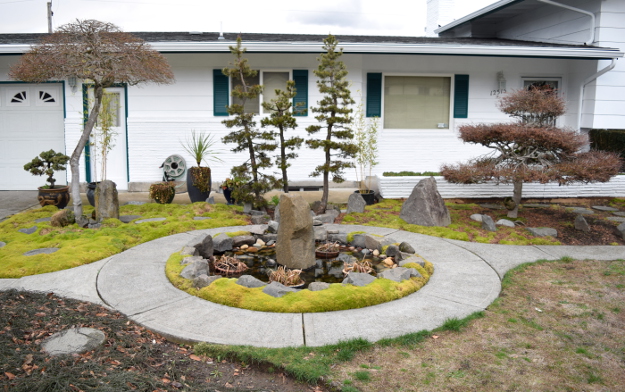 This is another section of the same landscape. Brilliant.
We have a handy online tool here in Portland called Portland Maps, which allows us to look up any address and find out who owns the property. I was curious about the style of this garden and looked it up to see if I could guess the ethnicity of the owners, and I found they had Vietnamese names.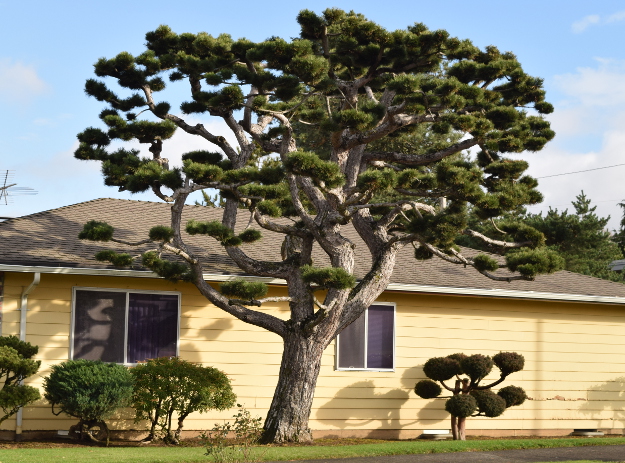 There are quite a few people of Asian descent in this area. Our branch of the library has a whole section of books in Vietnamese, and I think there is a Mandarin section as well. I thought if maybe Argay had a sizable number of Asians, that might help explain the great affection for topiary here.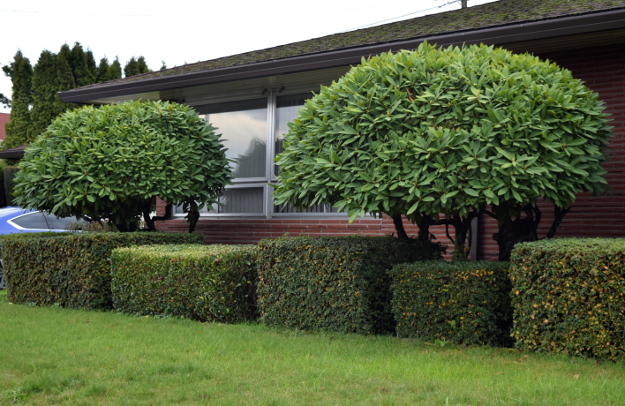 According to the latest census data, however, Asians make up 10% of the population of Argay, which is more than average for the country as a whole, but it's not an overwhelming proportion. Hispanics make up 13%, blacks 13%, whites 60%, and mixed race/other 4%.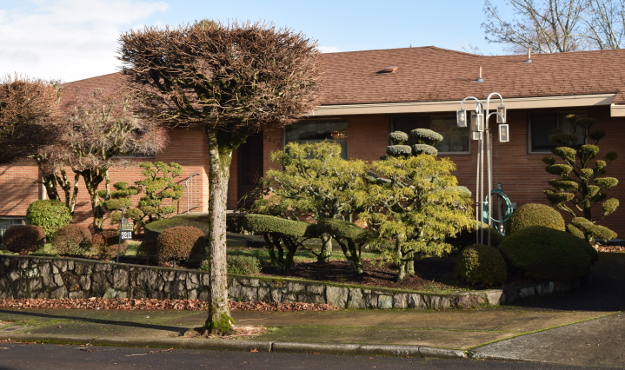 So maybe I don't have it figured out after all. But I sure had a lot of fun exploring this neighborhood and writing this post!
And if I ever decide to go back to sociology, I think I know what my doctoral dissertation will be on.