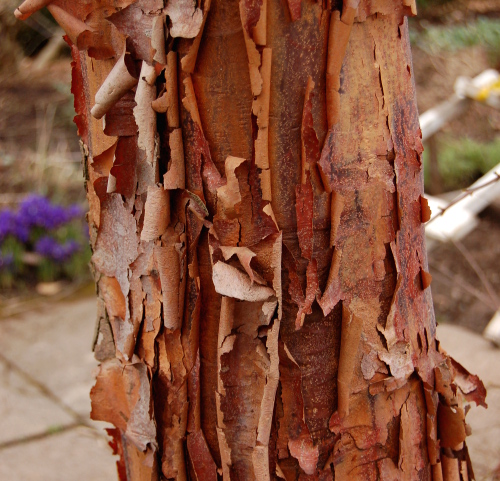 Planting a paperbark maple is one thing you must do to be considered a Serious Gardener.  (The other two are gardening after dark by the light of your car headlights, and asking for manure for your birthday.)
But novice gardeners can get in on the fun, too, because the choice paperbark maple (Acer griseum) is surprisingly easy to grow.  It wants full sun but can handle light shade, and it's not fussy about soils.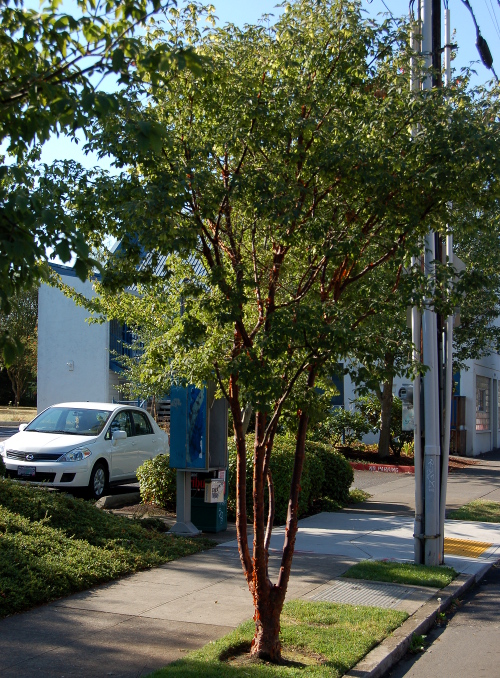 In fact, here in Portland I see it used everywhere as a street tree, forced to tough it out in many a parched hellstrip—and performing like a champ.  True, our plants are spoiled with a milder climate than most, but it should be noted that in summer, it's dry.  We hardly get enough rain to wash all the Meconopsis betonicifolia pollen off the sidewalks—let alone do any real irrigating.
---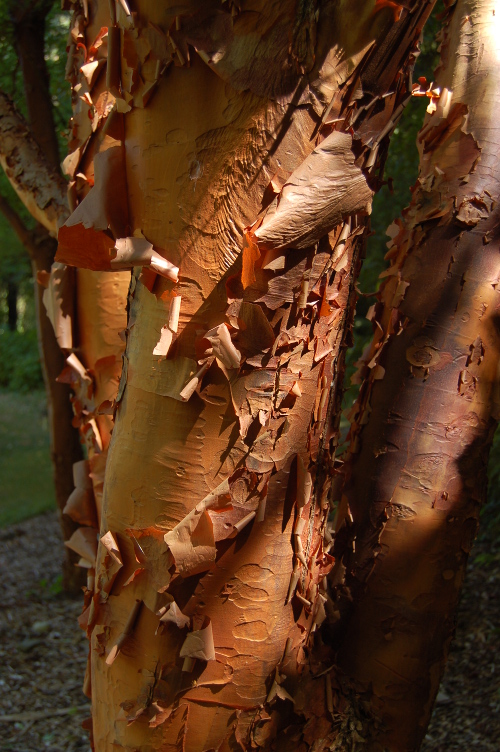 Ferdinand Pax, a German botanist, was the numbskull who named this tree Acer griseum (griseum="gray").  Please tell me how you can look at this bark and then say, "Hmm… that's nice, but I notice your leaves appear sort of grayish on the undersides.  I'll call you 'gray maple.'"  (Okay, maybe he didn't have a specimen like this to look at, but come on, man!  Do your homework.)
---
The bark can actually vary quite a lot, and every tree is one of a kind.  It can be relatively smooth and shiny, peeling just enough to catch the late afternoon light.
---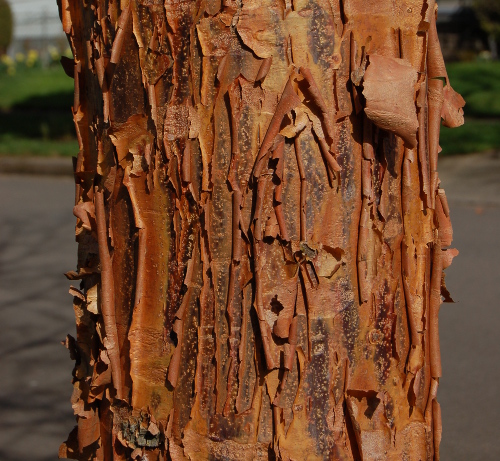 Or it can look like it was clawed up by a particularly spiteful cat.
---
Once in a while you'll find one with a blocky pattern.
---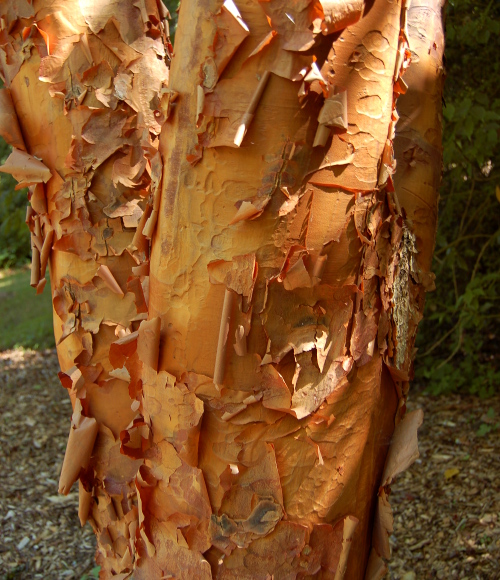 Though the shaggy forms are the most striking.  This honey-colored beauty almost looks like a river birch.  The usual hues are more chestnut- or copper-toned.
---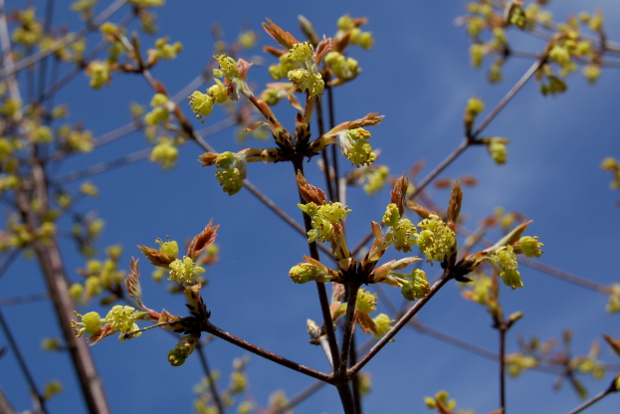 Paperbark maple's pale yellow flowers emerge in the frenzy of spring, when we gardeners have a lot on our plates, and they often get overlooked.  Take a moment to study them now.
---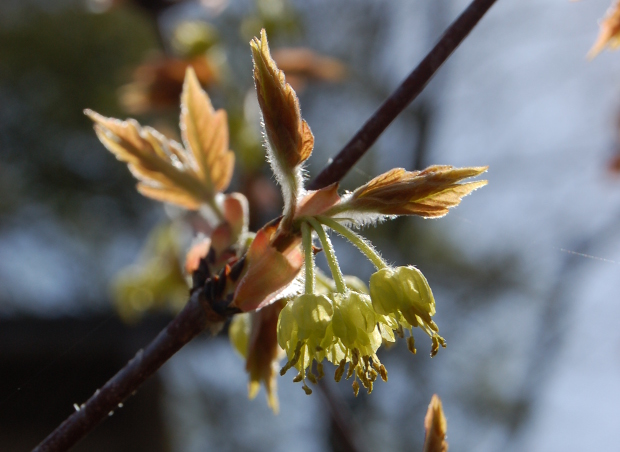 The leaves come out with the flowers and have a butterscotch tint.  As they unfurl, they turn deep green.
---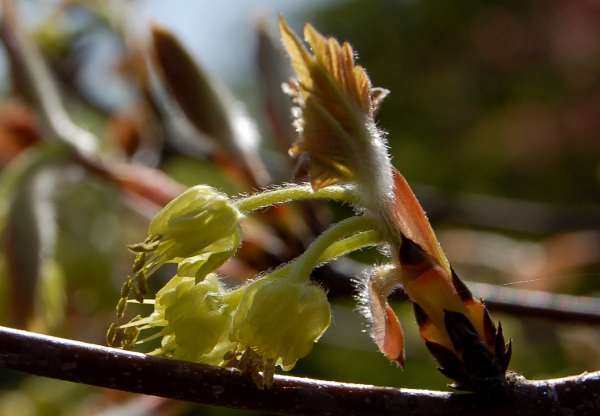 They're so fuzzy!
---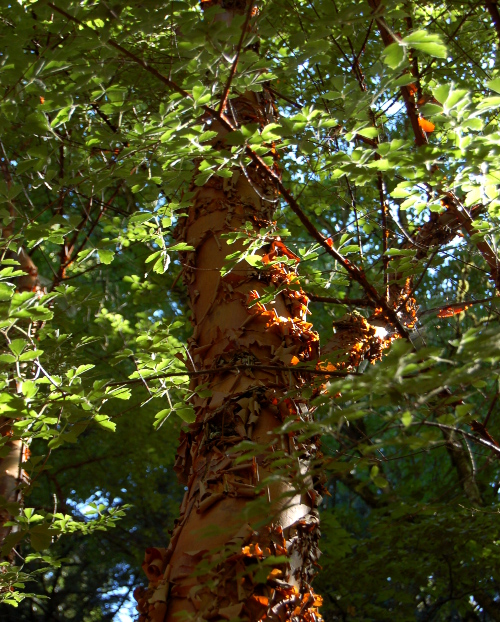 The leaves look a lot like poison ivy once they expand.
---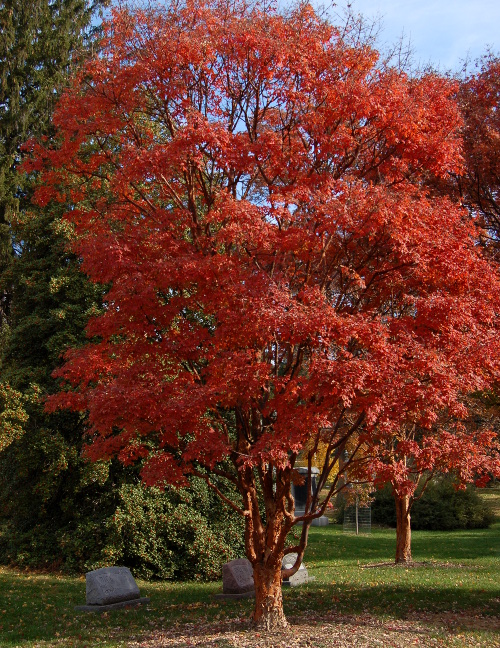 And in the fall, in a good year, they turn the color of sun-dried tomatoes.  They turn rather late, after peak leaf-peeper season, and barring a hard freeze and strong winds to shake them loose, the leaves hold a long time.
---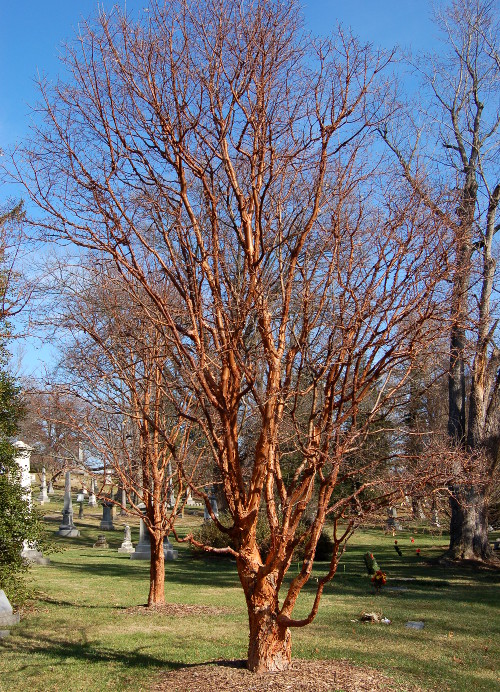 But eventually they drop, and—Ta da!  A clear shot of that fabulous bark once again.
What does your paperbark maple look like?  You have planted one, right?