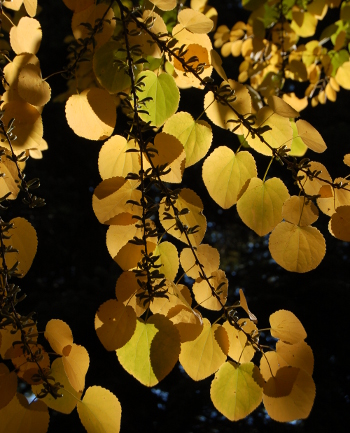 Katsura (Cercidophyllum japonicum) makes a grand entrance in fall, turning yellow from head to toe between October 4 and November 7 in the Ohio Valley.  In some parts of the world, the tree turns apricot-yellow or even a ruddy orange, but in the Lower Midwest, yellow is nearly always the uniform, and that's just fine, because it is a luminous yellow—clear and strong.  Rounded, heart-shaped leaves line every fine branch in pairs, lending a symmetrical, ordered look to the whole.  After the leaves fall, the show is not over, as the senescing foliage gives off a sweet scent that is picked up by different noses as cotton candy, burnt sugar, brown sugar, or cookies.  The French call katsura "arbre à caramel," which I think is the most fitting tribute.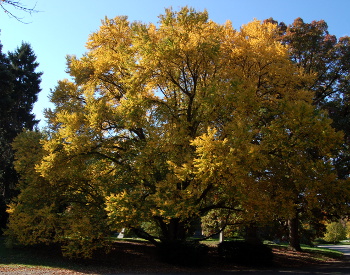 Katsura grows like an open-grown beech, meaning that it wants to be a low-branched tree, but accepts being limbed up.  The Ohio champion, in Spring Grove Cemetery, was never coerced into being a conventional shade tree and has blossomed into a round-headed belle with its lowest branches emerging a foot or two above the ground.  It measures nearly 80 feet tall and 70 feet wide.  From inside the tree, the canopy spreads overhead like a big umbrella, and it feels safe to be in its shelter.
A dome-shaped version from the late Kentucky plantsman Theodore Klein, C. japonicum 'Amazing Grace', produces whip-like branches that arch and then cascade to the ground.  A 30 year-old plant at Spring Grove conceals anyone who steps inside–so thick is its foliage.  Arbre à caramel grows quickly, but needs regular irrigation to thrive, at least during the establishment period.  Though an understory tree in its native China and Japan, it prefers full sun.
What does katsura smell like to you?