Maybe I shouldn't review a book when I'm hungry, but I found Robert Kourik's new book Understanding Roots to be one of those meaty kinds of books you can really sink your teeth into, with lots of delicious morsels along the way.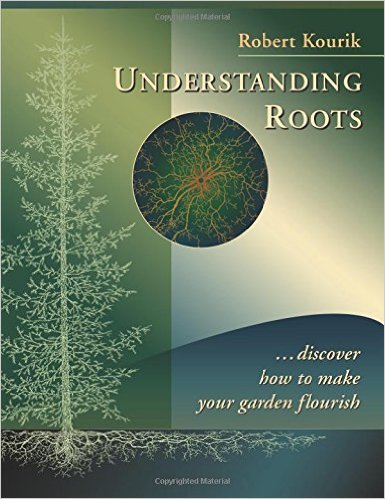 For example, I learned:
In loose soil, carrot roots can go down 7 ft.
One cubic inch of soil can contain 8 miles of mycorrhizal (fungal) strands.
Fava beans use those fungal mycelia to communicate with each other that there are aphids attacking.
Roots are amazing and underappreciated!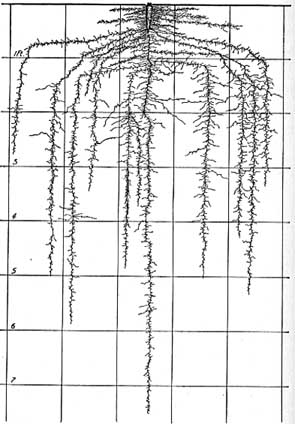 To really get a grasp on what's going on underground, Kourik presents a wonderful collection of root diagrams he discovered from a few different sources. This one shows the aforementioned carrot delving down more than 7 ft. It's from John Weaver's 1927 book, Root Development of Vegetable Crops.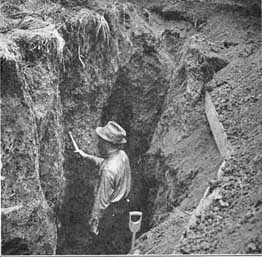 Weaver literally got down in the trenches, painstakingly uncovering roots and then drawing them to scale. He had his work cut out for him, because he worked at the University of Nebraska, where the prairie soil is often deep and loamy, and roots are able to delve down much deeper than they could in most other parts of the world.


This root system of a native plant now known as Brickellia eupatorioides, from Weaver's 1926 book, Root Development of Field Crops, has roots that plunge down to 17 ft.! You can see how the roots proliferate in the clayey layers. Clay holds more nutrients than sand, so roots branch more when they hit clay, so they can better take advantage of this smorgasbord.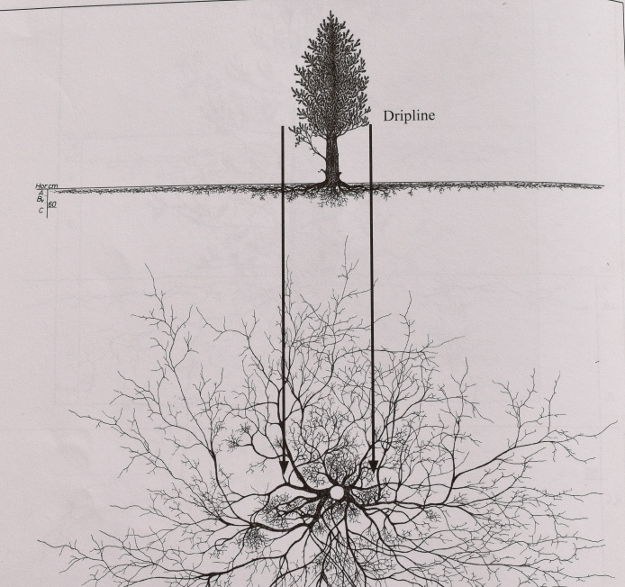 Lest you think that roots normally dive so deep, Kourik shows plenty of illustrations that indicate the opposite. This is a drawing of a Swiss stone pine (Pinus cembra) from a 2009 book in German by Lore Kutschera and Erwin Lichtenegger called Wurzelatlas (Root Atlas). The tree was 18 ft. tall with roots going 3 ft. deep and 35 ft. wide.
Most of us who have had a horticulture class or two have been disabused of the notion that tree roots run deep, and we know that very few trees have a taproot (Kourik says less than 2% do), but it's still surprising to see a drawing to scale showing just how wide and shallow those roots can be.
Kourik also points out how silly it is to put down mulch, not to mention water and fertilizer, in a small circle around the trunk on a tree like this. He recommends we start our mulch and irrigation at the dripline of the tree and move outward, where most of the new feeder roots are.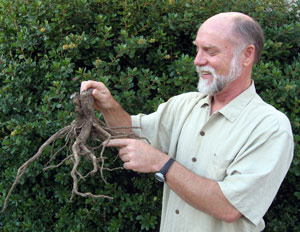 Kourik has more to say about all kinds of root-related topics in this new book, and you'll find lots of tasty tidbits whether you're into ornamentals, vegetables, fruit trees, forest ecology, natives, no-till gardening, drip irrigation, grey water recycling, or permaculture.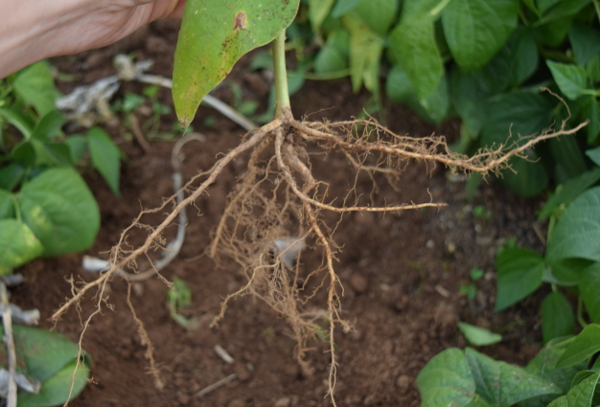 His thoughts on no-till gardening have me rethinking my entire approach to taming this new property of ours. He even inspired me to dig up one of my spent bean plants to see what was going on under the surface. (No nitrogen-fixing nodules—darn it.) You need to get this book!
Now if you'll excuse me, I need to go make a sandwich.