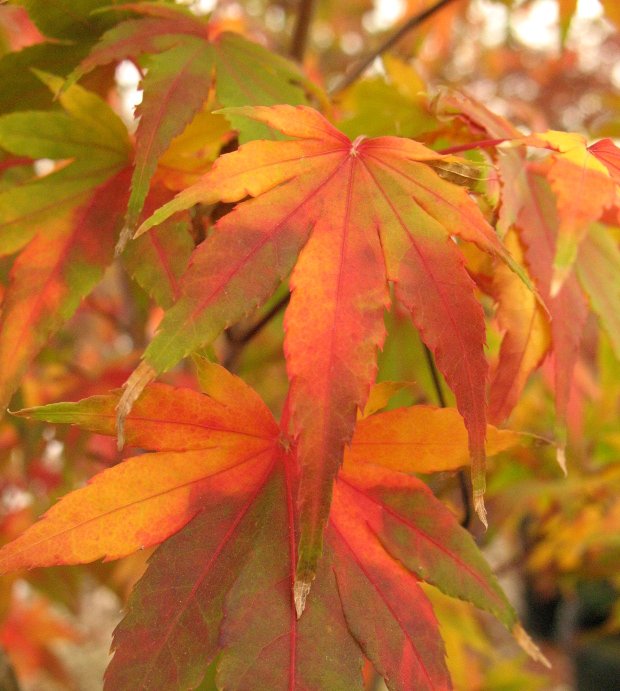 When it comes to Japanese maples (Acer palmatum) for fall color, there's hardly a bad one in the bunch, but some are simply stunning, while others are take-your-breath-away gorgeous.
Over the 16 years I worked at Ammon Nursery in Northern Kentucky, we grew more than 60 varieties of Japanese maples.  Mostly we sold the popular red-foliaged types–either weeping, dissected-leaf selections like 'Crimson Queen', 'Tamukeyama', 'Inabe shidare', or 'Red Dragon', or upright, non-dissected types like 'Bloodgood' or 'Emperor I'.
There are better types for fall color, though.
I would pick a green-leaved Japanese maple over a red one any day for fall color.
The red varieties do turn a radiant color in fall, but they are quiet about it, slowly turning up the volume until one day they have noticeably brightened.  Briefly they glow crimson-red and then drop their leaves.
Green-leaved or variegated Japanese maples turn more brilliant, varied colors over a longer period of time.  Here are 6 of my favorites: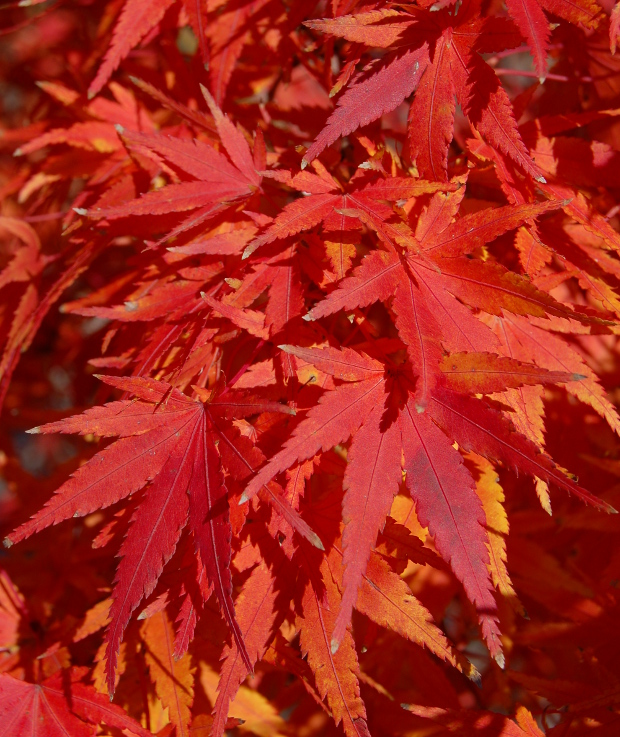 You don't need to buy a rare selection to have awesome fall color.  Even a plain-Jane unnamed seedling Acer palmatum can supply green, yellow, pink, purple, and orange-red color in fall.  It's hard to believe that this is what actually grows wild in Japan.  Can you imagine a Japanese maple forest?
---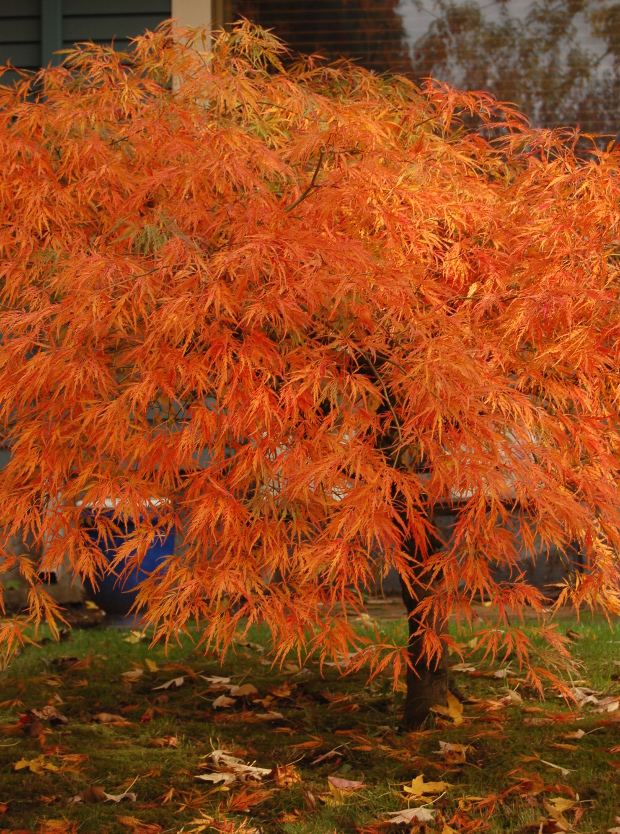 Acer palmatum var. dissectum 'Viridis', a weeper with finely cut green leaves, is a fireball of hot colors in fall.  Red-leaved cultivars like 'Crimson Queen' may out-sell it by a landslide, but 'Viridis' has far more personality.  'Seiryu' is an upright version of 'Viridis' with the same sparkle.
---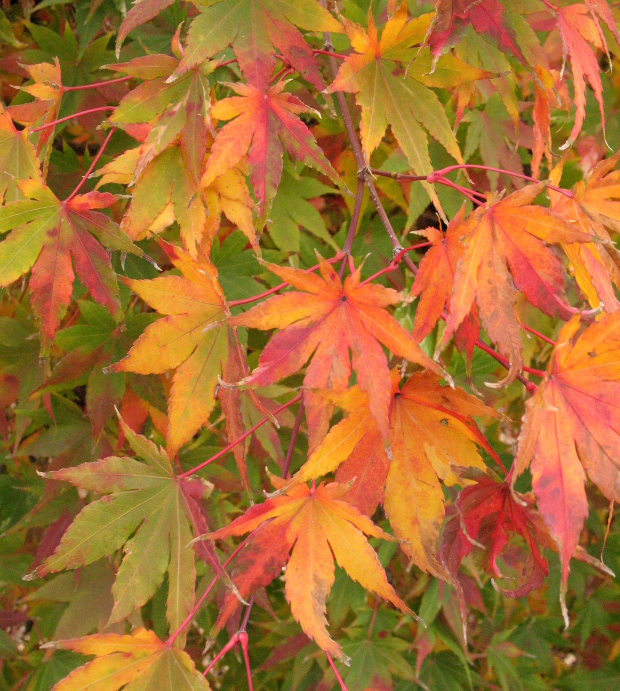 'Orido nishiki' is the best variegated type I have seen.  In spring and summer, its foliage is green splashed with pink and white, and even the bark is variegated!  It grows a thick, dense crop of foliage that makes an outstanding display of saltwater-taffy-yellow, orange, and pink in fall.  All colors, plus green and purple, may be present–even in the same leaf.
---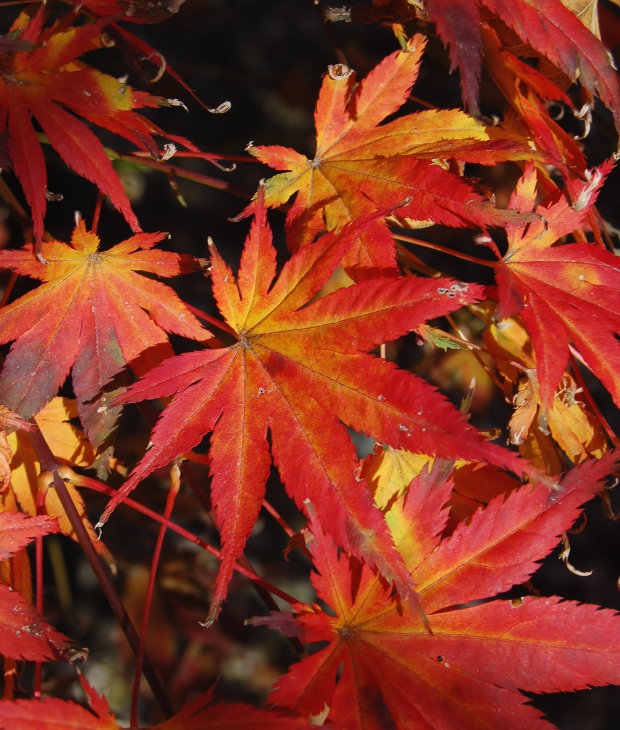 'Kihachijo' is a favorite of mine, with a bright green mane that turns sunset-colors of yellow, rose, red, and peach in fall.  It leafs out a bit later in the spring than the others and might dodge a late freeze that zaps some others.  As the plant matures, the bark develops distinctive vertical white stripes, like a snakebark maple. It is an upright/rounded grower to 15 feet.
---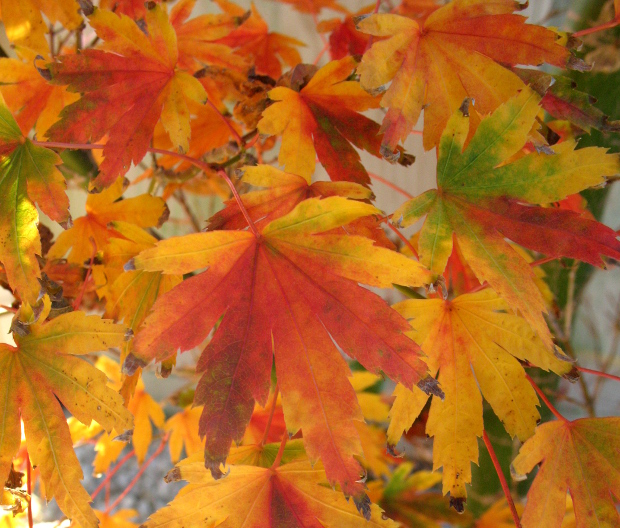 'Higasayama' has multi-color leaves that emerge in a unique white and green checkerboard pattern with accents of pink.  In fall the leaf centers usually become a rosy red and the margins golden yellow, but in this picture they have turned all sorts of patchy colors, like paints running together.  It is narrowly upright in youth, but wider with age.
---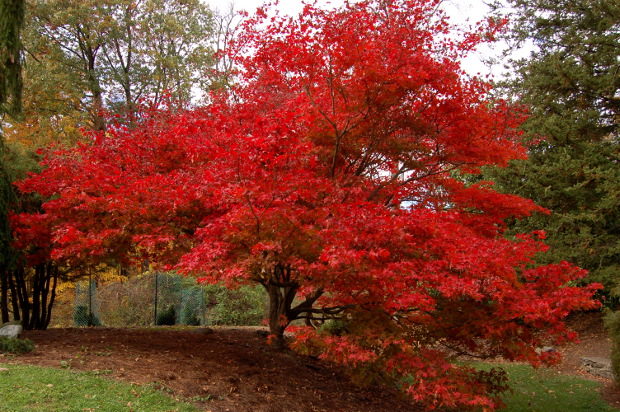 'Osakazuki' is perhaps the most fiercely colored Japanese maple of all in autumn—an eyeball-burning scarlet.  Like all of these beautiful Japanese maples, it prefers moist but well-drained soil and dappled shade during the hottest part of the day.  Show it a little love and it will not disappoint!
What are your favorite Japanese maples for fall fireworks?