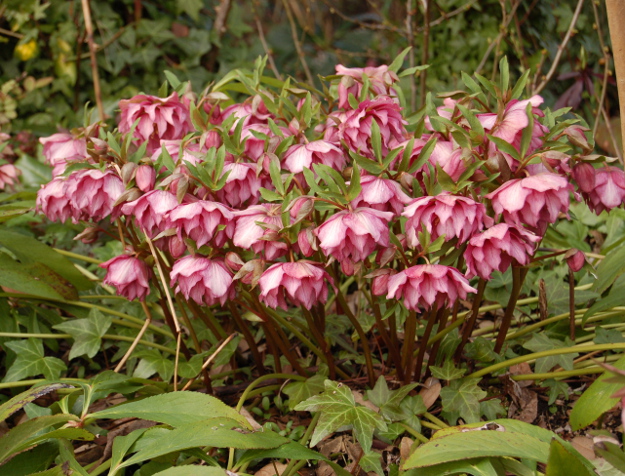 It's sprinter—that wonderful season between winter and spring—and the hellebores (a.k.a. Lenten roses) are in bloom!
These beloved shade garden stalwarts have undergone a revolution in recent years. Formerly limited to a very narrow color palette, hellebores now soothe our flower-starved late winter eyes with white, pink, violet, crimson, green, lavender, peach, primrose, and purple-black tones.
I hit a few garden centers in Portland this week to see what was available in this hot genus, and here's what I found…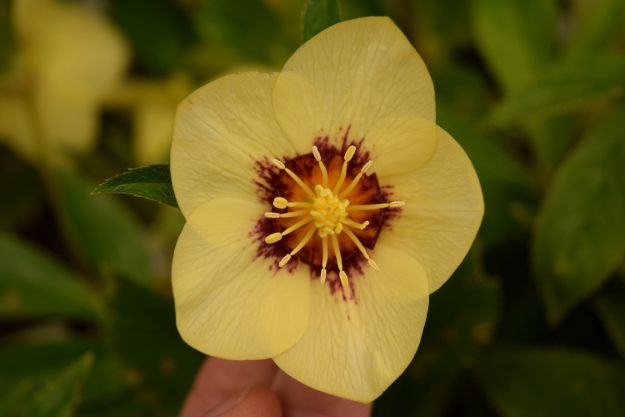 Helleborus Golden Sunrise is a plant I've coveted in others' gardens, so I grabbed one when I saw it at Xera Plants. Golden Sunrise is part of the "Winter Jewels" collection hybridized by Ernie and Marietta O'Byrne of Northwest Garden Nursery in Eugene, Oregon.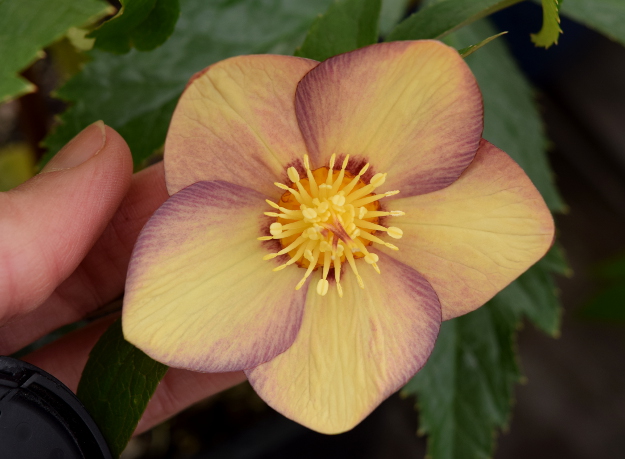 At Xera, I also scored an Apricot Blush hellebore (another Winter Jewels selection).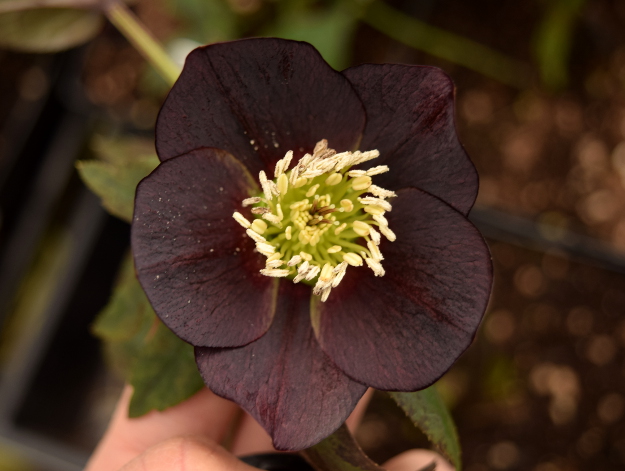 And I couldn't resist getting a Black Diamond hellebore, too, also a member of the O'Byrnes' exquisite collection.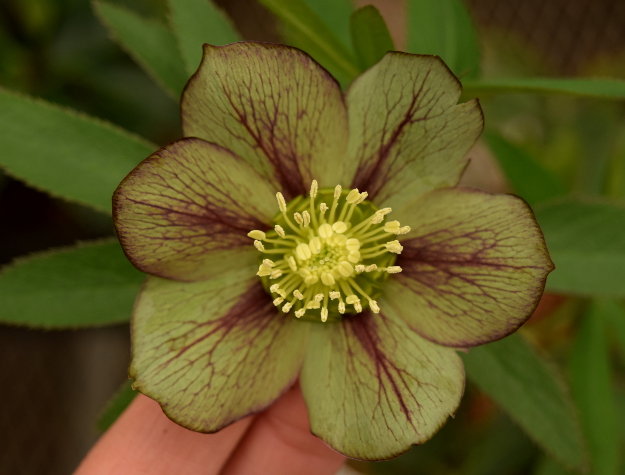 Other enticing Winter Jewels hellebores I saw on offer around town included a striking green and maroon number called Jade Star…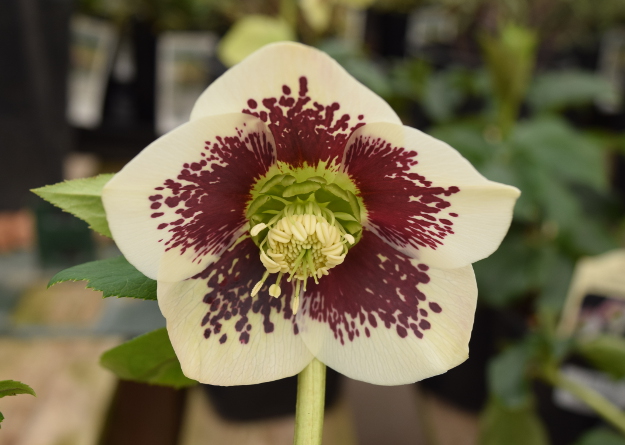 and a burgundy-freckled white hellebore called Painted.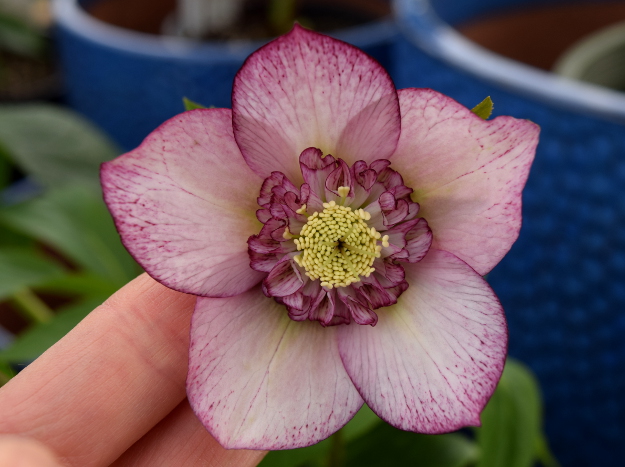 The O'Byrnes' Winter Jewels line includes double and semi-double models as well. My favorite is probably a semi-double called Cherry Blossom,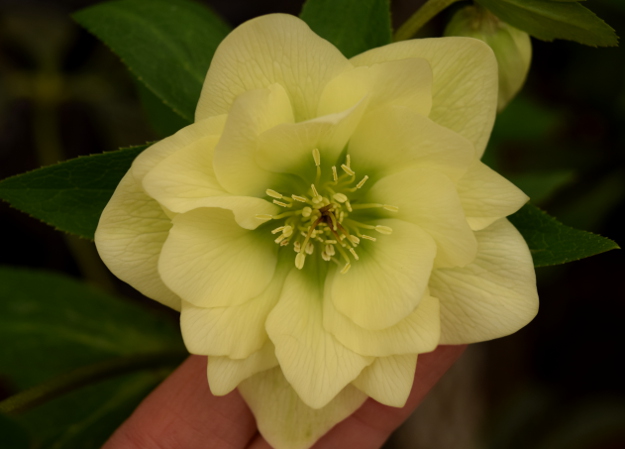 although their double-flowered butter yellow hellebore named Golden Lotus is pretty dreamy, too.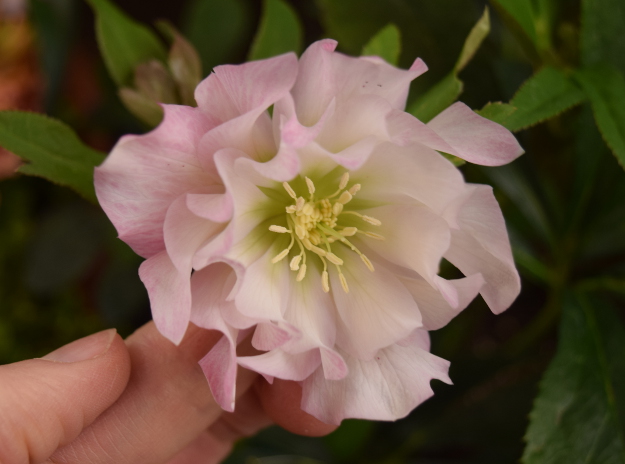 Cotton Candy Winter Jewels hellebore is a pale, delicate pink. It is important to note that these selections aren't actually cultivars, but strains. That is to say, they aren't identical clones that are propagated vegetatively, but rather, they are grown from seed.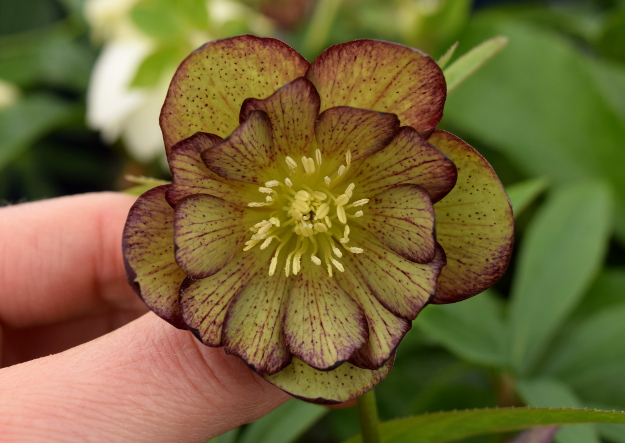 Because Winter Jewels hellebores are comprised of seed-grown strains, there will be a bit of variability in the exact color pattern of each seedling. If you're extremely choosy about your hellebores, you'll want to select them while they're in bloom if they're grown from seed. This strain is called Jade Tiger.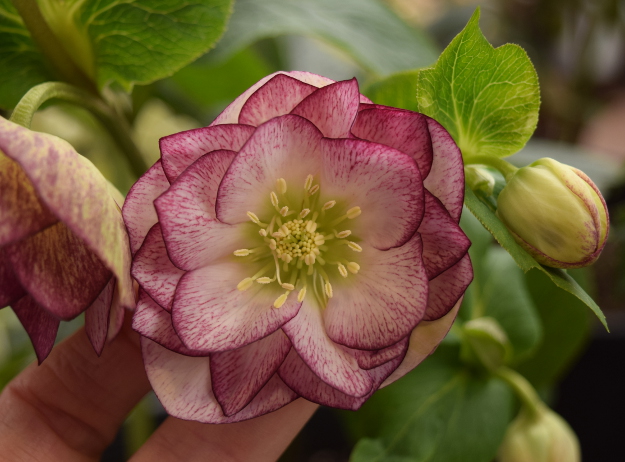 Here's one more Winter Jewel, called Peppermint Ice.
Ernie and Marietta O'Byrne open their Northwest Garden Nursery on selected days in sprinter, and gardeners from all around make the pilgrimage to Eugene to see the hellebores in bloom and to buy their favorites. Open Garden Days for 2016 are Feb. 20 and Feb. 27 from 10am to 4pm. They are also open from Mar. 1 to Mar. 6 from 11am to 4pm, and the garden is open by appointment the rest of the year (though the nursery is closed).
Can we say road trip?
---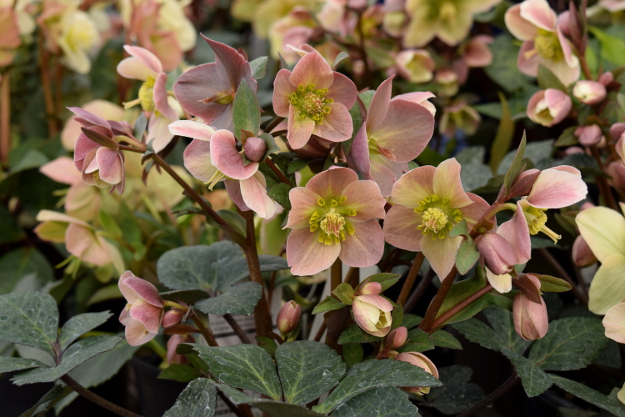 The most common collection of hellebores I saw at the garden centers around Portland this week was the Helleborus Gold Collection (HGC). These are hybrid hellebores bred in Germany by Heuger Nursery. They seem to be very robust plants with handsome foliage and tons of flowers ranging in color from white to pink. This one is 'HGC Merlin'.

When I first saw these Gold Collection hellebores a couple of years ago, I was very impressed, but I must say I've gotten tired of them. They're just so smug with their oodles of perfect ivory and antique rose blossoms and their perky habit. And they all look the same. This is 'HGC Joker' (a.k.a. 'Winter's Song').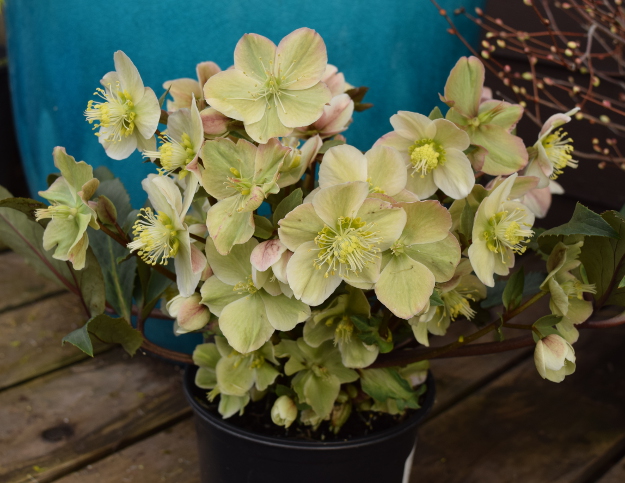 Helleborus Gold Collection 'Shooting Star'.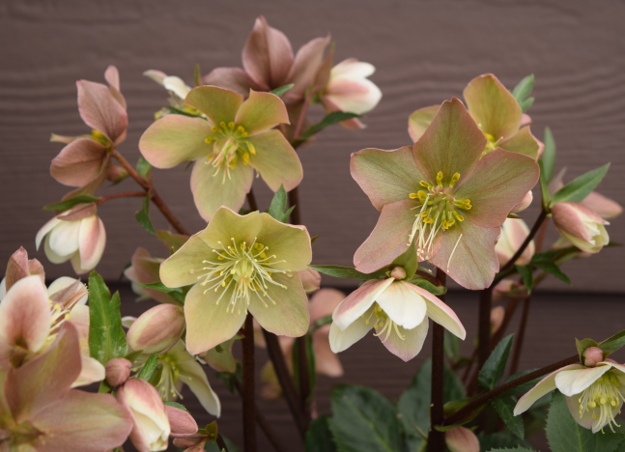 And 'HGC Sparkle'. The Gold Collection selections are cute, but they all look the same, like sorority pledges with the same haircut and the same phony smile.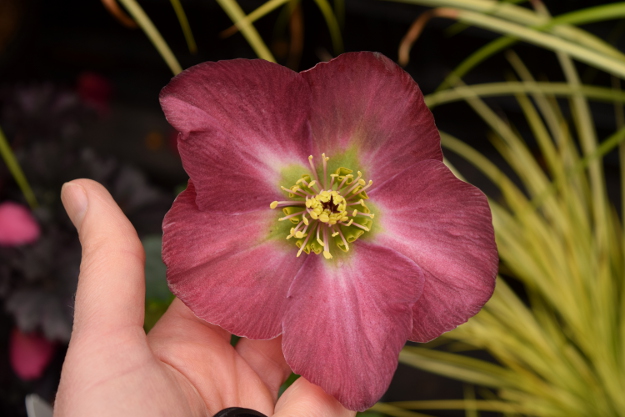 One notable exception is 'HGC Madame Lemonnier', which sports wonderful freakishly large flowers of raspberry pink. Zut alors!
Gold Collection hellebores are propagated vegetatively, so there is no seed-strain uncertainty with these selections. What you see here is what you get—no surprises.
---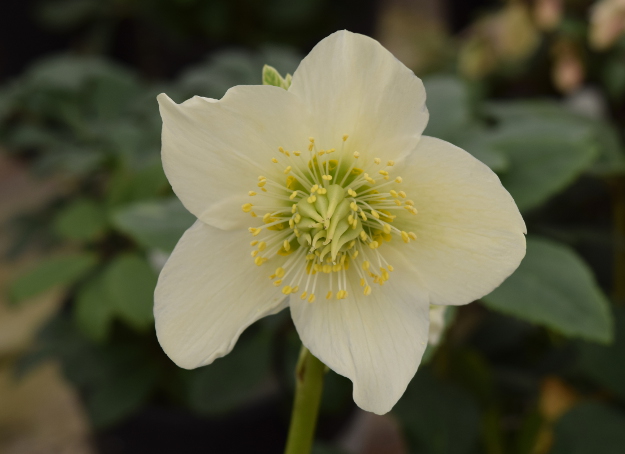 Another group within the Gold Collection is comprised of plants with predominantly Helleborus niger parentage. This "Christmas rose" hellebore blooms the earliest of all the hellebores (around Christmas in mild zones) and has pure white blossoms. This one is a Christmas rose called 'HGC Joseph Lemper'.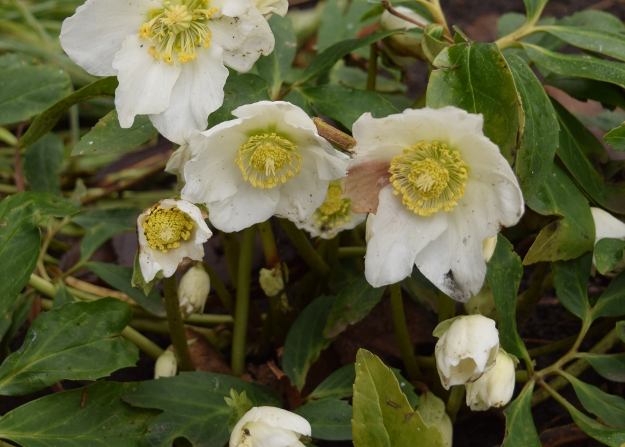 It's a lovely plant, but the problem with H. niger is that because it blooms so early, it has to deal with the worst of winter's weather, and it often looks a little beat up. Here it is on Dec. 26 in the landscape. Expecting H. niger to always look pristine is kind of naive—like installing a white living room carpet when you have dogs.
---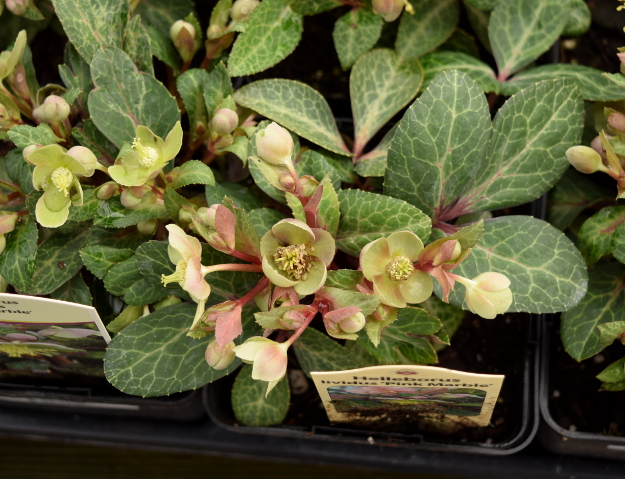 Most of the noteworthy hellebores I saw at the garden centers this week belonged to either the Winter Jewels Collection or the Gold Collection, but a few plants from other breeders also caught my eye. Helleborus lividus 'Pink Marble' was a real cutie pie. I loved the abundant petite flowers and the netted foliage. Unfortunately, it's less hardy than other hellebores (zone 8).
---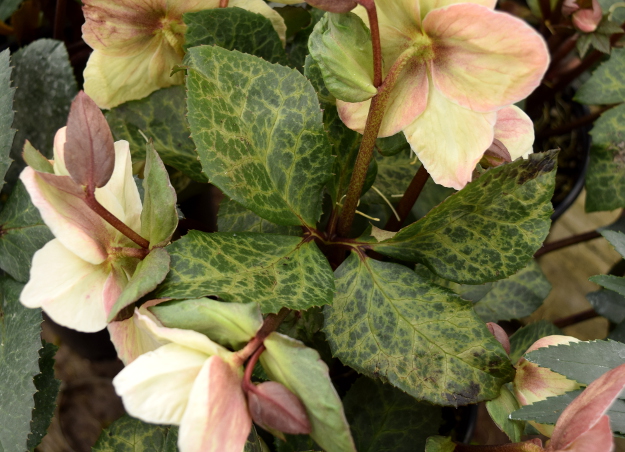 Helleborus 'Winter Moonbeam' from Harveys Garden Plants in the U.K. was a standout with its marbled foliage (from its H. lividus parentage).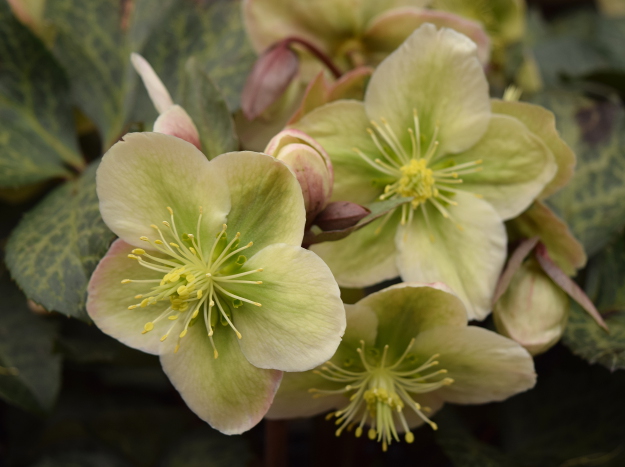 'Winter Moonbeam's' showy out-facing blossoms (most hellebores hang their heads) weren't too shabby, either.
---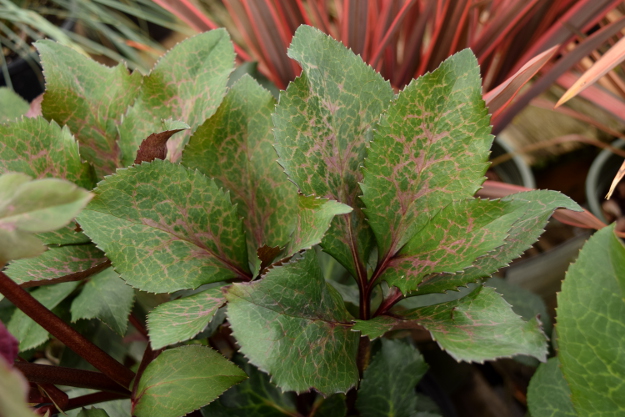 Following the marbled theme, Helleborus 'Anna's Red' caught my eye with its pink-infused netted foliage on burgundy stems. This hybrid also hails from the U.K., from RD Plants.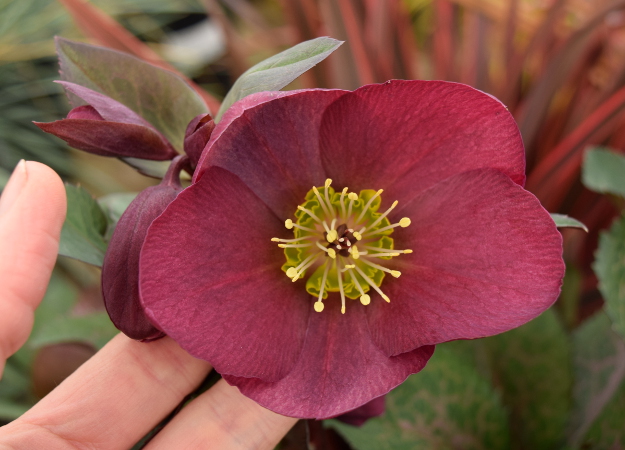 'Anna's Red' (shown here) is named after plantswoman Anna Pavord and is the follow-up to the equally attractive 'Penny's Pink'.
---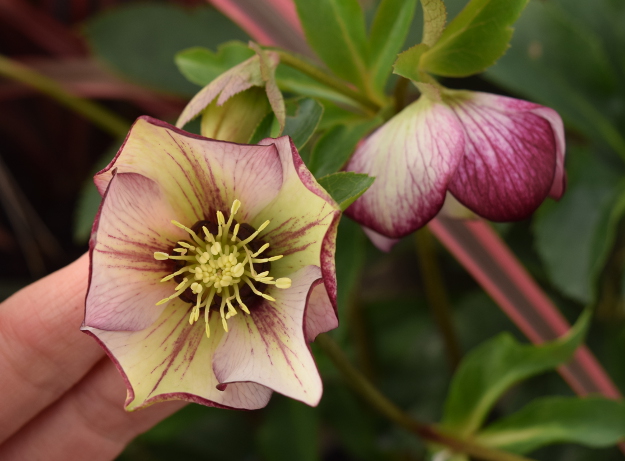 And finally, from Gisela Schmiemann of Germany, the seed-grown Picotee Lady from the Lady Series made me stop and look. Because the back sides of alternating petals are brushed with deep crimson, this one looks good viewed from above, even though the flowers are strongly nodding.
Couldn't you and your garden use a sprinter pick-me-up? Visit your local garden centers now to see these and other hellebores in their full glory!