"Nothing you see here is by accident," said our tour guide, Rolland O'Dell, when I went to the Portland Japanese Garden last month. Japanese gardens are very deliberate. Every element has purpose and meaning.
Taking a guided tour when you go to the Portland Japanese Garden—or any Japanese garden—is the way to go if you don't already understand this style of gardening. By jumping in on a tour, I got a much richer experience than I would have on my own. Here's some of the symbolism that would have been otherwise hidden to me.
Circle and Gourd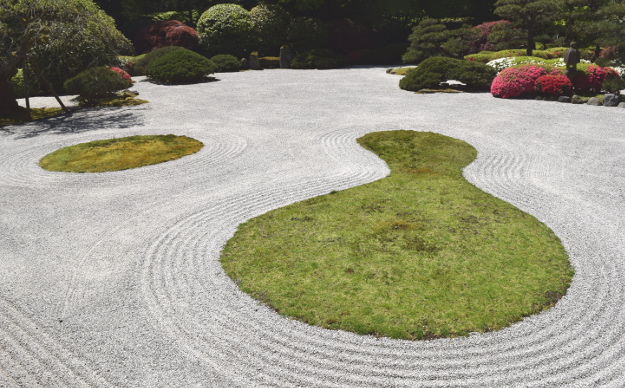 The moss-covered circle and gourd shapes aren't random. The circle symbolizes enlightenment, the gourd happiness. The gravel, by the way, is special stone shipped in from near Kyoto. It sparkles in the sunlight like gemstones.
---
Pine Trees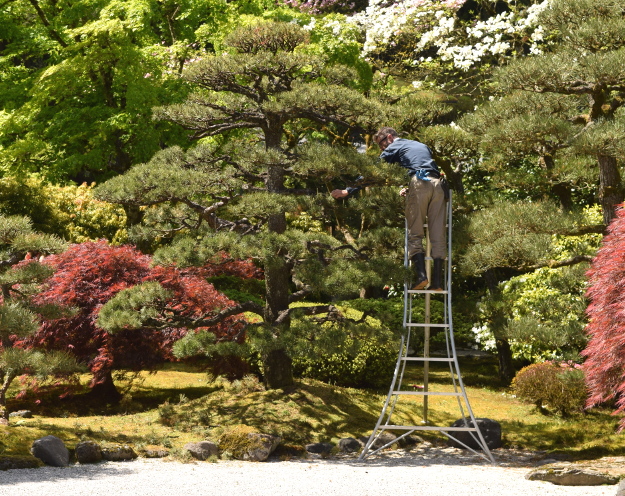 Pine trees symbolize perseverance in Japanese gardens. They are often "cloud-pruned," a painstaking task that gives them a layered look and keeps them small and tidy. Here a worker tends to one. Rolland said that each pine in the garden requires 13 man-hours of pruning per year.
---
Tortoise Stone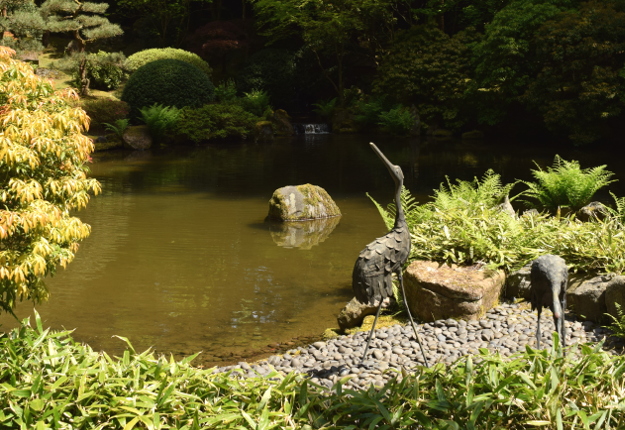 In a Japanese water garden, you are bound to see a few large stones sticking out the water. Nothing is by accident! A low, flat stone represents the tortoise, a symbol of longevity. According to Japanese folklore, the tortoise lives 10,000 years.
---
Crane Stone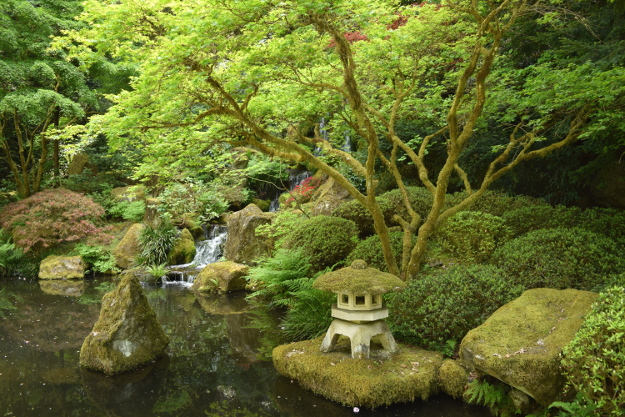 An upright stone in the water represents the crane, also a symbol of longevity. The crane is believed to live a mere 1,000 years.
---
Wabi-sabi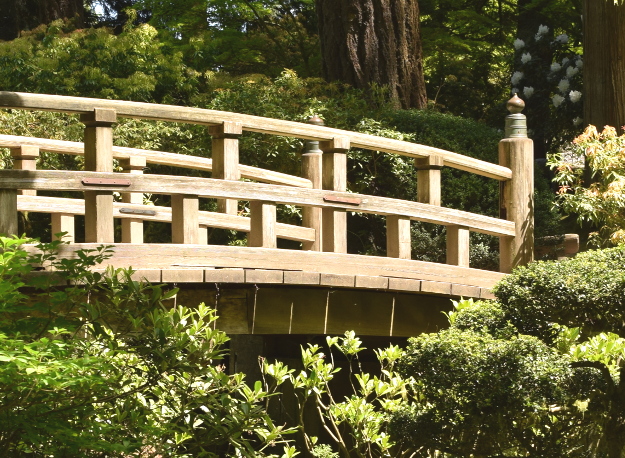 The Moon Bridge has no paint, no varnish. It is allowed to weather and age naturally. Rolland explained that this exemplifies the Japanese concept of wabi-sabi: beauty in aging and imperfection.
---
Lotus Bud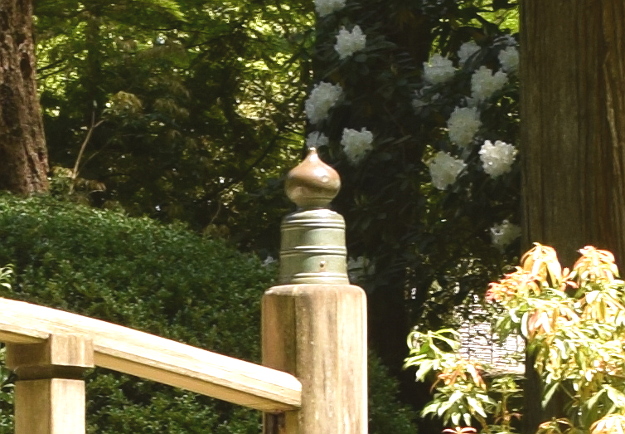 The post finial on the Moon Bridge is a lotus bud, which is a Buddhist symbol of purity. This one is quite stylized, so I never would have recognized it as a flower bud, but after having it pointed out, I began to see lotus buds everywhere.
---
Zigzag Bridge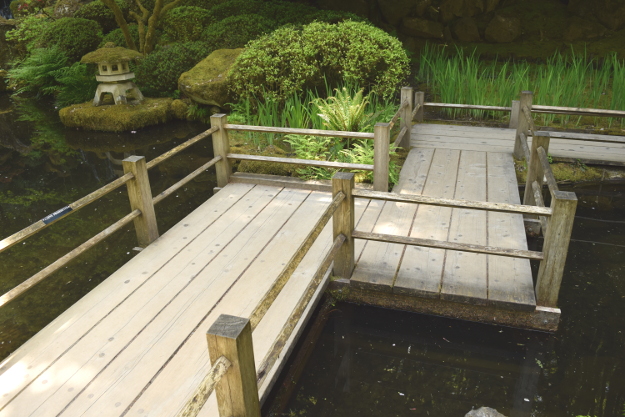 The Zigzag Bridge has multiple reasons behind its shape. First, it forces you to slow down and appreciate the details. You'll note this bridge is unfinished, too. Wabi-sabi. Second, it makes you appreciate the garden from different angles. And most importantly, evil spirits only travel in a straight line, so after you cross the Zigzag Bridge, you're safe.
---
Jizo Statue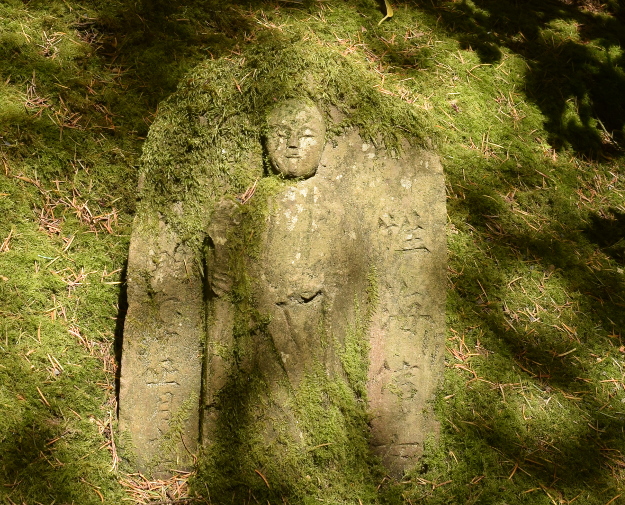 In Japanese Buddhism, Jizo is the protector of travelers, and these Jizo statues are found alongside the roads in Japan. I wouldn't have even noticed this small statue nestled in the moss along a shady path if it hadn't been pointed out to me, much less have known what it meant.
---
Hokkaido Map and Asymmetrical Balance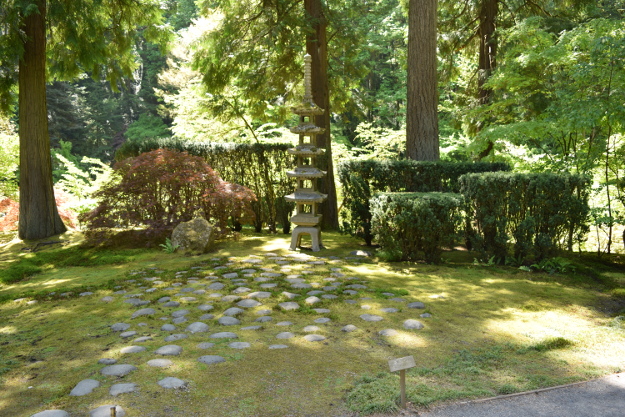 Portland is a sister city to Sapporo, Japan, which is on the island of Hokkaido. Here a map of Hokkaido is represented in stones on the ground.
In the background, an important concept in Japanese gardening is demonstrated: asymmetrical balance. The plants on either side of the pagoda aren't the same, though they possess roughly the same visual weight. Japanese gardens are very formal, but they don't have straight lines and matchy-matchy planting schemes like formal European gardens.
Hide and Reveal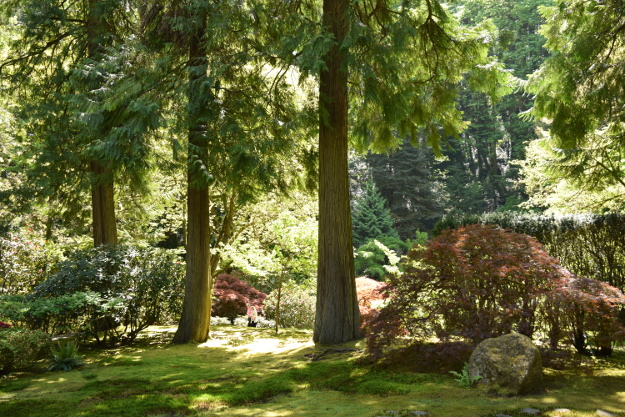 At this point, Rolland also pointed out the expert use of the technique he called "hide and reveal." We could hear a waterfall, but not see it, and we could just get glimpses of other parts of the garden.
The Portland Japanese Garden was designed in the 1960s by Professor Takuma Tono. It is believed by many to be one of the most authentic Japanese gardens not on Japanese soil.
---
Tea House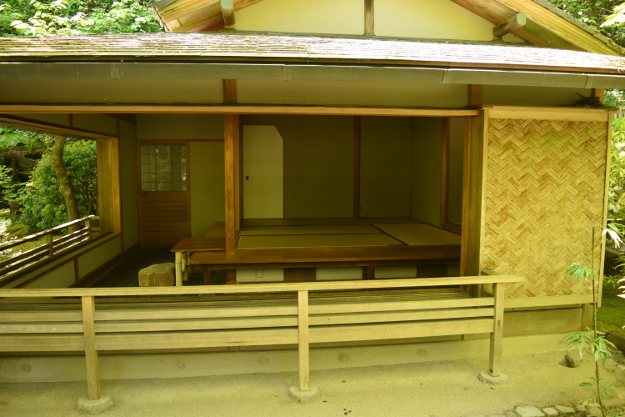 When we got to the tea house, our tour guide explained a little about the significance of the tea ceremony. He said that the rules for the tea ceremony were codified in the 15th century, and a proper ceremony could last 4 1/2 to 5 hours. At the time, Japan was a dangerous and lawless place, and people liked going to the tea house for a bit of escapism.
---
Tsukubai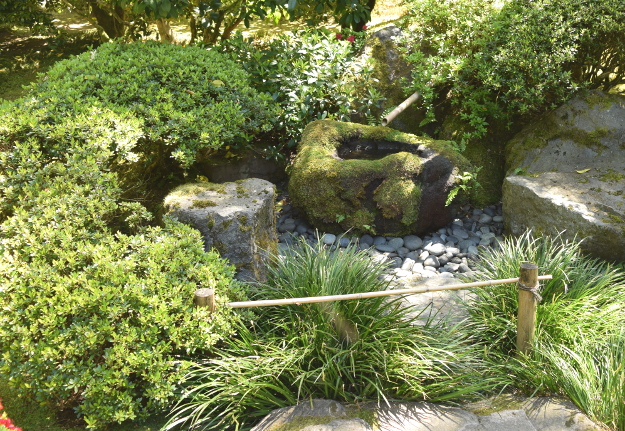 Before entering the tea house, you would purify yourself by washing your hands and rinsing your mouth at the tsukubai. You will also see these at temples.
---
Natural Garden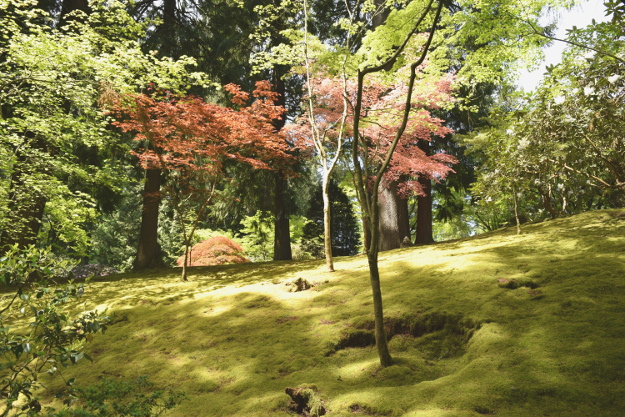 The Natural Garden at the Portland Japanese Garden represents birth, life, and death. Rolland said the gardeners find pruning the most difficult in this section. Apparently, making something look as if it hasn't been pruned at all isn't as easy as you think.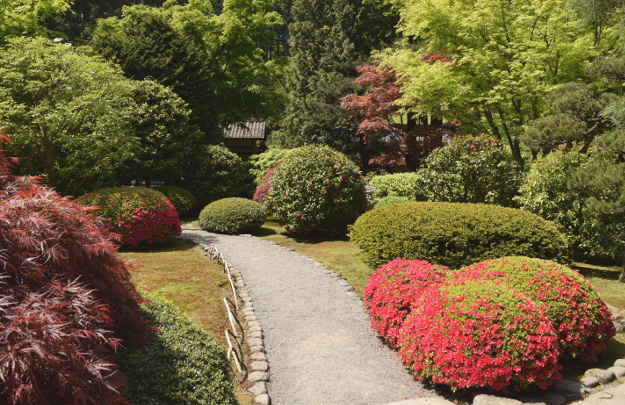 Especially if you really, really want to prune everything like this!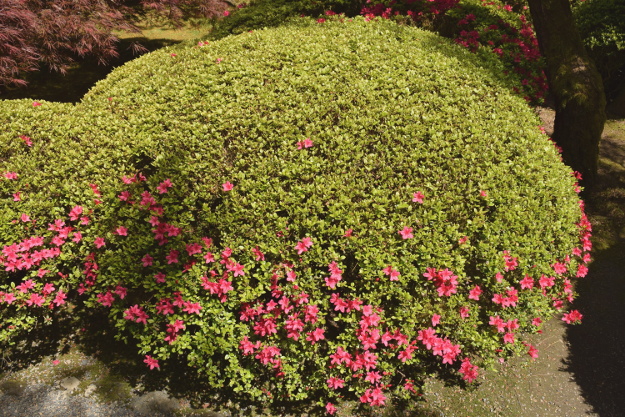 With very few exceptions (cherries, plums, chysanthemums) flowers are considered a distraction in Japanese gardens. I went during prime azalea season, but you'd hardly know it. Almost all of the blooms were sheared off. Sculpted forms are what is considered beautiful.
---
Sand and Stone Garden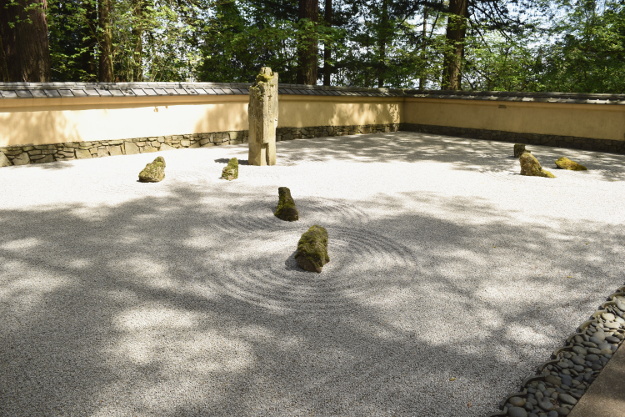 Rolland said this had become his favorite garden. Though bleak-looking, it contains all of the key elements of a classic Japanese garden: stone, water (simulated), and plants (lichens and moss on the stones).
---
What Japanese garden symbolism have I missed?