*UPDATE* 09/08/16  Unfortunately, 'Golden Foam' set a million seeds, of which about 110% germinated in my garden (and lawn). I will be pulling seedlings for the rest of my days. Plant this thing at your own risk.—AC
*UPDATE* 04/08/17 'Golden Foam' is my kudzu. I hate it with a white-hot passion. What really troubles me is that it will surely be lurking in the soil with other plants I dig up and give away—and the recipient may not know better.—AC
I've been admiring Euphorbia stricta 'Golden Foam' in my garden all season, and it's about time I paid it some respect. Yeah, right!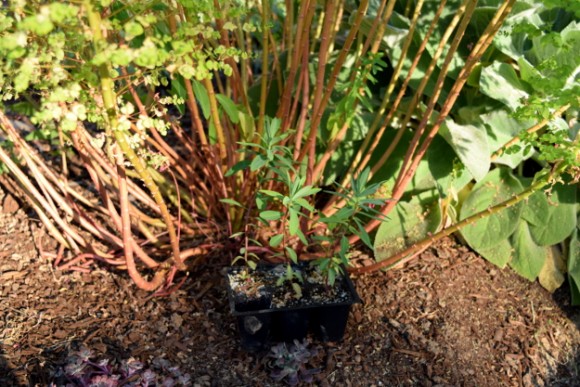 I got this lovely thing at a plant swap a year ago last spring from my friend Linda at Whatsitgarden. It was a tiny seedling even smaller than these guys, and I kept it with my other gifted plants that were waiting for a home until I was able to get a proper bed ready and start planting.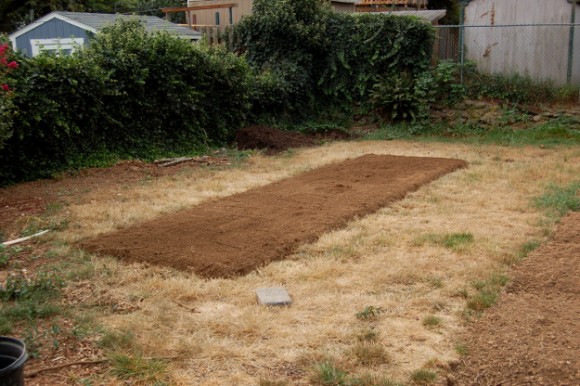 I got the bed prepped on September 18 of last year. Is there anything more beautiful to a gardener than a freshly prepped bed, ready for planting? I planted it that day.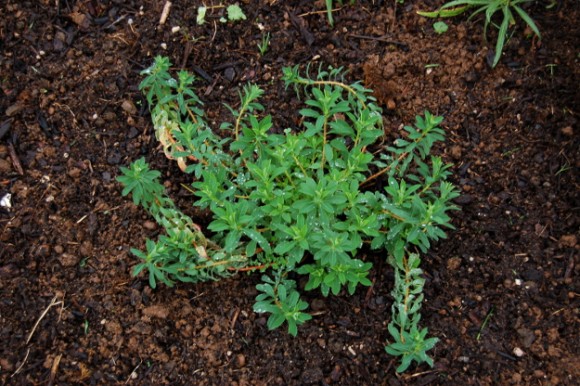 A month later, my little spurge looked like this. I didn't really know what to expect from it. I googled a photo and said, "Oooo, that's pretty," and then forgot about it.
Come spring, though, it started growing, and growing…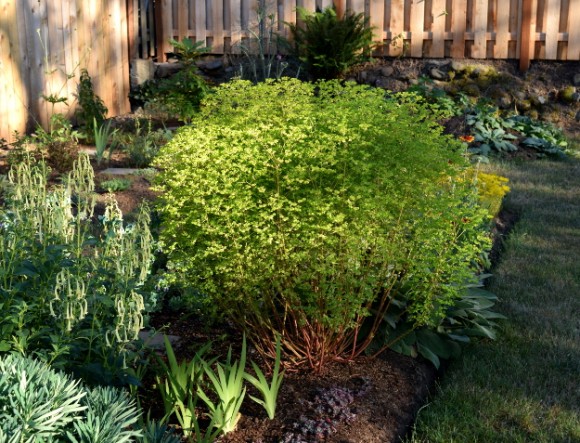 and FWOOMP! It took off. It looks like this now, in late June. Gotta admit, it was pretty.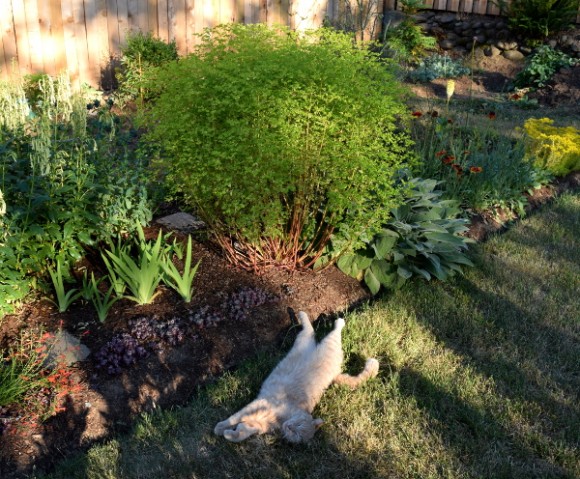 George provides a sense of scale. My 'Golden Foam' is 3-1/2 feet tall and wide. Most of the online references say this plant gets 20 to 30 inches tall. I guess it's an overachiever in my silty loam soil.
I was worried that maybe it would flop, but then again we haven't had any rain for probably two months. And I almost never water it. If we did get a downpour, I think it would be all right, though, because the stems are pretty sturdy and the foliage and flowers are very light and airy.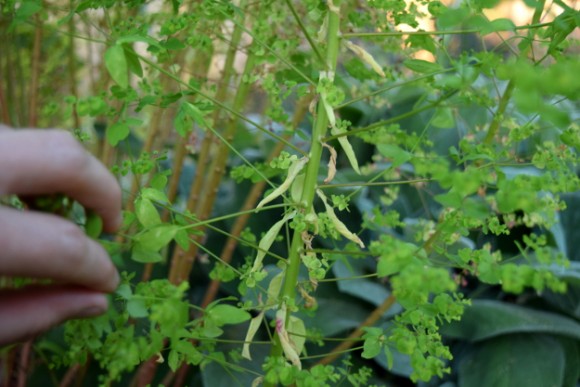 Once it starts flowering, the leaves shrivel up and wither away.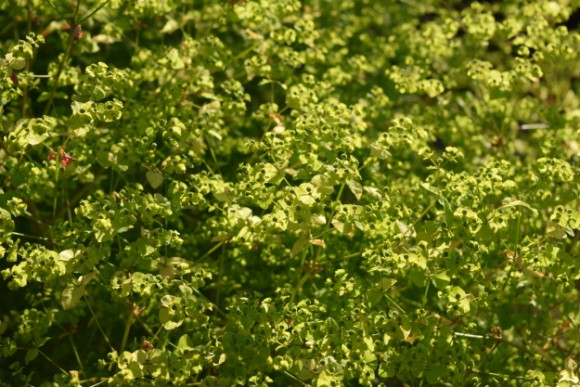 And all that's left is a profusion of bracts and tiny flowers of chartreuse-y goodness.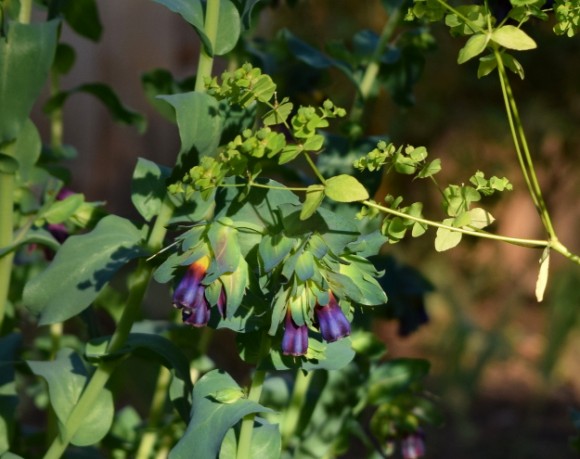 This color looks good with lots of other colors—blue, purple, orange, lavender, deep red, green… I love it with the Cerinthe major 'Gibraltar' I planted next to it.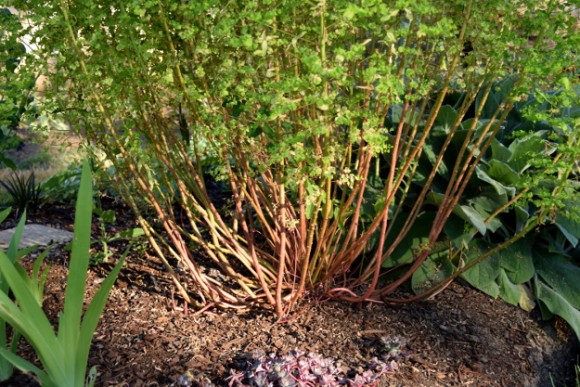 'Golden Foam' is said to have red stems, though they are more of a soft salmon color in my garden, and only near the base.
Other information I found about this plant was all over the board. Sources listed it as hardy to anywhere from Zone 5 to Zone 10. Some didn't even consider it a perennial plant, but said it was an annual. All I know is that mine survived the winter in an especially mild Zone 8b winter. We got down to 21ºF here in November and that was the worst of it.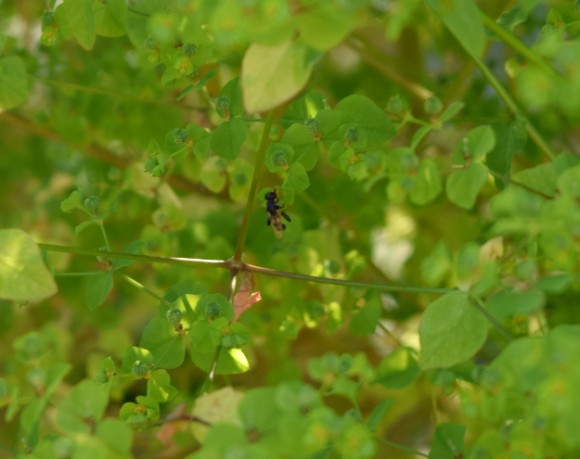 I don't see a lot of pollinators on this plant, but there are some. Some tiny insects seem to like it, like this one. I don't know what it is. Anyone?
It also attracts a few houseflies, but not enough to be a nuisance.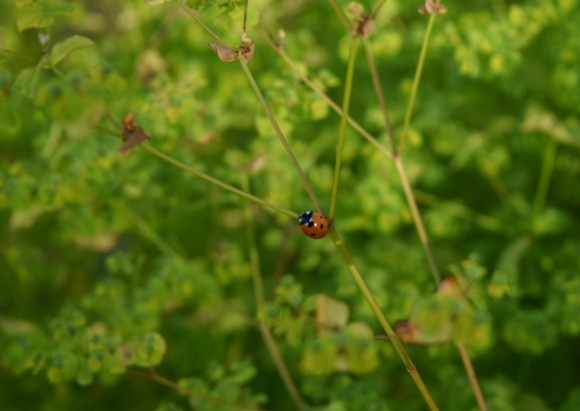 I often see a ladybug or two on it.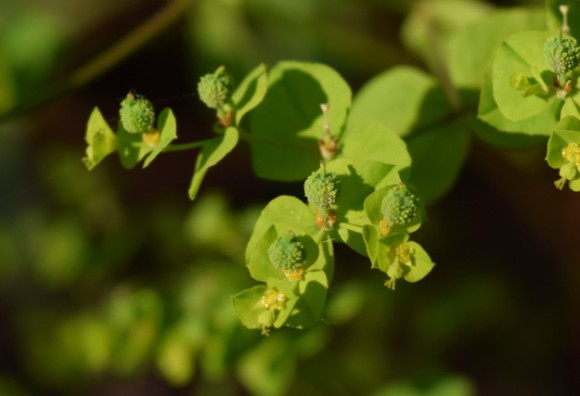 My 'Golden Foam' euphorbia has started to go to seed. Noooooooo!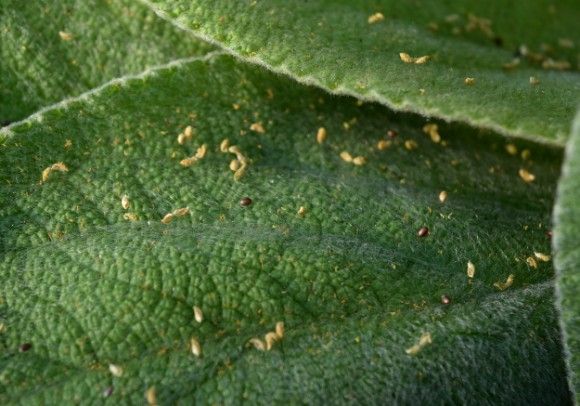 Like other euphorbias I've grown, the seedpods turn from green to tan and then pop open as they dry. If you listen closely on a warm day, you can hear them pop. A few shiny brown seeds have landed on this lamb's ear leaf, along with detritus from the explosions. It was a war zone and I didn't even realize it.
Also like other euphorbias, this one has a milky sap in the stems and leaves that can cause a bad reaction in some people when they touch it. It has never bothered me.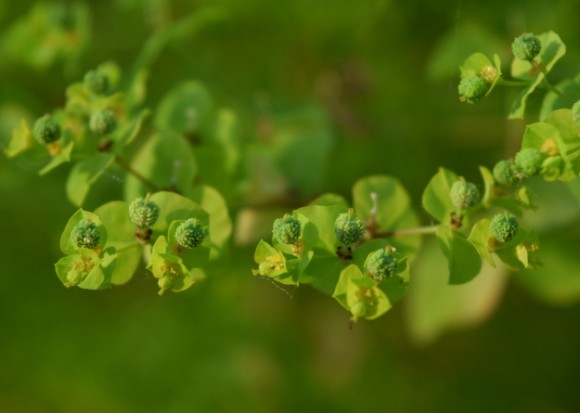 I'll collect some seed and grow some more of this wonder mixer, for sure. Have you had any luck with this plant?