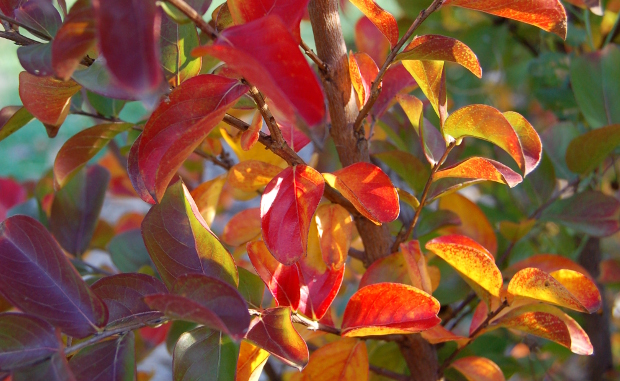 Crape myrtle (Lagerstroemia spp.) sells by virtue of its frilly summer blooms alone, and where it's hardy enough to grow sizable trunks, the exfoliating bark is a bonus, but how little ink is devoted to praising its fall color!
Some plants take on deep purpley tones that redden over time.  Many selections, like 'Hopi' and 'Catawba,' are set ablaze with an intense sunset pink-orange, while gold flames flicker among their shaded interior leaves.
A few varieties have more colors all at once than a basket full of rainbow chard.  Some of their green and purple leaves even appear to have a bluish sheen to them, thus spelling out Roy G. Biv in full.
---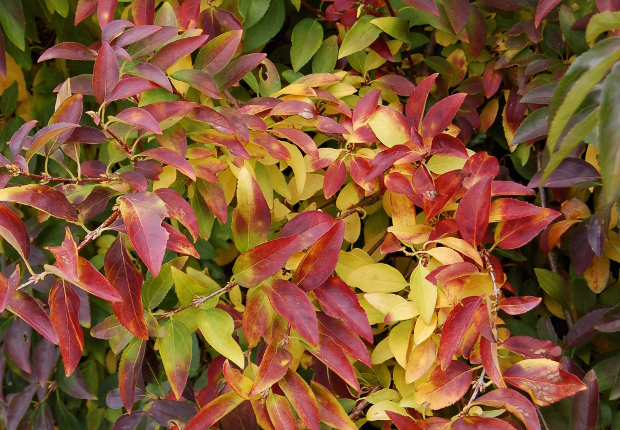 Forsythia ushers in the spring with a joyous, wild yelp and lights up landscapes everywhere in March.  Nothing is more exuberant then.
Disdain for this plant, however, is widespread.  Many fault it for being too brassy, too loud.  Overplanted.  I like that it's a crazy primal scream.  After all, it's spring!
As for being overplanted, do the Dutch complain about having too many tulips?  Do the residents of Washington, D.C. grow tired of their flowering cherries?
It's a shame that detractors are so busy beating forsythia up, because they fail to notice that it does have a softer side–in fall, with ruddy purple, rose, and yellow fall color.
---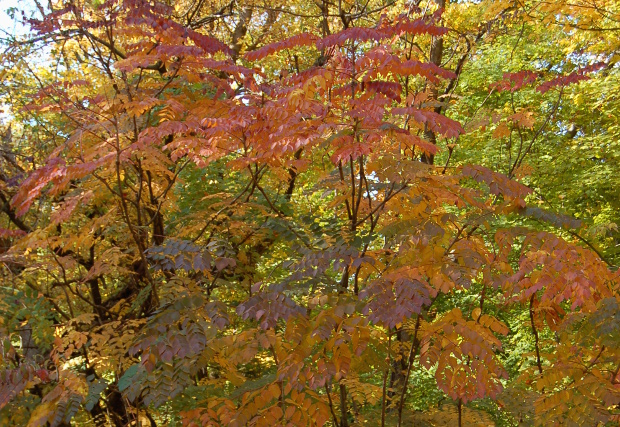 Devil's walking stick (Aralia spinosa) draws from all corners of the paintbox in fall, too.
A specimen in Spring Grove Cemetery in Cincinnati (shown here) is situated at the edge of the woods, and the play of light and shadow there brings out even more colors.  The whole spectrum is contained in one plant.  Rosy red, dusky pink, dull purple, peach, yellow, green, and teal—yes, teal—are represented.
---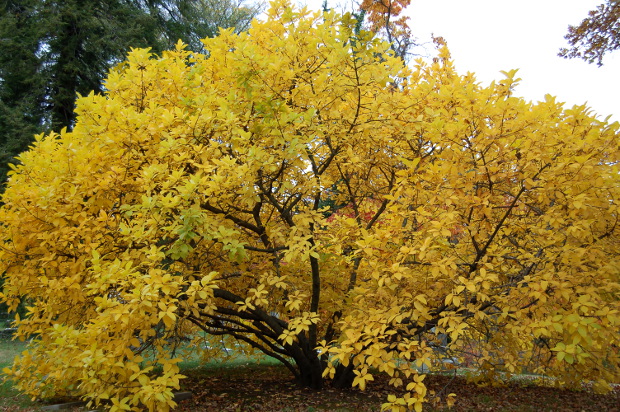 Fringetree (Chionanthus virginicus) does more than enough to earn its keep for the whole year when it puts on an unforgettable show of May "snowflowers," but it often goes out with a bang in fall as well.  Its big, saucer-magnolia-like leaves turn Bartlett pear yellow, although much variation exists.
Because cuttings are so reluctant to root, the species is usually propagated from seed, assuring plants in commerce a healthy dose of diversity.
---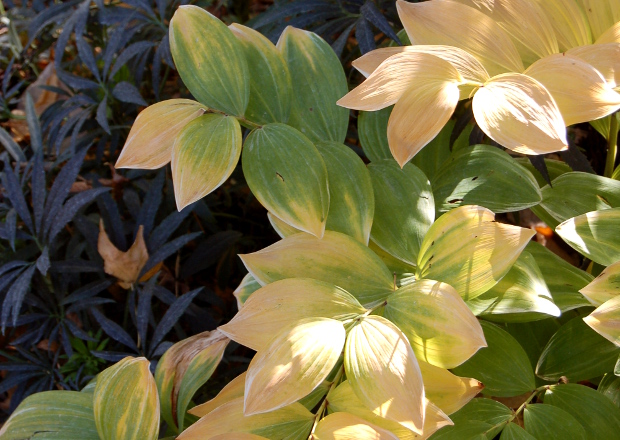 Variegated Solomon's seal (Polygonatum odoratum 'Variegatum') is one of the few perennial plants to offer changing foliage in the fall.  It turns a scrumptious banana custard yellow before succumbing to the elements.
Variegated Solomon's seal looks superb with the black-green, ever-perfect foliage of Helleborus foetidus.
What plants do you think deserve a shout-out for underrated fall color?