Saturday, August 29 is the date to mark on your calendar for the Garden Conservancy Portland Open Day. In conjunction with the Hardy Plant Society of Oregon, the Garden Conservancy will be opening five private gardens in the Beaverton area to ticket holders. You can find out more information here and at the end of this post.
I got to tour three of these beautiful gardens yesterday with some of my fellow Portland area garden bloggers, so we could entice you with a sneak peek of what you'll see if you go.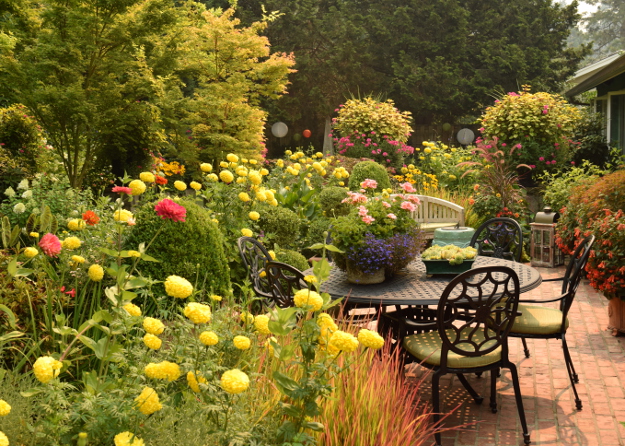 The garden of Zachary Baker and Leon Livengood was formal, yet colorful, joyful, and fun. These two like to entertain, and they have a wonderful, welcoming space here for their get-togethers. This is their "dining terrace."
I didn't notice the spiderweb pattern on the back of the chairs until Zachary pointed out the same motif on their wrought iron gate.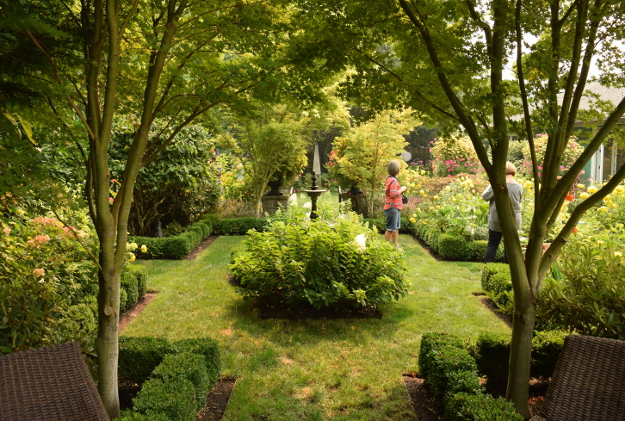 Their "cocktail terrace" was my favorite spot. Zachary described it as a cocoon, and I agreed—an inviting, cozy sitting spot sheltered from the wind and sun by trees and other plantings.
From the cocktail terrace (where I'm standing in this photo), you get a view down the long axis that runs parallel to the house, terminating at an obelisk at the far end of the garden.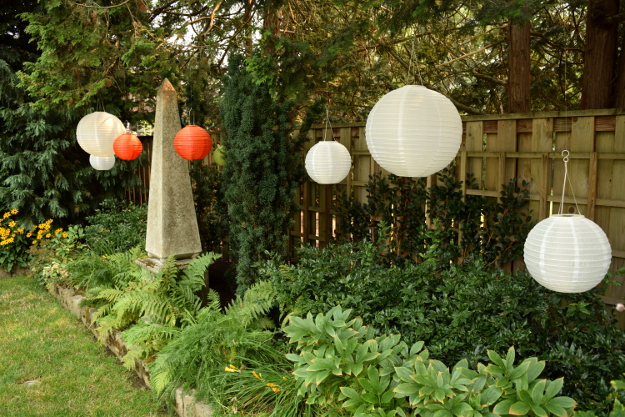 And here's the obelisk at the other end with some paper lanterns. I just love this! Simple, elegant, easy, fun.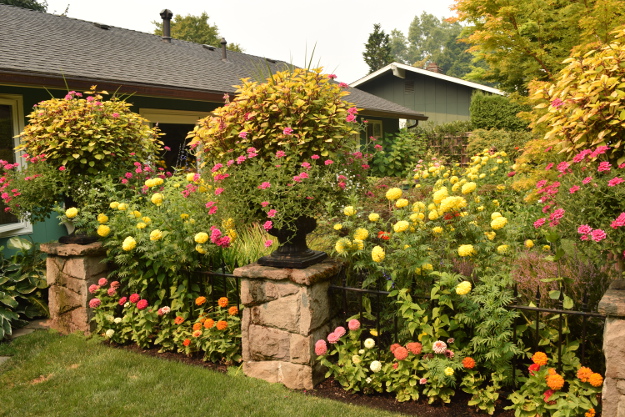 Basalt pillars topped with urns overflowing with verbena and coleus line the lawn space where the doggies play.
I thought it must really be a pain to water those urns by hand every day.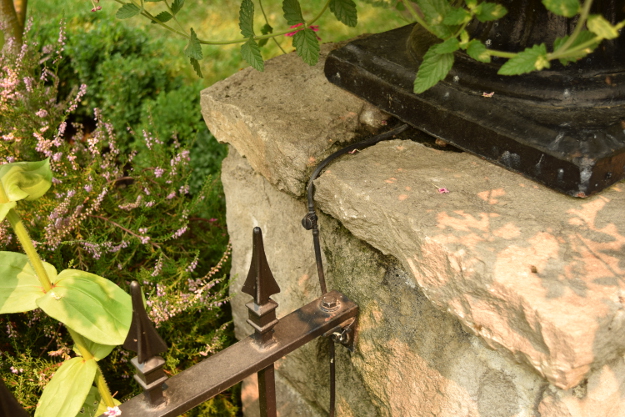 And then they showed me that Leon had run drip irrigation tubing up from the bottom. Smart move.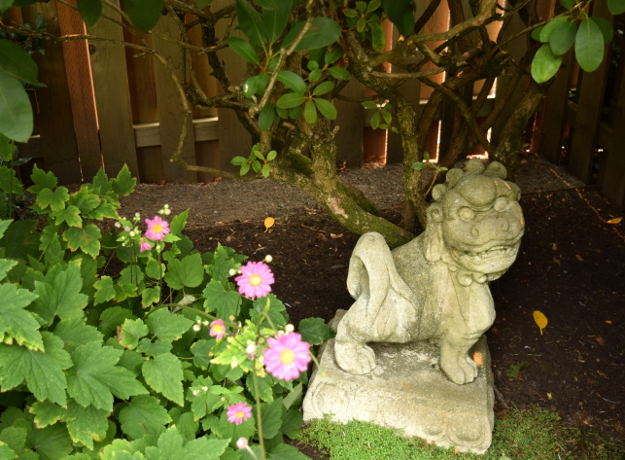 Zach also pointed out that there was an 18-in. maintenance path running all around the garden just inside the fence. Another smart move. How often is maintenance access an afterthought?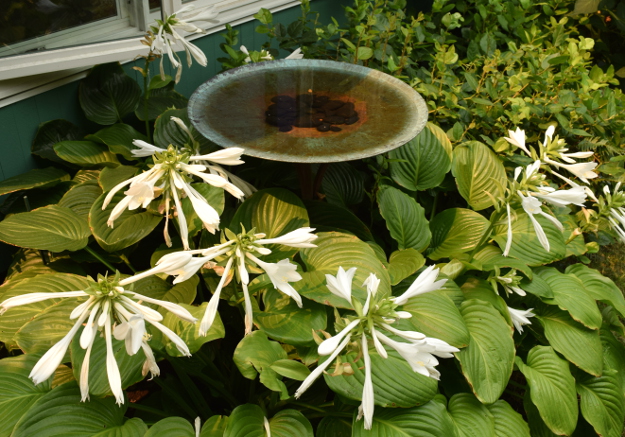 As we left, I got a whiff of Hosta plantaginea 'Aphrodite'. Apparently, they had cracked a window, so they could smell it from inside the house, too.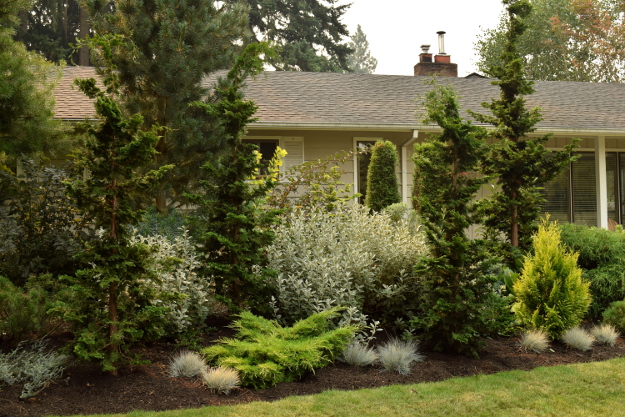 The garden of Chris and Jim Mitchell is situated on a generous corner lot. As we pulled up, a conifer planting with a restrained and refined color palette of green, gold, and silver caught everyone's eye.
Green hinoki cypresses, silver Brachyglottis, a golden spreading juniper, a gold arborvitae? or cypress, and blue fescue here, if you want to deconstruct it.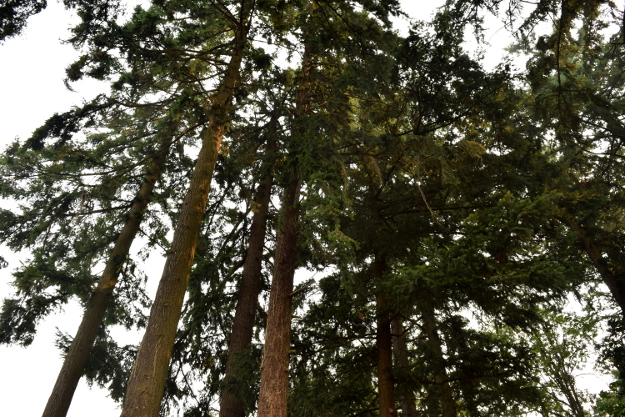 Around back, more conifers. Douglas firs. BIG ones.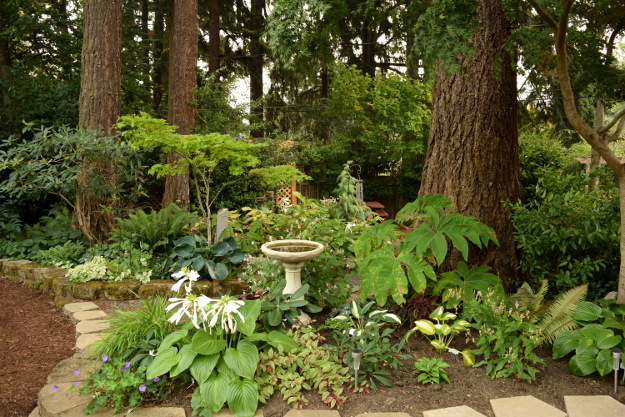 I asked Chris how they managed to garden under 80-year-old trees, and she said they put in raised beds around the trees and they do irrigate.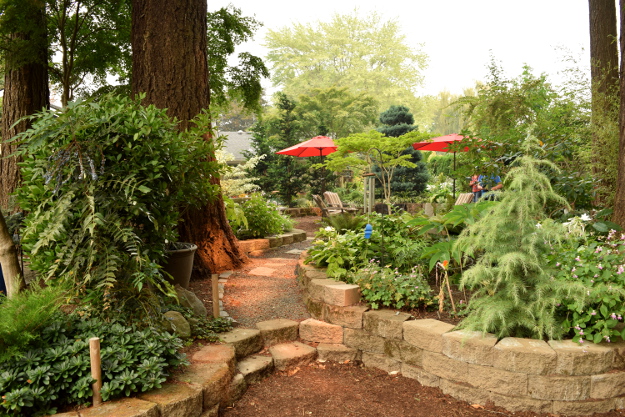 Over the past 15 years, Chris and Jim have taken what once a tangle of brambles and transformed it into a fabulous multi-roomed living space for family gatherings or just relaxing. Their six grandkids must love this space.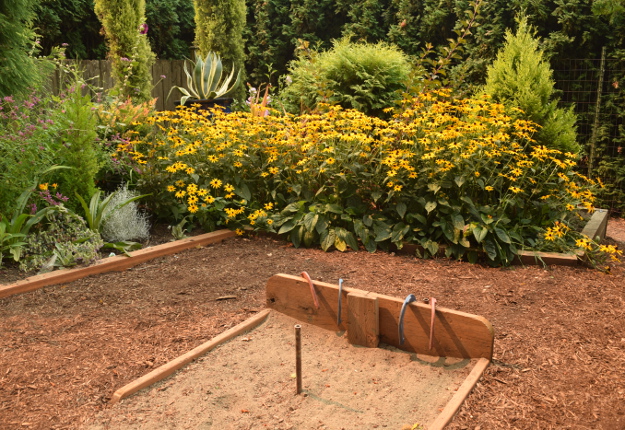 I've thought about having a horseshoe pit. (Maybe some part of me misses Kentucky?) But the thought of what an errant horseshoe could do to a young specimen tree is too much to contemplate.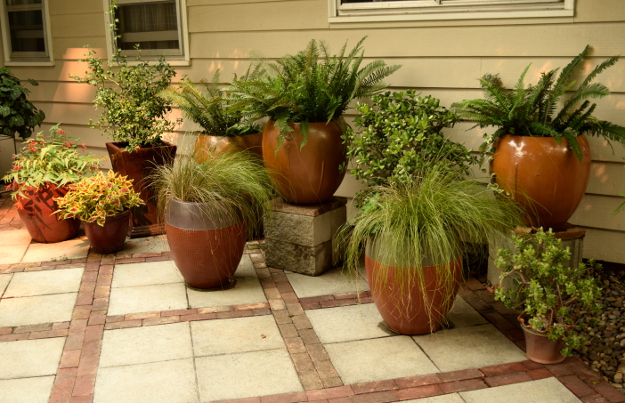 A snazzy collection of potted plants dressed up the main patio area.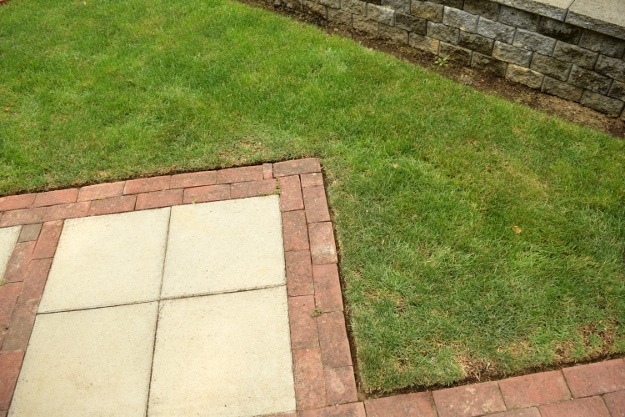 Which was edged in a zigzag pattern where it met the lawn. Nice touch! There's a lot more to explore in this garden—you really have to see it for yourself.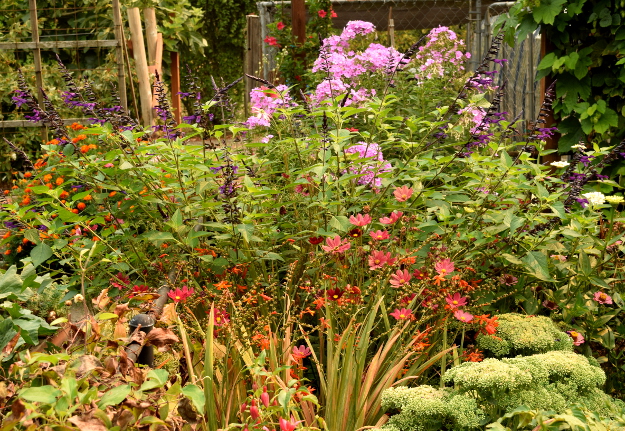 Nancy and Gordon Prewitt started out with a weedy backyard, too. That was 39 years ago. Now they have a big, productive vegetable garden and colorful ornamental beds all around their 1/3rd-acre property.
I love these cottage-garden colors—cosmos, salvia, phlox, and marigolds in a happy profusion.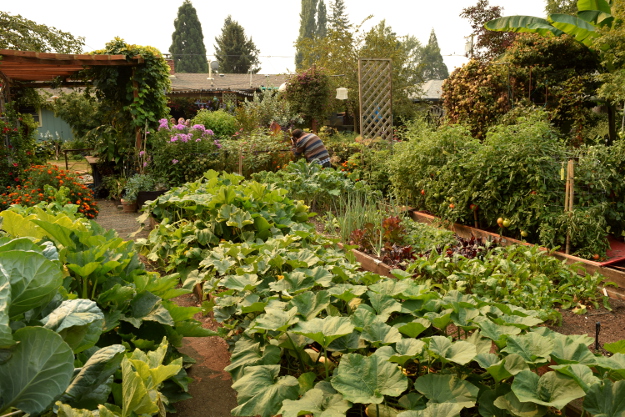 These three gardens couldn't have been much more different, but they did have one thing in common: heavy clay soil. For the Prewitts and their vegetables, this meant they would have to create raised beds.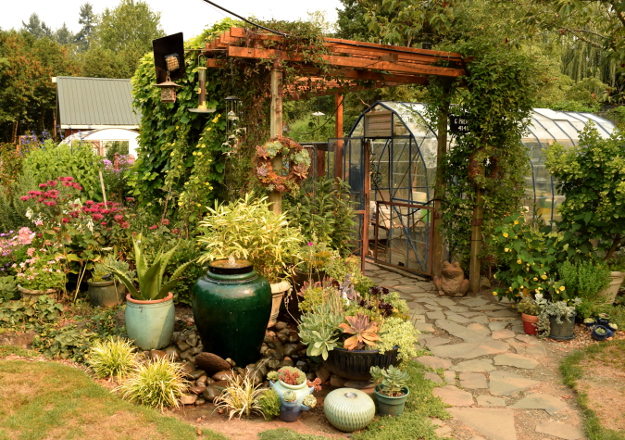 The theme of this year's Garden Conservancy open day is "Extending Your Garden Season," an idea the Prewitts have embraced wholeheartedly. Between their greenhouse, hoop house, and their many raised beds, they have fresh home-grown produce all year-round.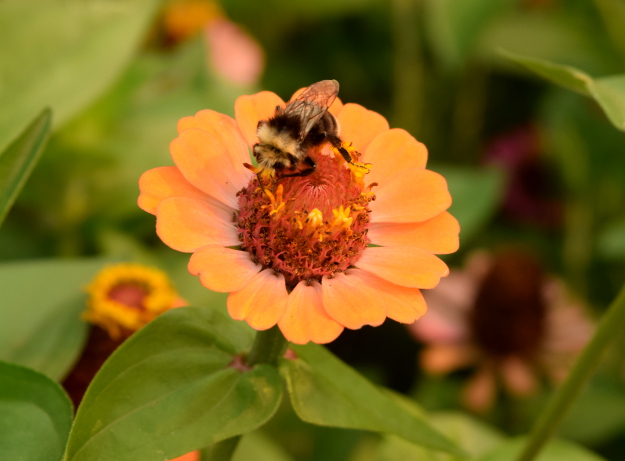 Bees aren't just fuzzy little visitors here. They are put to work.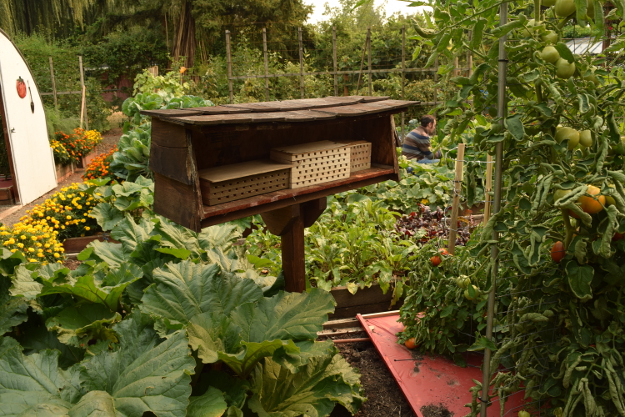 Gordon showed us the mason bees' lodgings.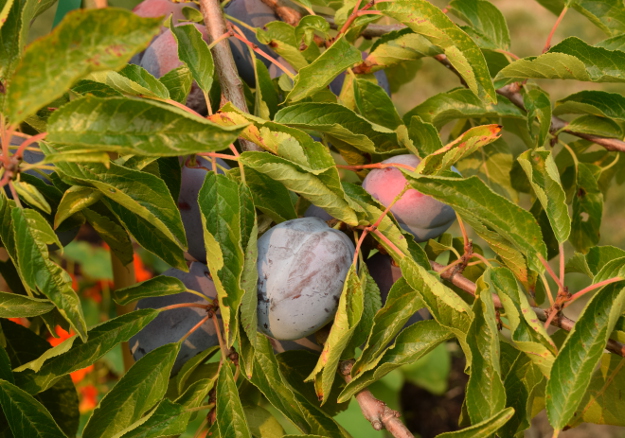 And this is the result of the bees' hard work. These are Brooks plums.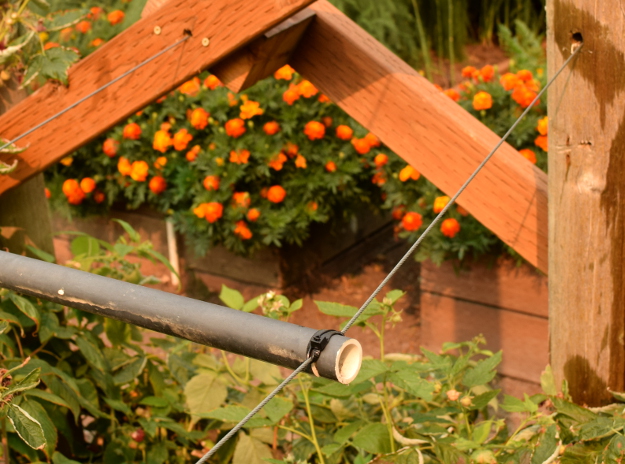 As I thought of my young raspberry bushes flailing all over the garden, I checked out Gordon's system for containing his. He cut partway through a pvc pipe and then secured a cable to it with a zip tie. Gordon and Nancy have been together 46 years and have had a garden every year since. Can you imagine how much knowledge they have to share?
I hope you'll visit these and the two other gardens open on August 29. If you're a member of HPSO or are ready to become a member, you can get a discount on the tickets if you buy them in advance.
The money that HPSO receives goes into the grants program to fund horticultural grants and scholarships. It's a great cause!
Thanks to Scott at Rhone Street Gardens for organizing our outing yesterday.