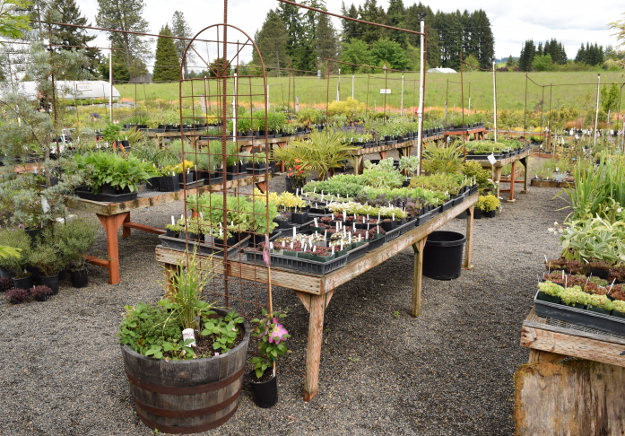 Win a $40 gift certificate to Joy Creek Nursery! JCN opens for the 2017 season this Saturday, February 25. (They do mail order, too.) But first, a visit to this amazing nursery in Scappoose, Oregon, 20 miles northwest of Portland.
I was invited to Joy Creek recently, along with some of my garden blogger friends, by co-owners Maurice Horn and Mike Smith. Tamara Paulat and Ricki Grady had a delicious spread waiting for us.
Mike took us on a tour of the display gardens. Joy Creek Nursery has incredible display gardens, though this past winter has been rough on them. The most spectacular event was a storm that was predicted to drop 4 to 6 inches of snow. Mike said it dropped 18 inches of the white stuff.
He showed us plants that had been damaged, evaluated the damage, and explained his plan of action.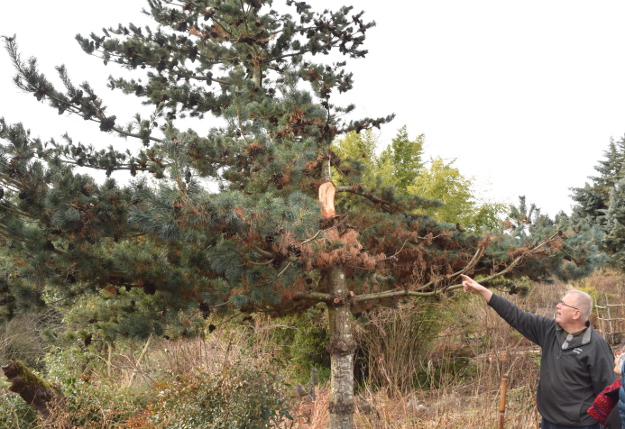 The "dwarf" Japanese white pine (a selection of Pinus parviflora) was an easy one. Too much of it had been torn away, the rest will likely to go in the next storm. It is a hazard. The tree will be removed.
---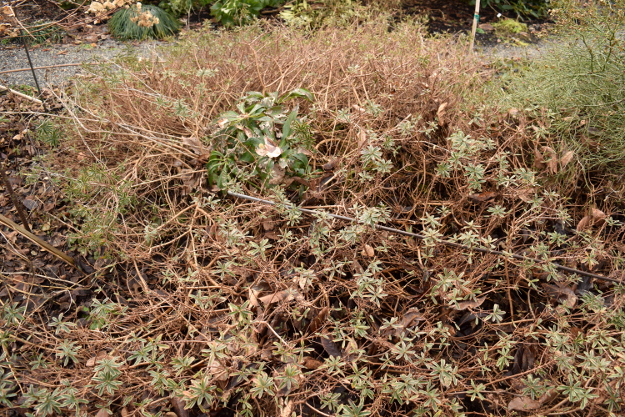 Daphne ×burkwoodii 'Carol Mackie' was a little more difficult to diagnose. This mature specimen used to be 4 feet tall, Mike said, but after the snow melted it was only 2 feet tall. He said the flattening of the poor plant reminded him of a book he loved when he was a kid.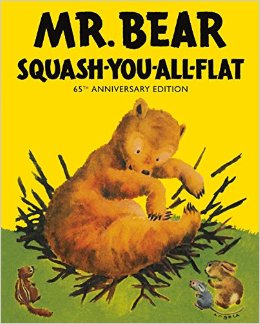 Are the branches broken? Hard to tell. Maybe not. Daphne has very flexible branches. Mike will take a wait-and-see approach on this one.
---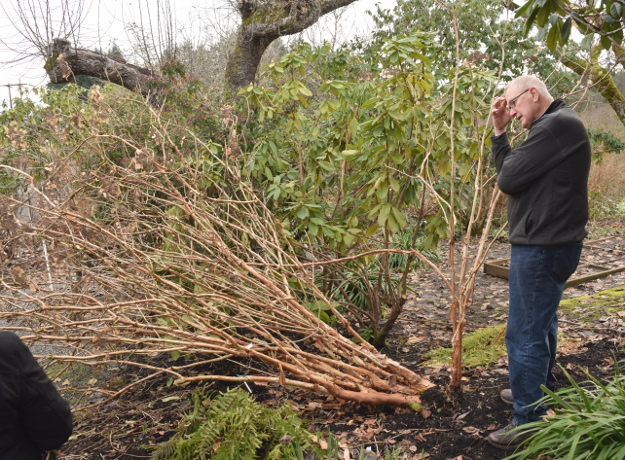 This bigleaf Chinese hydrangea (Hydrangea aspera 'Macrophylla') fell over in the storm. Luckily, there is one stem remaining that is solidly rooted in the ground. The plant will live on.
---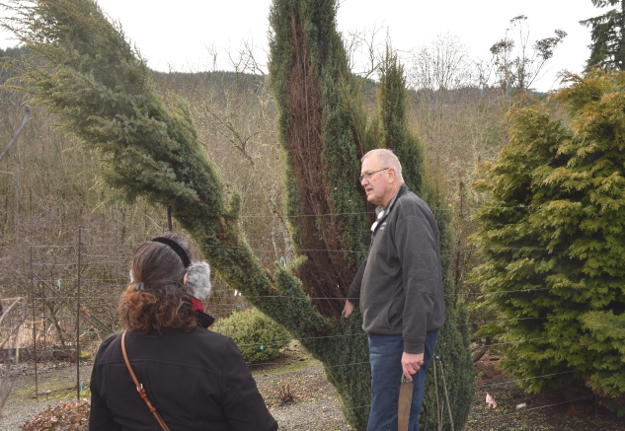 This juniper (Juniperus communis 'Compressa', to be exact) looks like a goner, but Mike says it can be tied back up and given a trim, and it will be fine.
Mike Smith will give a free pruning demo on Sunday, March 5 at Joy Creek Nursery if you want to see the master in action.
---

Mike and Maurice (pronounced like "Morris") feel that teaching is an important part of their mission. When I visited Joy Creek a couple of years ago to do a story for the HPSO Quarterly, Maurice told me, "We made a commitment to education early on, because we want people to succeed. We're ardent about that."
---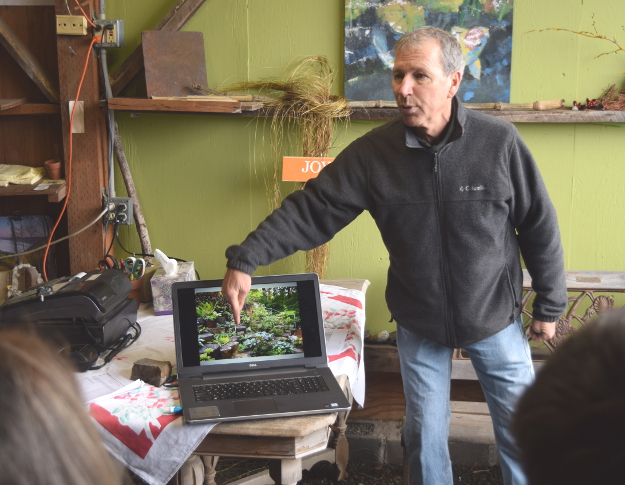 If you get a chance to hear Maurice speak, you MUST go. Besides being a consummate plantsman, he's a wonderful storyteller. I could listen to him for hours.
Maurice gave a presentation to our group about the "stumpery" he and his partner George recently put in at their home. Recycling some dead Lombardy poplars, they created a magical space by having the logs cut up into different lengths, installing them cut side up, and planting the gaps with ferns and other woodland plants. Kind of hard to describe, but the effect was fantastic. I hope to see it in person someday soon.
---

Joy Creek Nursery turns 25 years old this year! Why don't we celebrate with some photos from some of the more flowery times of the year? These are delphiniums that Mike and Maurice grew from seed. They insist that some of them are 20 years old. (And you thought all delphiniums were short-lived.)
---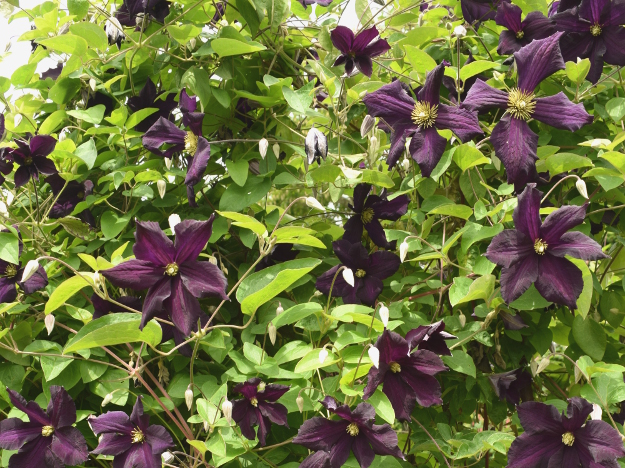 Joy Creek is probably best known for its clematis collection, and Maurice is an internationally recognized clematis expert. This seductress is called 'Romantika'. I saw it in May last year in the display gardens.
---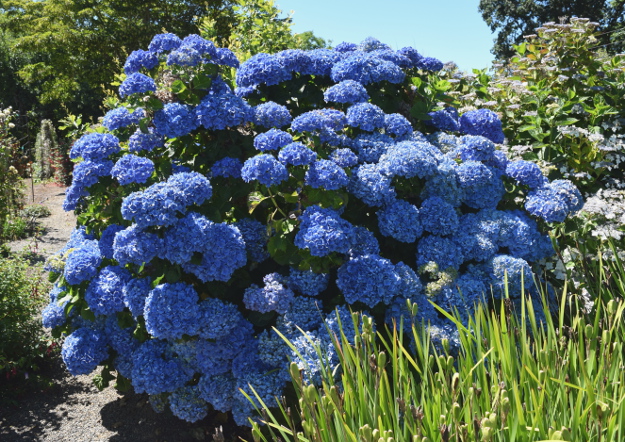 JCN is also known for its hydrangeas. I took this photo last June at the gardens, and no, I did not enhance it. I couldn't find a name tag.
Fun fact: Maurice told us that there's a selection of Hydrangea serrata that's grown for the sugar in its leaves!
---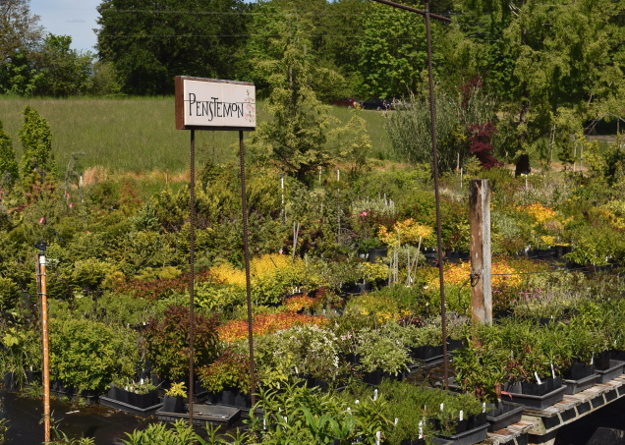 Penstemons are another specialty, as are fuchsias, hostas, and dianthus.
---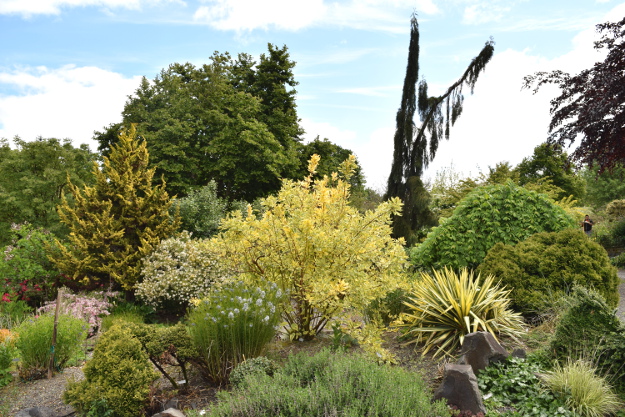 The display gardens not only show customers what the plants look like in a garden setting, but they're a way for Mike and Maurice to test plants out. There are several different habitats featured. Near the sales area is a big mounded rock garden.
---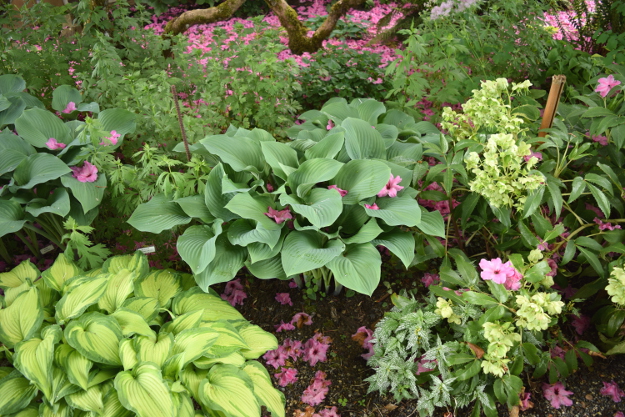 Close to the house (Mike lives on the property), shade garden beauties occupy the forest floor. Mike decided to save many of the original rhododendrons that came with the house, and their spent petals adorn the plants.
---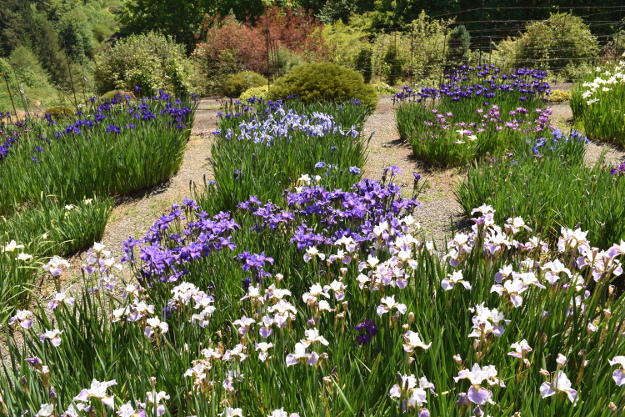 Irrigated display beds in full sun hold Siberian irises (Iris sibirica).
---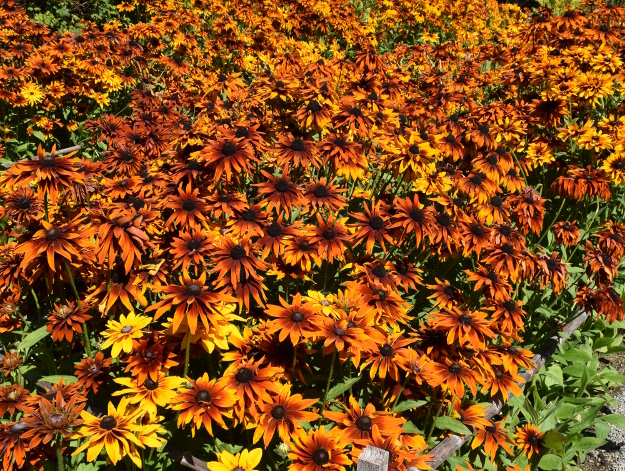 And the rudbeckia beds nearby are not to be missed in summer.
---
In celebration of the season opening this Saturday, February 25, I'm giving away a $40 gift certificate to Joy Creek Nursery to be used at the nursery or online (they do mail-order, too).
Just leave a comment below indicating that you'd like to enter. Entering the contest will also subscribe you to new posts from The World's Best Gardening Blog if you don't already receive them; however, if you wish to unsubscribe, you can easily do so.
Submissions will be received until 11:59 pm (Pacific time) on Monday, Feb. 20, and the winner will be announced at 10:00 am (Pacific time) on Tuesday, Feb. 21. Good luck!
---
And the winner of the $40 gift certificate (thanks to random.org) is… Christine Zimmerman! Thanks to all of you who commented and happy gardening!