Winter forces us to look closer for beauty in the garden.  No more cantaloupe-sized hydrangea flowers, no flamboyant dahlias, no voluptuous tree peonies.  We look to the details to find beauty in unexpected places.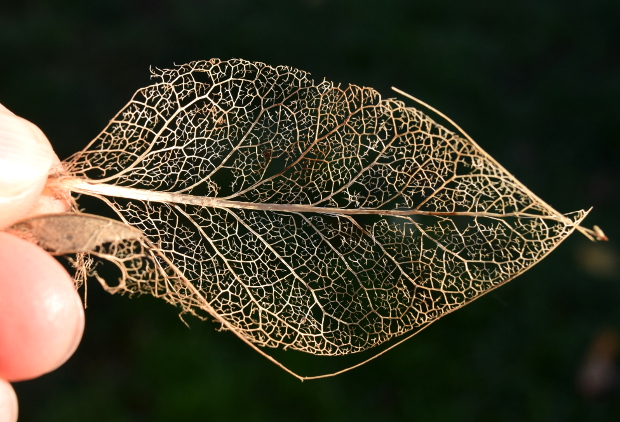 My neighbor has an English holly that hangs over the fence in the corner of our backyard.  The leaves it drops are thick and waxy, but over time they are broken down by the workings of millions of microorganisms.  The leaf veins, however, take longer to decompose.  Eventually only the skeleton remains.
---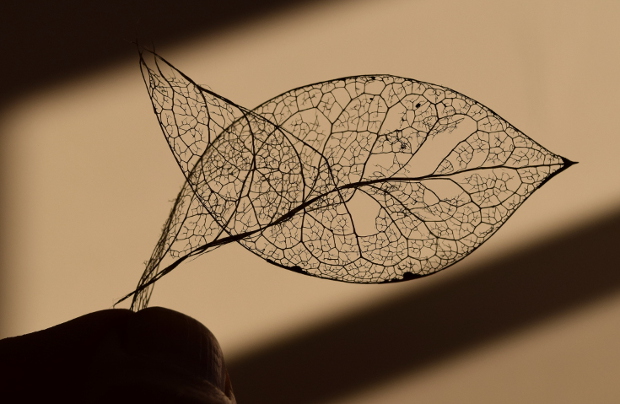 This one looks like a fish.
---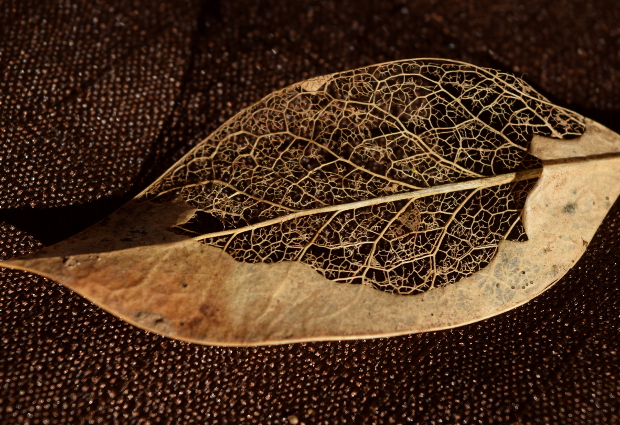 And this half-skeletonized leaf reminds me of a cyborg.
---
The renowned Dutch garden designer Piet Oudolf is famous for championing the cause of appreciating the beauty of death in the winter garden.  His designs always feature plants with winter interest in the form of seedheads, stems, and dried foliage.  In his words, he seeks out plants that "live well and die well."
---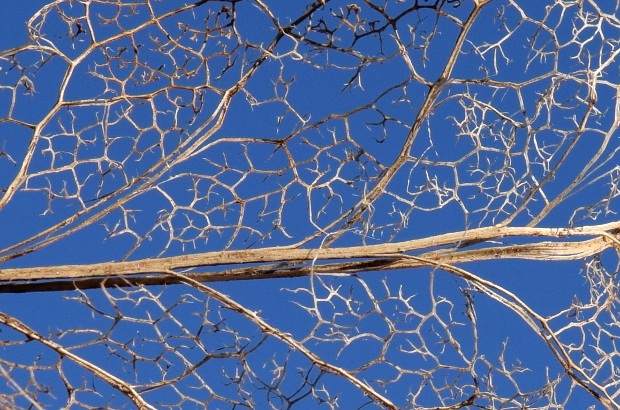 In an article in The New York Times in 2008, Oudolf said, "The skeletons of the plants are for me as important as the flowers."
---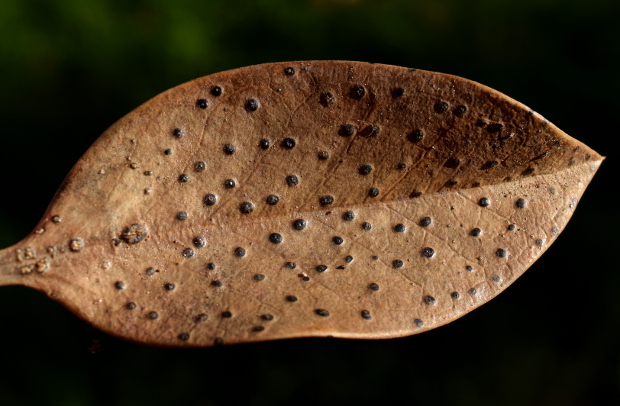 "You see a lot with dead plants," Oudolf said in that same article.  "You accept death.  You don't take plants out, because they still look good.  And brown is also a color."
---
In a story in The Planthunter from earlier this year, Piet Oudolf expressed his philosophy like this:  "If you make a four-season garden you have to accept decay and see the beauty of it.  It's about the texture and shape, the seed heads and the skeletons."
---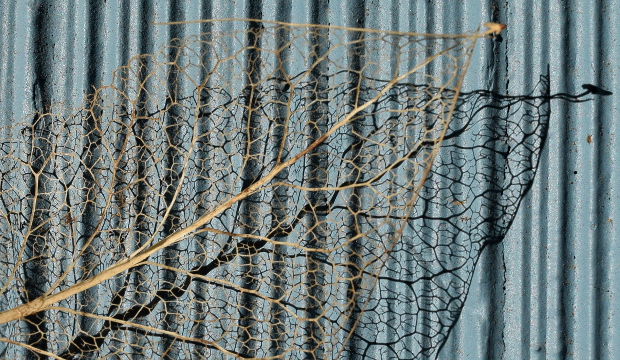 Oudolf added, "So instead of using the scissors you use your eyes"—in reference to the popular practice of "tidying up" the garden by cutting all this potential beauty down.
---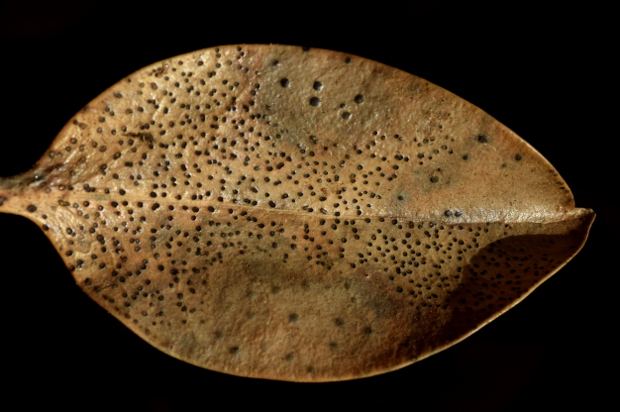 In 1836, Ralph Waldo Emerson wrote in Nature that "Even the corpse has its own beauty."  I remember thinking when I first read that, "Well, that's a stretch."  I get it now.
---
Emerson wrote, "There is no object so foul that intense light will not make beautiful."  Like this decaying leaf…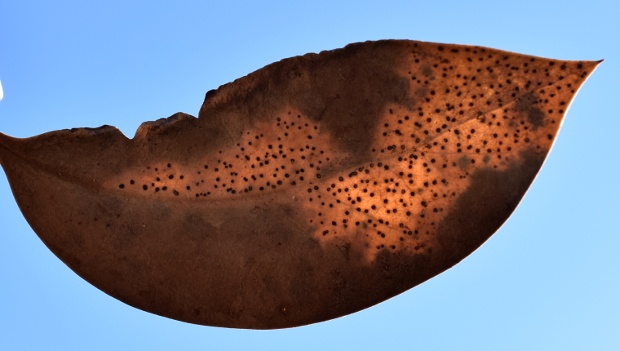 Illuminated by the sun.
---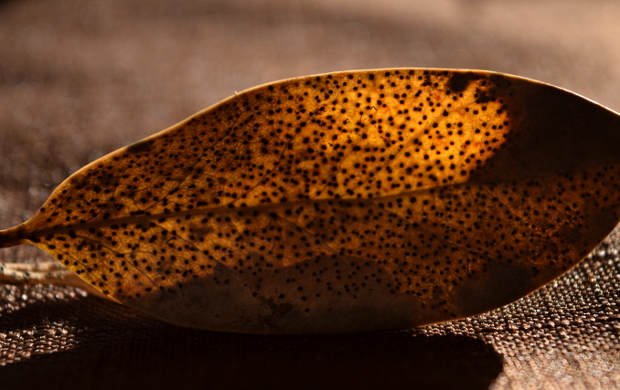 Or like this leaf, lit up.
---
I agree wholeheartedly with Emerson when he wrote, "I please myself with the graces of the winter scenery, and believe that we are as much touched by  it as by the genial influences of summer."
---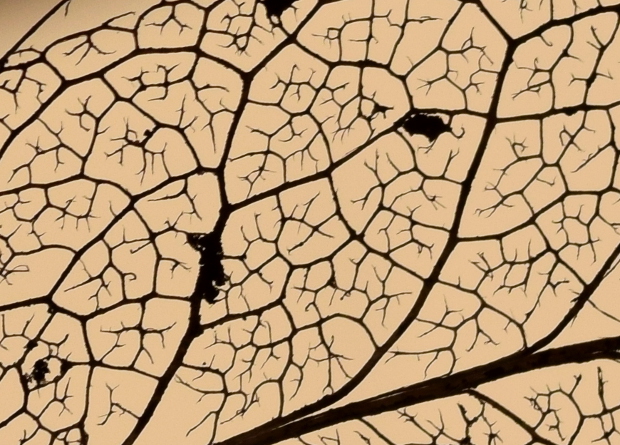 And I also believe that, "To the attentive eye, each moment of the year has its own beauty, and in the same field, it beholds, every hour, a picture which was never seen before, and which shall never be seen again."
---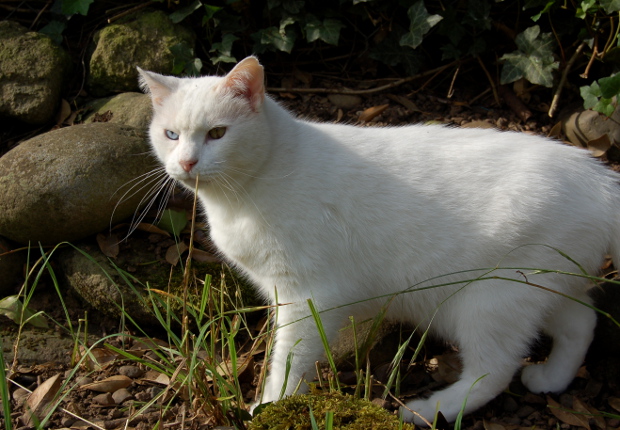 But it is with a heavy heart and bleary eyes that I see and appreciate the beauty of death in the garden on this wintery day.  Rest in peace, dear friend.