Let's face it, "winter interest" in the garden often amounts to a few somber evergreens, a spray of colorful berries, and some shreddy bark. Honest-to-God winter flowers are rare, and flowers on January first? Well, that's asking a bit much. Or so I thought. I went to Edgefield McMenamins in Troutdale, Oregon on New Year's Day to take some "winter interest" photos and ended up with some lovely winter flower shots!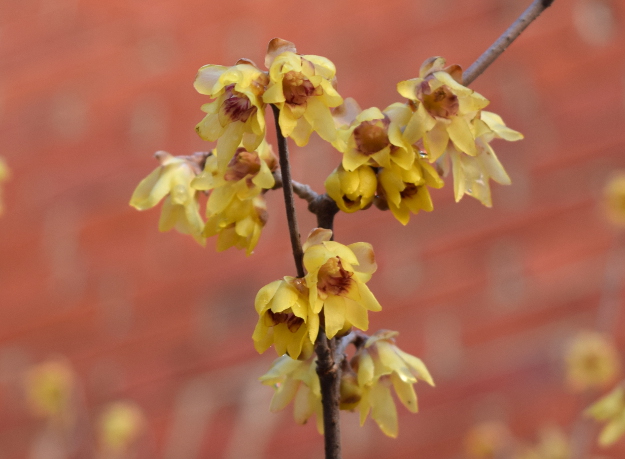 Wintersweet (Chimonanthus praecox) is a gawky shrub that redeems itself now with the fresh, sweet fragrance of its blossoms. The pale yellow blooms, downward-facing and somewhat crumpled, would be easy to pass by, but the scent stops you in your tracks. The variety flowering now is probably 'Grandiflora', with larger blooms than the type and purple markings inside the flower (the later-blooming 'Luteus' is all-yellow).
It would be advantageous to site wintersweet where you could view the flowers from below. This isn't hard, since the shrub can reach 10 feet tall and wide. Because it skips out on paying the rent the rest of the year, it would be a good idea to run a clematis or some other vine through it to give it some more seasonal interest besides winter interest. If you don't have room in your garden for a 10-foot shrub, you can always espalier it against a wall.
Wintersweet is solidly hardy in zone 7 and is definitely worth trying in zone 6. It appreciates full sun or light shade, average water, and good drainage.
---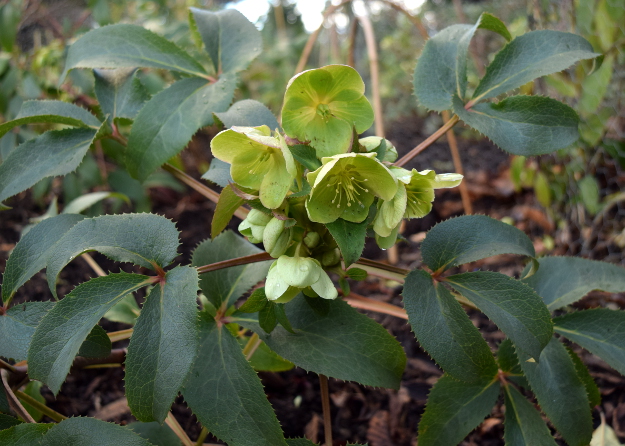 Corsican hellebore (Helleborus argutifolius) has started to bloom around town. This is a tough old bird with stiff, cardboardy, evergreen leaves with unfriendly prickles all around. It tolerates more sun and drier soil than other hellebores. I have even seen it in full sun hell strips. It is hardy to zone 7.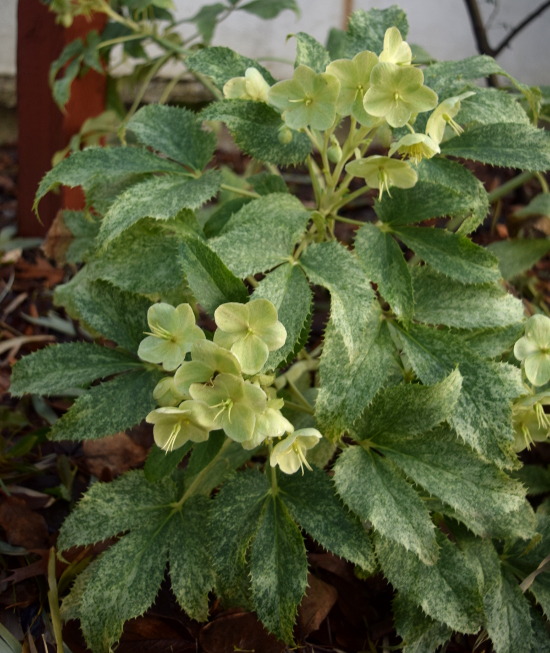 The greenish to cream colored flowers look smashing against the deep green foliage, and the blooms last a long time in the cool winter air. There are several variegated forms, and the variegation often comes true from seed, so try sowing some seed if you have a variegated one, or just watch for seedlings around your plant.
---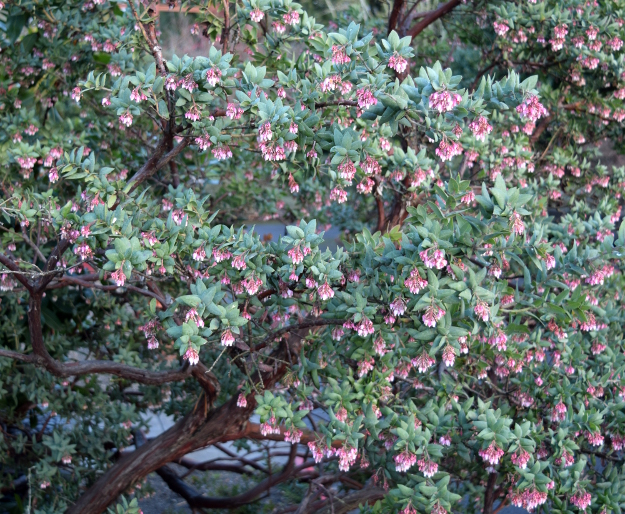 Arctostaphylos pajaroensis 'Paradise' made me pinch myself. January first? Really? This is magical. I need some manzanitas in my life. This one is from California and is hardy to 15 degrees or so.
Manzanitas are perfectly adapted to dry summer, low humidity (at least in summer) climates and many don't need a drop of supplemental water once they're established. They're perfect for my free-draining soil (I have gravelly loam, don't hate me). I want a low-water garden in my front yard, but I don't like cactus or a lot of pokey desert things, and plants like manzanitas will give me the lush look I prefer, while keeping irrigation to a minimum.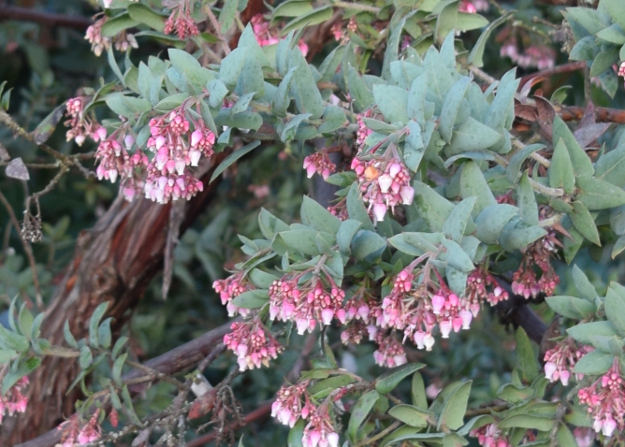 Manzanitas offer handsome evergreen leaves in green, blue-green, or silver; gorgeous shaggy or polished bark ('Paradise' is shaggy); and pretty, bell-shaped, pink or white flowers in winter or spring. The resident Anna hummingbirds adore the winter flowers. I think no matter how long I live in Oregon, I will never stop being amazed and thrilled at seeing hummingbirds in the winter. And yet, I'm too damn lazy to keep a hummingbird feeder clean, filled, and unfrozen all winter. So manzanitas it is.
---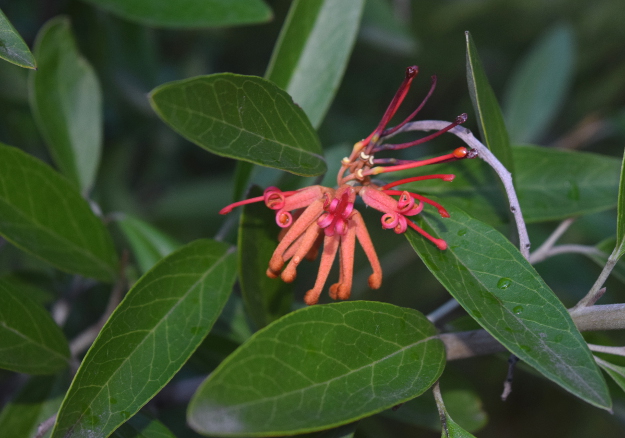 I'm beginning to realize I need a grevillea or two as well. This is Grevillea victoriae, an evergreen shrub from Australia. These fascinating flowers can appear at any month of the year but are most abundant in winter and spring. Hummers love these blossoms, too.
Grevilleas are naturally adapted to growing in very poor soil and by fertilizing them or growing them in too-rich soil you can kill them with kindness. They are especially sensitive to phosphorus. Even without fertilizer, G. victoriae is a fast grower and will shoot up to its mature height of 6 to 10 feet in no time. It is hardy to zone 7b.
Do you have any January blooms where you are?