There are some choice gardens on the Association of Northwest Landscape Designers Garden Tour this Saturday, June 17, on Portland's west side. How do I know? I got a sneak peek last week! Here's what I saw, along with 15 great landscaping ideas.
Stick around til the end, and you can enter to win a ticket to the tour yourself.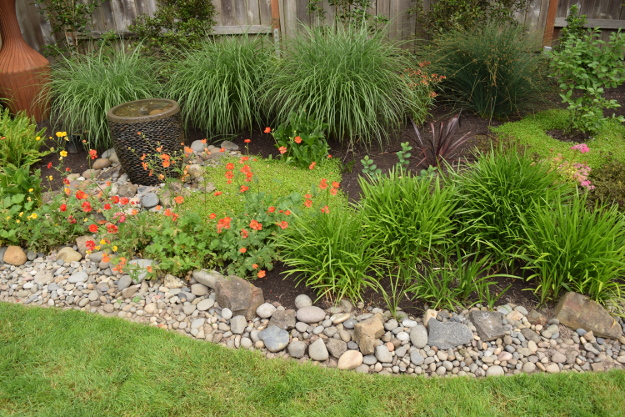 #1 River rock as an edging.
In Terri's Garden, designed by Amy Whitworth, I got an idea for what to do with my surplus of river rock—use it as an edging!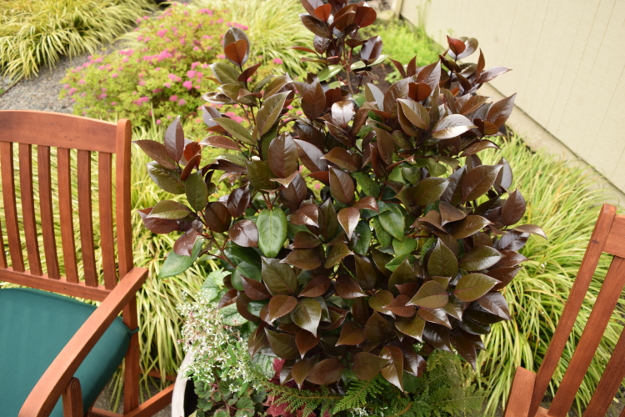 #2 Camellia Vestito Rosso.
I also made the acquaintance of Vestito Rosso camellia and its chocolate-brown new foliage. The flowers are near-red, with lots of overlapping petals in wonderful fractal patterns. Yum.
---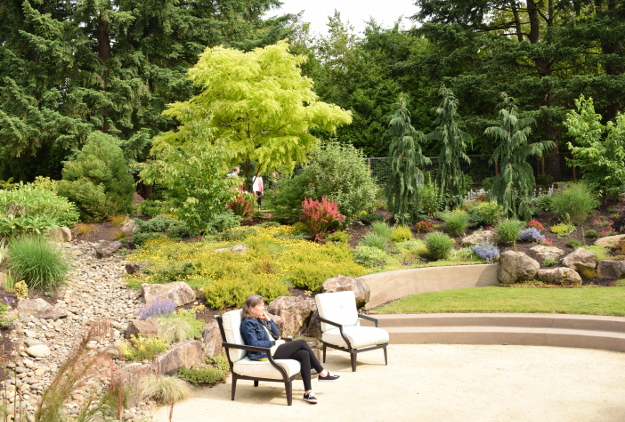 The Letson-Gardner Garden, designed by Lucy Hardiman and Susan LaTourette, was magical. Marcia Peck rests in a comfy chair. We'll see her incredible garden in a little bit.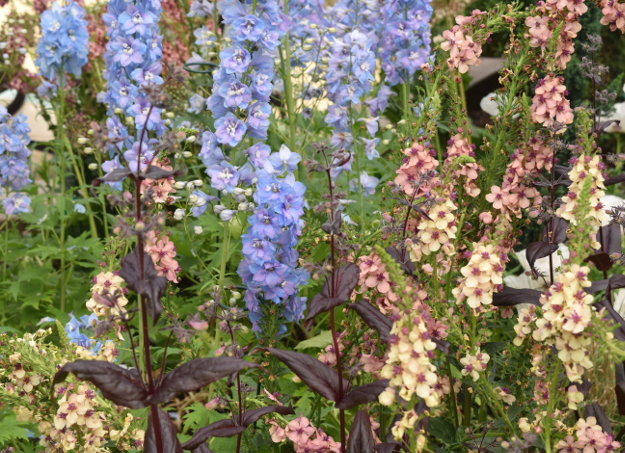 #3 Delphinium-Verbascum-Penstemon 'Dark Towers' combo.
Drool.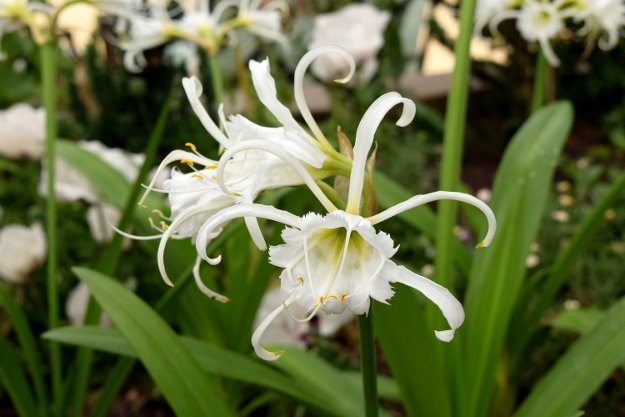 #4 Ismene festalis.
I believe this was growing in the ground. Do you grow this? Is it hardy in Portland? Do I need it? I think I need it.
---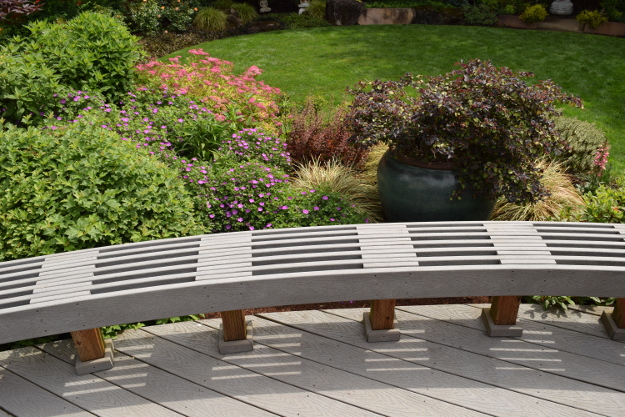 #5 This bench.
The Myers Garden, designed by David West, was a nice collaboration between a landscaper and homeowner who had recently caught the gardening bug. I thought this curved bench was pretty cool. Any handy people out there? How difficult would this be to make?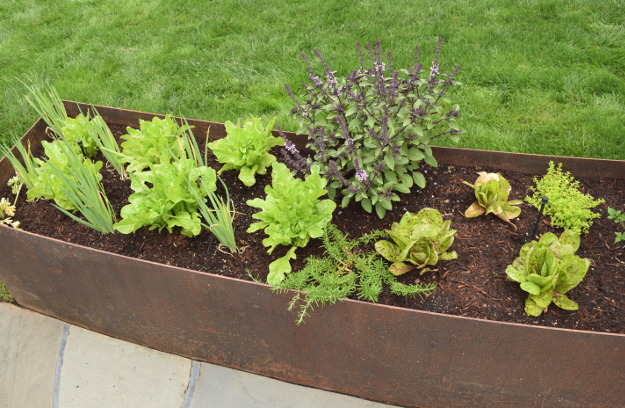 #6 This rusty raised bed.
This is how you do a very small urban veggie bed.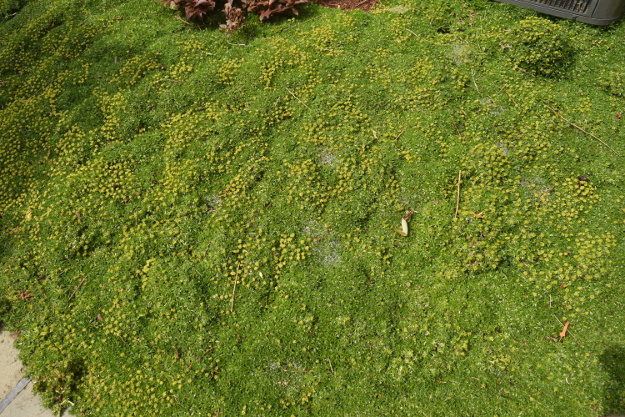 #7 Bolax gummifera.
Happy, happy bolax. I've killed this before, but this immense patch made me realize it deserves another chance. If you go to this garden, feel the texture of this plant. It's weird and plastic-y, so unplantlike.
---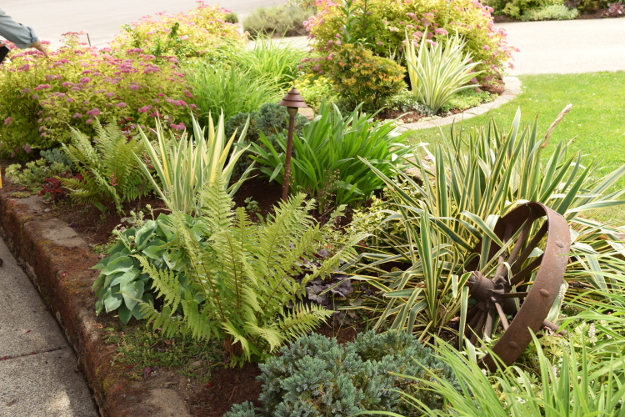 #8 Repetition of plants.
The nice thing about the designer's tour is that you get to see how the pros do it. One thing the pros do is repeat plants throughout a bed. It brings cohesiveness to a planting. This is Ann Nickerson's home garden, Andora Gardens. Note how she repeats the variegated irises, ferns, and spireas and what a calming effect that has on the whole.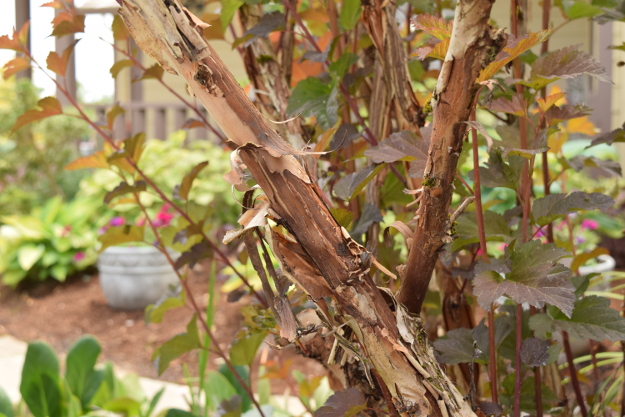 #9 Limb up ninebark.
When we saw this ninebark (Physocarpus), my friend Darcy Daniels said, "Why do we hardly ever limb up ninebark when the bark looks like that?" We should really limb up ninebark more often.
---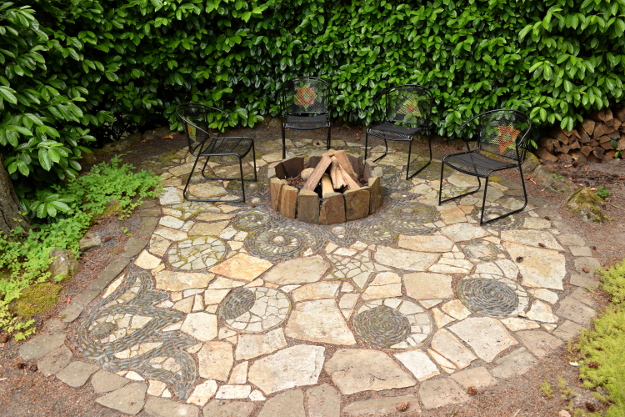 #10 DIY mosaics.
The garden of Marcia Peck is filled with mosaics she's made herself. The process sounds surprisingly simple. She says to dig a hole in the ground and fill it with dry concrete. Then, place your stones, and finally, mist with water until the concrete is saturated.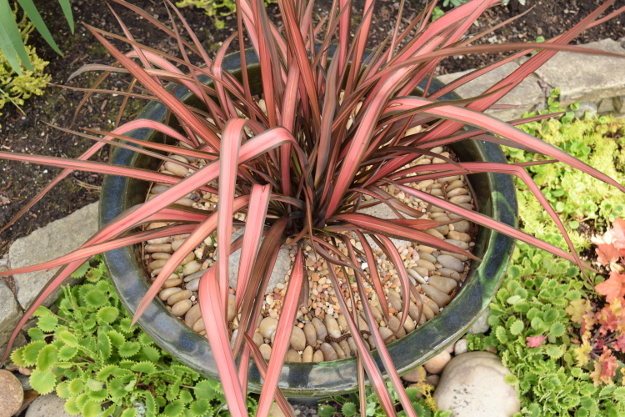 #11 Arrange stones in containers.
Do you leave plants naked in their containers? Marcia arranges stones like paving in her pots, and it looks pretty sharp.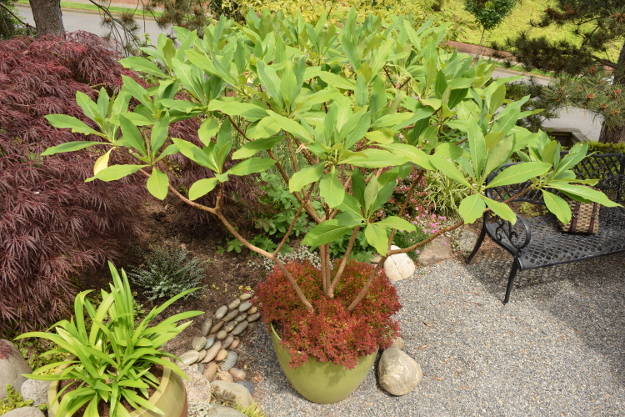 #12 Barberry as an underplanting.
Another way to add interest to a container planting. I thought this was really striking—an early-blooming Edgeworthia underplanted with barberry! Bonus idea: check out that sweet little stone wall to the left.
---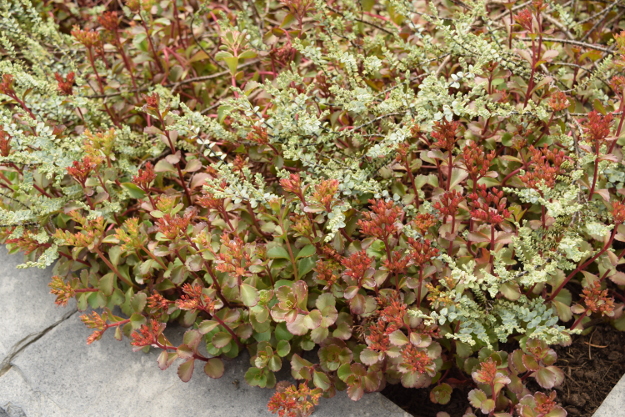 #13 Hebe 'Quicksilver' with Sedum spurium 'Voodoo'.
Or one of the red Sedum spuriums. 'Voodoo' seems to hold its color better than most. Quicksilver can be a rather spacey grower, and Voodoo fills in the gaps. The Schmitt Garden, designed by Marcia Peck, gave us another delicious taste of Marcia's sensibilities.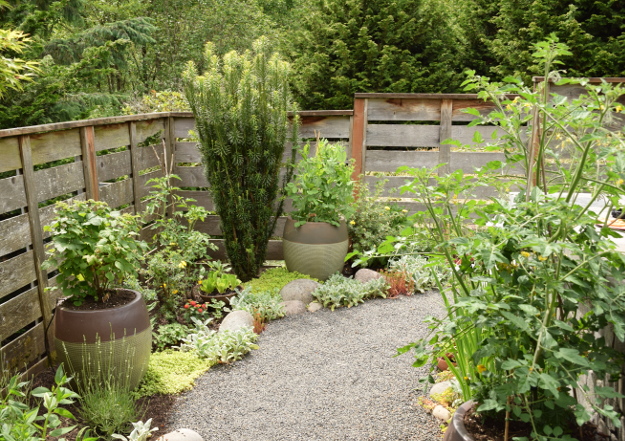 #14 Tidy vegetables.
Growing compact veggies in containers allows the homeowners to keep it neat. On the right, a tomato; near left, a dwarf raspberry. In the corner, a pot of peas.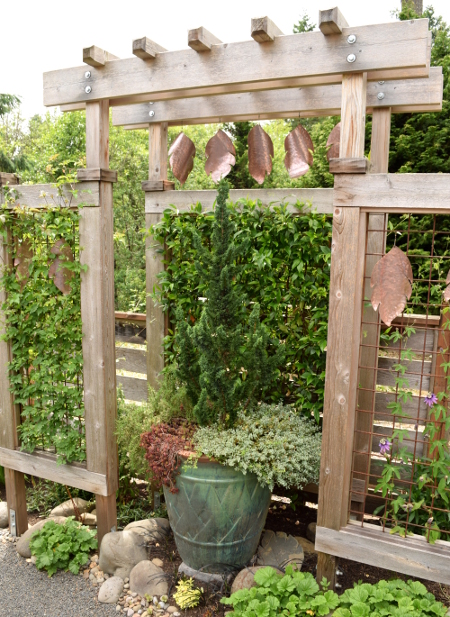 #15 An arbor adds depth.
I thought this arbor was really great. Just a couple of small panels and some crossbeams overhead and voilà! So simple, but it adds so much depth.
---
I strongly recommend this tour if you're in the Portland area on June 17. Tickets are $25, and the proceeds go towards scholarships for local community college horticulture and landscaping students. Find out more here.
Or, win a ticket! I'm giving away one ticket. Tell me in the comments that you'd like to enter. I'll draw the lucky winner on Tuesday, June 13, at 8:00 pm PDT. Good luck!
---
And the winner, thanks to random.org is… Mary Ann Rogers! Congrats, Mary Ann, and thank you everyone for reading my blog and participating. I hope everyone else still gets a chance to go to this great event.