I love before-and-after shots, don't you?
Here's a short time lapse of my new perennial bed.  Photo #1 was taken on Sept. 18th, just after the plants were set into their new homes.  It was Portland's second hottest summer on record, though for the record the grass is usually that blond here every summer.  Photo #2 was taken today, Oct. 29th.  What a difference the rains make!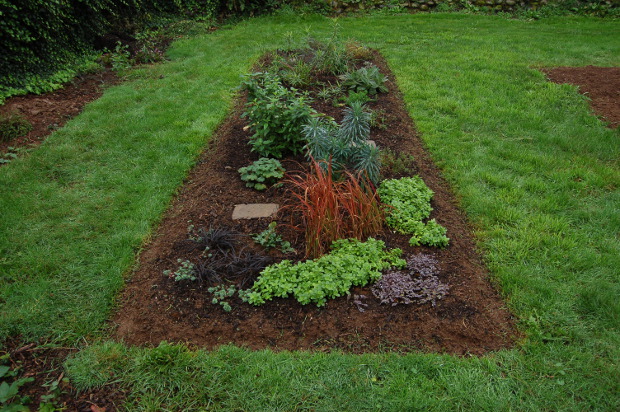 This bed gives me a warm and fuzzy feeling every time I look at it, because all the plants in it are gifts from friends.  After moving to Oregon, I had to start a new garden from scratch (though I get to grow a lot of plants I couldn't in the Midwest!).  Here are some of the shareable plants I scored: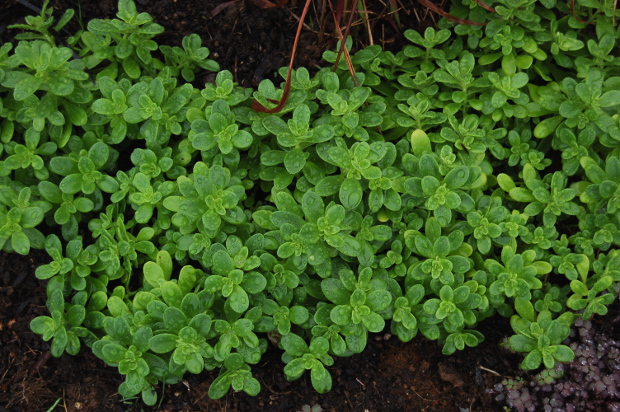 Sedum confusum.  Why did I not know you in the Ohio Valley?  Because you're a Zone 7.  This plant is reason enough to move 2,000 miles.  Sweet little groundcover, well-behaved, flawless apple-green foliage and yellow flowers in summer.  And, since it's a sedum, you just break off a piece and root it in potting mix.  Couldn't be easier.  And, oh yeah…
It's evergreen and takes on pink and orange tones in the winter, when it looks like this!
---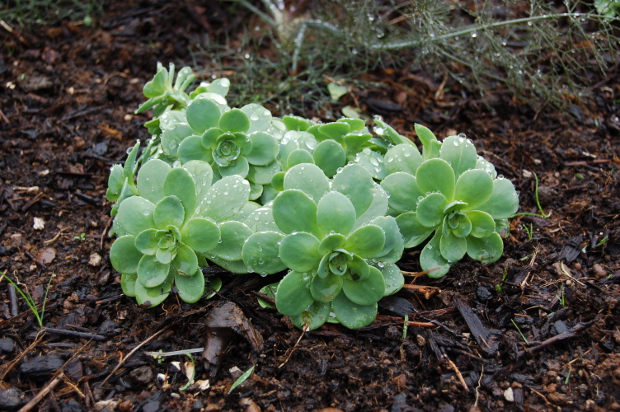 At first I thought this sedum was a glaucous blue version of S. confusus.  Turns out, it's a different species entirely, S. palmeri.  Also Zone 7.  Both of these plants were given to me by a neighbor.  I had never met her before, but when I walked by her house, taking photos of her plants, she literally ran and grabbed a trowel and a box and asked me which ones I wanted.  Gardeners are like that!
---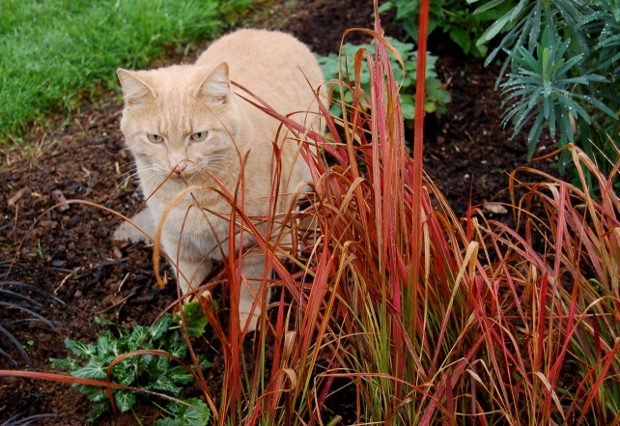 Grasses are wonderfully shareable.  They are best divided in the spring, but in our mild climate, I don't think it matters what time of year you split them.  I love the way the pale yellow-green at the base of these Imperata 'Red Baron' blades echos the Granny-Smith leaves of Sedum confusus.  I got this clump (and two truckloads of other plants) from my friend Patricia when she moved to a new house.  She recently blogged about grasses on Plant Lust.
---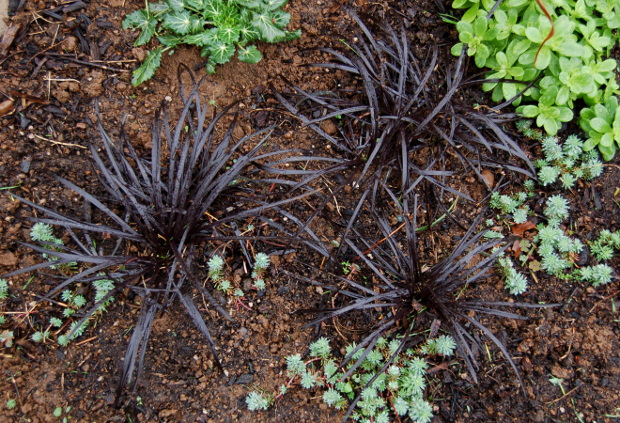 The grass-like black mondo (Ophiopogon 'Nigrescens') doesn't grow as speedily as most true grasses, but can be divided when it does attain some mass.  Great opportunities for arty color combos with this one.  More gifted sedums here:  not sure on the ID, but Blue Spruce-ish.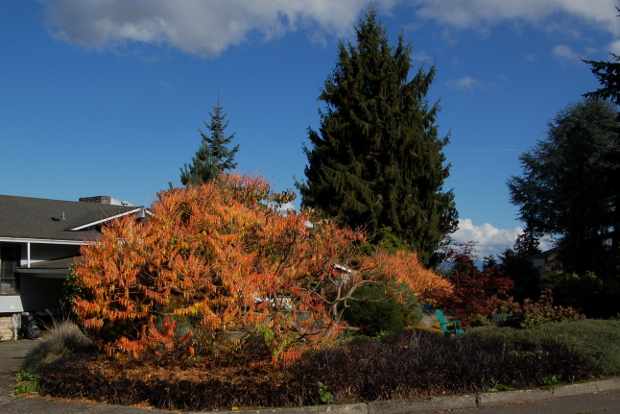 We had a rare sunny day here on Monday, and I went out looking for plant shots.  Someone in Mt. Tabor had planted black mondo grass with Tiger Eyes® sumac, and it was fabulous.
---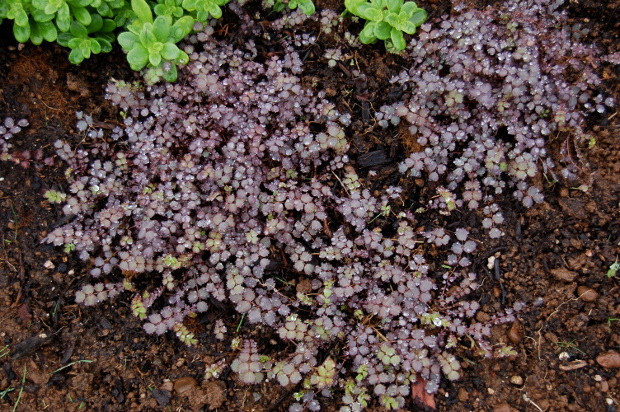 This is Acaena inermis 'Purpurea,' a tidy little groundcover with the most unusual lavender-colored leaves.  I got this plant from my friend Sue.  I had never met her before, but while at a garden center one day, she overheard me tell a friend of hers that I lived in St. Johns.  She introduced herself, told me she lived near there, and invited me to see her garden.  When I took her up on the offer, she sent me away with another whole truckload of plants!
---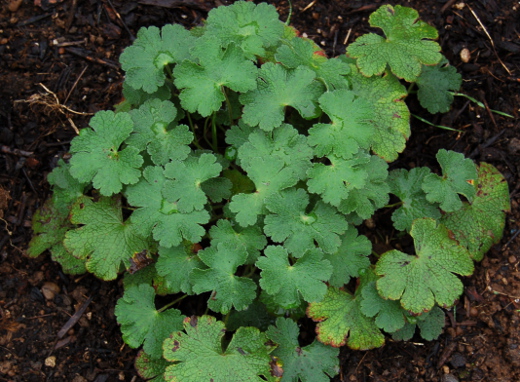 Geraniums are not always the easiest to divide, at least after they've leafed out, but this Geranium renardii start made the move just fine.  It has soft, felty leaves, and I think the flowers are cool white with purple etchings.  We'll see next year.  I got it from a generous lady who opened her garden this year through the HPSO (Hardy Plant Society of Oregon) Open Gardens program.
---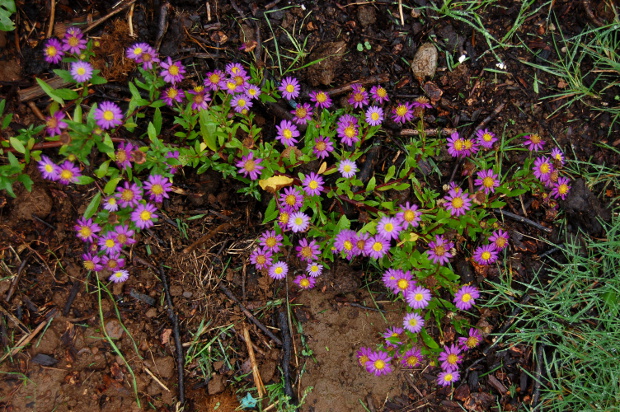 Asters are easy to divide and share.  From a plant exchange, I got this lovely Aster ageratoides 'Ezo Murasaki' from my friend Laura.  It's a runner, though, so it is segregated in a holding bed until I decide where to unleash it.
---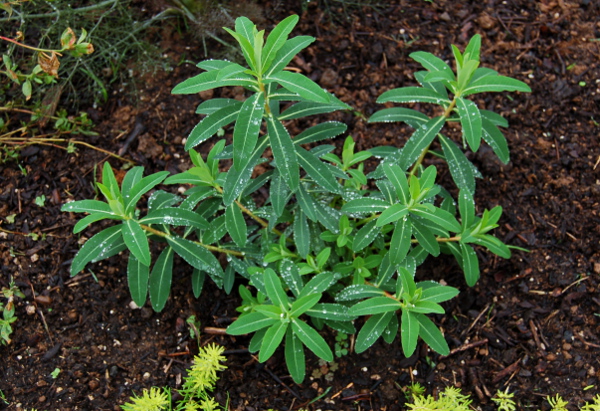 Not all shareables are divisions—some plants are easy to grow from seed and can be shared that way.  At that same plant exchange, I got two euphorbia seedlings from my friend Linda.  Of course, I didn't write down the names.  Linda?…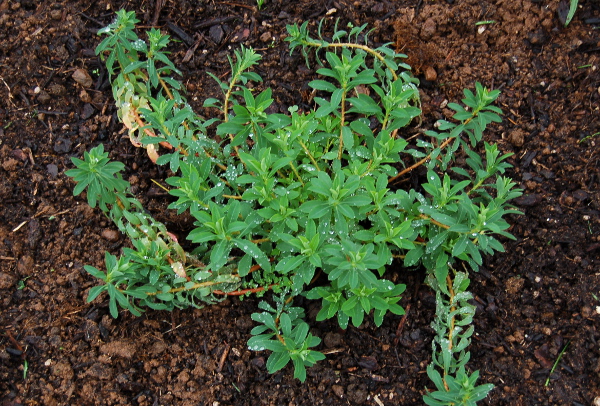 And this one?