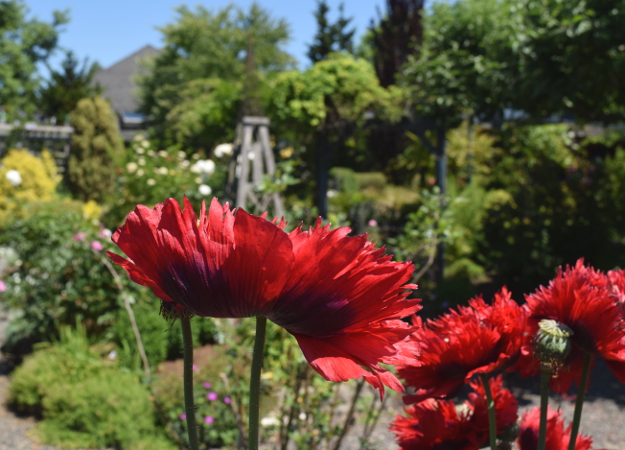 This Saturday, June 11, garden lovers will get to visit five fabulous gardens in the annual Garden Conservancy/HPSO (Hardy Plant Society of Oregon) Open Days Tour. This year's tour, "Northern Exposure: Glorious Gardens in Clark County," is situated in the area of Vancouver and Battle Ground, Washington.
I was lucky enough to get a sneak peek Sunday with a couple of my garden blogger friends, Scott from Rhone Street Gardens, and Laura from Gravy Lessons. Here's what I saw.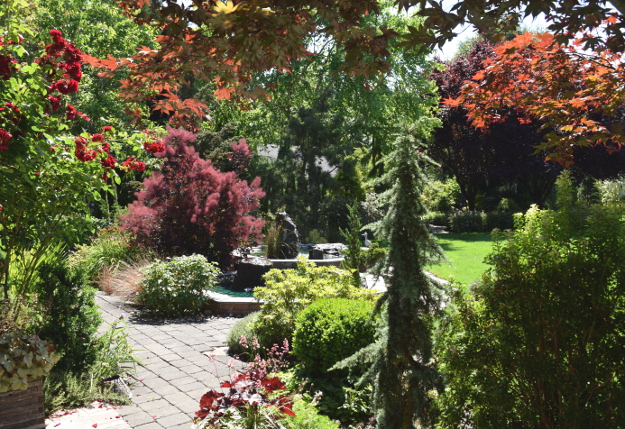 The garden of Linda and Al Bailey of Battle Ground started out as a slick, empty acre of clay 17 years ago, but with Linda's design skills and Al's building skills, it has become a lush and welcoming garden. This is a formal garden that's big on structure, but full of love. You can see it in the variety of plants and the way they're lovingly tended.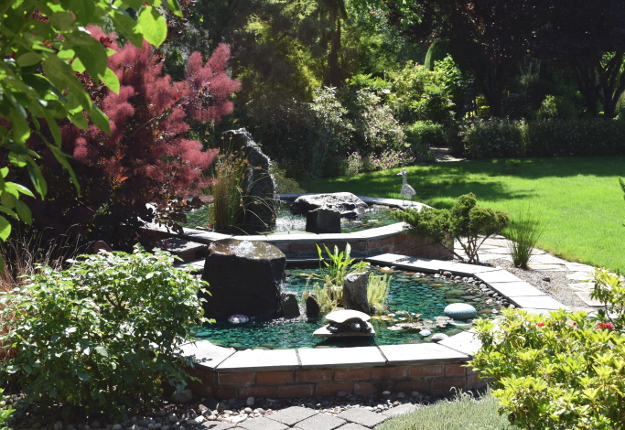 The Bailey home opens to a grand outdoor entertaining space. Linda told us this wasn't even the garden proper, but there was plenty here to explore. As it was 99º that day, I was thinking hard about exploring these beautiful turquoise-blue pools.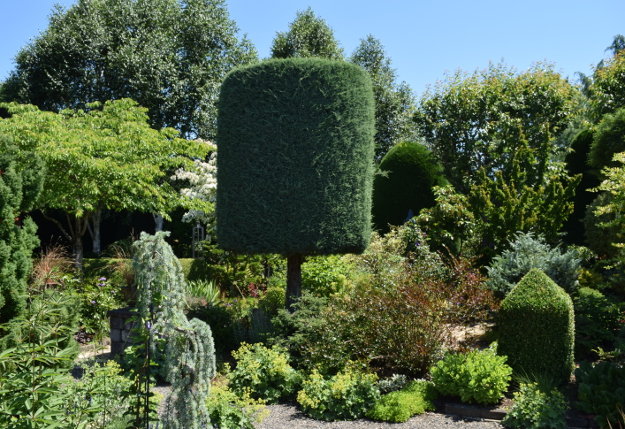 The formal garden space below was charming and had a European feel. It was punctuated by tightly sheared topiary and also featured arbors, a pergola draped with grapevines, a kitchen garden, and a gazebo.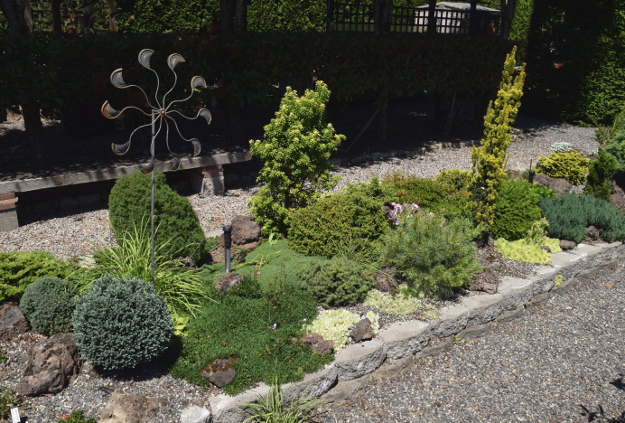 A "landing strip" for plants without homes has become a permanent display for dwarf conifers along with a few sedums and other small rock garden plants. Linda confessed that she was never very good at planting threes and fives of plants together, like you're "supposed to," and I think this is a great way to indulge in more of a collector's aesthetic.
---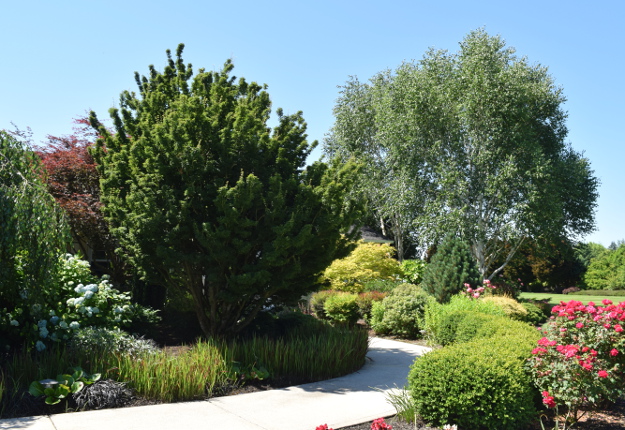 While we were in Battle Ground, we also visited the garden of Betty and Bill Ritchie. This five-acre garden features scores of beautiful specimen trees. Lower layers of shrubs and perennials add color and wildlife habitat. This is the entryway garden and the magnificent lion's head maple (Acer palmatum 'Shishigashira') that greets you at the front door.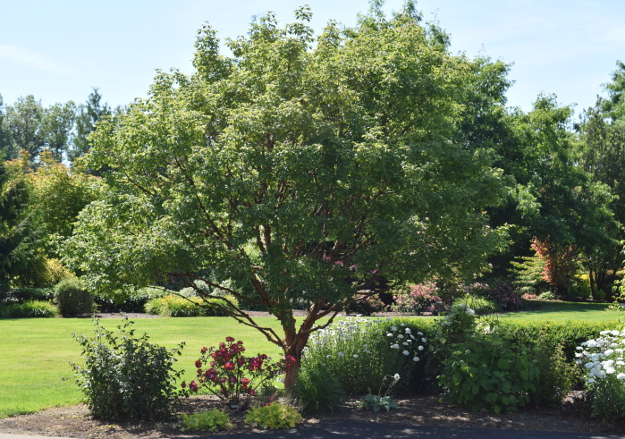 A paperbark maple (Acer griseum) anchors this bed. The trees here seem very well cared for, and in this spacious garden they are able to stretch out and reach their true potential.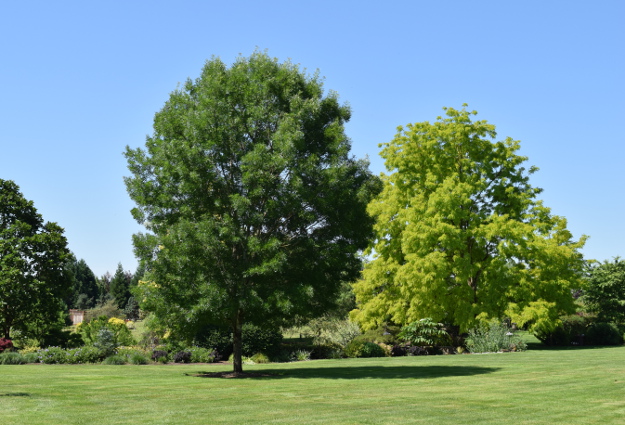 Lush turf clothes the gently rolling hills, and I wanted to take my shoes off and feel the cool grass between my toes. A handsome ash tree stands tall and proud in the foreground. Behind, a golden-leaved black locust tree glows in the late spring sunshine.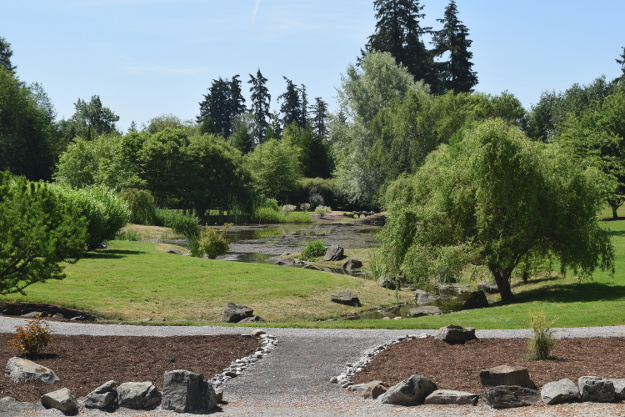 The Ritchie Garden was nothing but a wetland with one scrubby tree in 2001, but Betty and Bill have since turned it into a park-like setting. They've planted trees, shrubs, and perennials to encourage the wildlife that is already drawn to this area. The birdsongs made a wonderful soundtrack to our visit.
---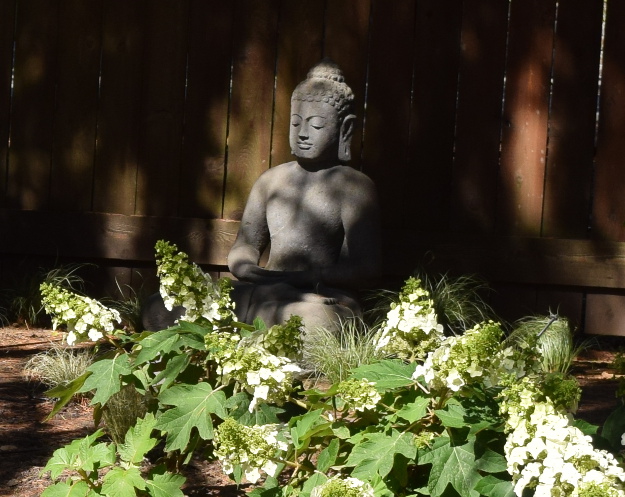 In Vancouver, Washington, the garden of Rebecca Seymour and Greg Lueck couldn't have been more different from the first two. Inspired by Japanese landscaping, its lines are simple and its plant palette is restrained. In the front garden, oakleaf hydrangeas (Hydrangea quercifolia) set off a statue artfully positioned in dappled shade.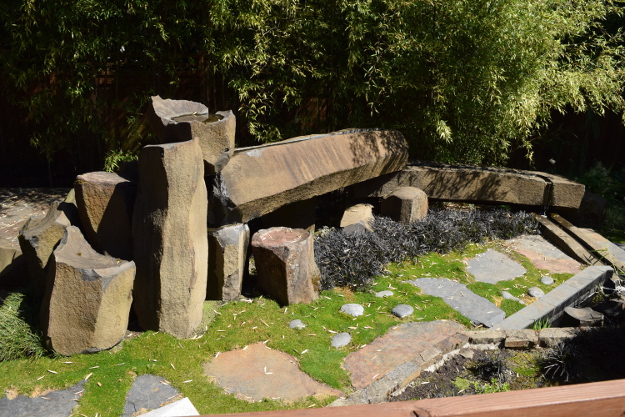 A huge stone rill dominates the back garden; the back side of the rill doubles as a fire pit. Soft, spongy mosses tie the stepping stones together.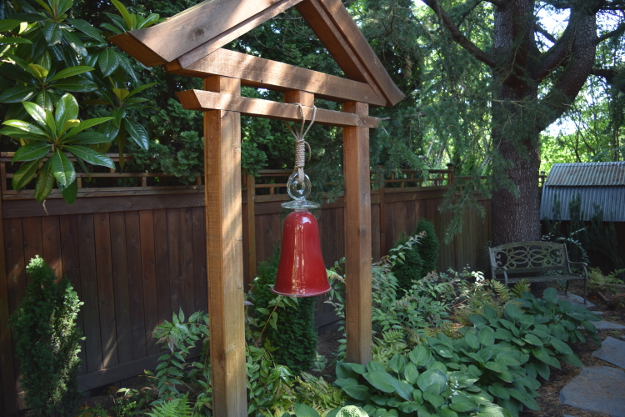 The Seymour-Lueck Garden was designed by Vanessa Gardner Nagel, whose garden is also on the Garden Conservancy Open Days Tour this year. The heat did me in before I was able to see her garden, but I did visit her garden in a previous post.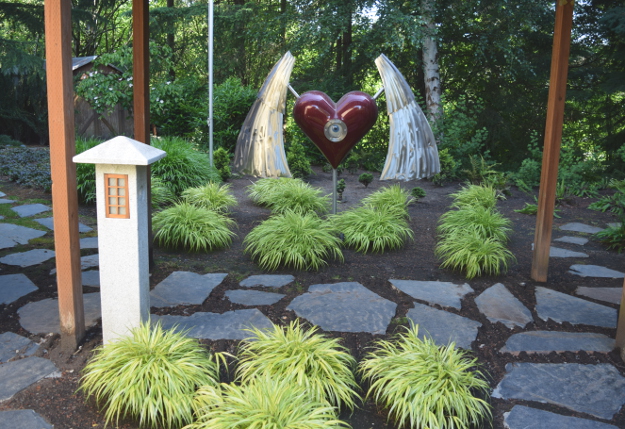 Seymour and Lueck are both artists. Rebecca is a painter and Greg is a glass artist, and their garden naturally reflects an artful aesthetic.
---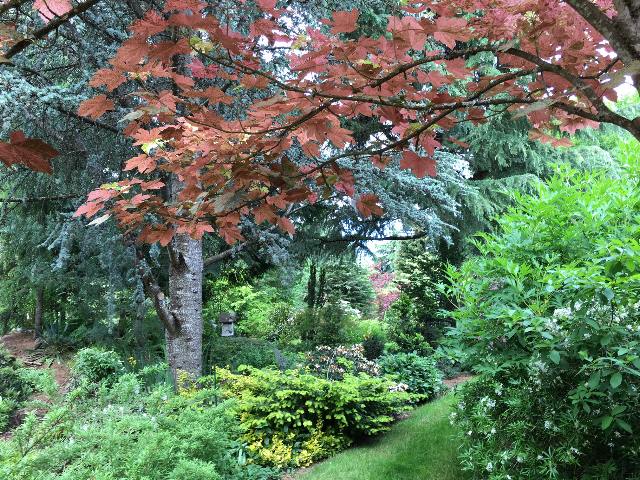 I didn't make it to the Vancouver garden of Roger and Judy McElhaney, although I was told that Matsu Kaze (Wind in the Pines) was not to be missed. This two-and-a-half acre property is home to an Asian-inspired garden, complete with many rare and unusual plants, meandering paths, a pond, a waterfall, a firepit, and even a covered bridge over a dry creek bed.
---
Tickets to each garden on June 11 are $7.00, or a pass to all five gardens may be purchased for $30.00. HPSO members may purchase advance tickets at a discount for $20.00 at the HPSO office on Tuesday through Friday, from noon to 5pm. The portion that HPSO makes from this event goes directly to the HPSO grants and scholarships program—a very worthy cause!